PS4 8tb External Hard Drive Guide – The Best Options

Since Sony released its wide-range support for external hard drives as a part of PS4 System Software 4.5 in the early days of Feb 2017, the overwhelming majority of fanboys finally relaxed after more than 3 years of complaints and requests to enable this significant feature on their favorite game console.
In fact, Sony has showed this intention in 2015 with the release of PS4 System Software 2.5 that supported, for the first time, adding a USB storage device to PS4, but only for backup purposes. But now, users are allowed to use their external HDD as an extended storage, that, as the description indicates, works as a storage extension to the main system storage, not as a standalone storage solution.
One of the most popular external hard drive capacities that PS4 fanboys look forward to buying is 8tb, and this guide will walk you through the world of PS4 8tb external hard drive and provide you with useful tips on how to use your new 8tb external HDD properly on PS4. You can also find quick resolutions of the most common issues that may occur to you while using an external HDD on PS4.
Best 8tb External HDD for PS4
Let's start first with listing the best 8tb external hard drives for PS4, in order to help some readers quickly end their pursuit and find their goal.
It's worth to mention that 8tb is the maximum storage limit PS4 can externally support, and its intended for enthusiasts who have exceptional storage needs or users who share their PS4 console with other family members.
Note that there's no portable 8tb available in the market, therefore we only list below Desktop external hard drives. They work properly with PS4 and are fully compatible, but you need to connect it to electric power socket in order to get it working.
Additionally, DO NOT go for a hub external hard drive as it won't work with PS4, because PS4 system requires that you build a direct connection between the external hard drive and PS4, and hub external hard drives don't meet this condition. so, be careful and don't fall into the same mistake of other PS4 users.
With that you can download and install games and applications directly to the extended storage portion, and just play them without the need to move them to the local storage device. Just imagine how that makes life much easier as you don't have to replace the internal HDD of PS4 to get more storage, just add an external HDD and the storage capacity of PS4 will be expanded and ready for use in a few minutes only.
The 8tb limit is the maximum external storage capacity PS4 can support. Therefore, don't look anywhere else for larger than 8tb external HDD for external storage expansion, although you can get up to 16gb of storage if you upgrade the internal hard drive to 8tb too with the help of an accessory called Data Bank.
Using 8tb External HDD on PS4
There are two different ways you can use your 8tb external HDD on PS4—Either for backup purpose or as an extended storage. Each purpose has its own requirements that you have to take care for before setting up your 8tb external HDD for it.
Backup Storage
Generally, there's no special requirement for using your 8tb drive as a backup storage except that it must support USB connection, no matter what generation it is, and it must be formatted with either FAT32 or exFAT file system.
Moreover, you need to make sure you have PS4 System Software 2.5 or above in order to make use of your external hard drive as a backup storage, because earlier system software versions do NOT support adding an external hard drive at all. You can rest your mind and download the latest PS4 system software update and enjoy the additional features and fixes included.
For more information on this issue, please visit this article.
Extended Storage
The support for extended storage solution arrived first in the early days of Feb 2017 with PS4 System Software 4.5, as stated in the introduction of this article. Users are now allowed to install games and applications directly to the connected 8tb external hard drives, and even store their favorite movies on it. This feature has widely impressed almost every PS4 user, because life without it was a bit difficult with only one option to expand the storage capacity of PS4: Upgrade the internal hard drive and the hassles novices may undergo due to their lack of technical experience.
Now, in order to get your 8tb external HDD work properly on PS4, you must ensure the following:
The drive supports USB 3.0 connection. In general, all large external hard drive are configured with USB 3.0 interface or above, so this should not be a matter of worry at this point.
It's a single layer drive. Dual-layer external hard drives (that use two hard drives into one enclosure) are not fully supported, and PS4 will only recognize the first layer and ignore the others, which results in losing half of storage space.
Connecting directly to PS4 via USB port. If your external hard drive connected via a built-in internal hub or an external hub, PS4 won't accept it. So make sure you don't go for HUB external hard drives.
You can read more about using extended storage solution with PS4 in this article.
You have to note that if you have any partitions on your 8tb external HDD or any data stored, all will be destroyed and erased by PS4 Format Utility during the process of setting up the new extended storage, whereas this is not required in the backup storage solution.
Upgrading PS4 Internal HDD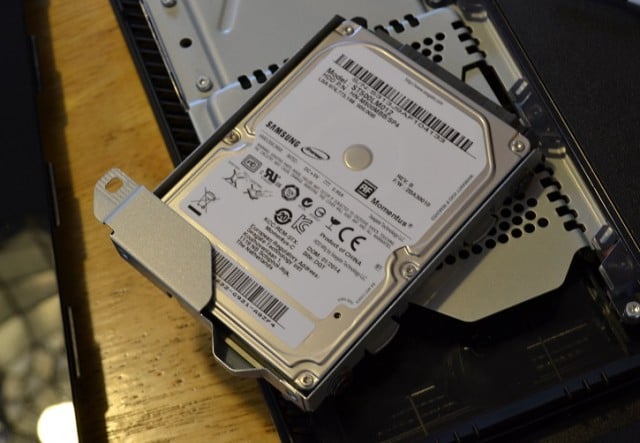 Do you know that you can get 8tb of storage capacity on PS4 by replacing and upgrading the stock internal hard drive? This method allows you to gain more performance boost and get rid of the extra space the external hard drive occupies on the table. But then you'll need an additional equipment called Data Bank (read more).
If you have the standard model of PS4 or its successor PS4 slim, you may consider first upgrading its internal HDD to Seagate 2tb gaming SSHD, which offers a much better speed and reliability than the slow and obsolete stock hard drive of PS4 (read more). After that, you can get an 8tb external HDD and connect it to your PS4. That way you gain the performance optimization along with the storage capacity you aspire.
As for PS4 Pro, you can upgrade the internal hard drive to an SSD which offers exceptional performance boost to an unbelievable level. But then you have to pay a premium for that solution that most of users cannot afford.
You can still go for Seagate Firecuda 2tb Gaming SSHD and that's what we really prefer for the overwhelming majority of PS4 fanboys, as it features a great compromise between performance, capacity and price.
And again, once you have upgraded the internal hard drive of PS4 Pro, you can then add a 8tb external hard drive and enjoy up to 10tb of storage capacity on PS4 Pro.
It's all your choice. Just think wisely before you make up your mind. We strongly recommend that you first upgrade the internal HDD of your PS4 before any other step you take.
Managing 8tb of Storage Space
I am not sure why a PS4 user would want to add 8tb of storage space to their game console. If it were a computer, I would fully understand from my point of view as a computer technician. But, at the same time, I am aware that everybody has his/her special needs that cannot be scaled to fit just everyone.
I can imagine in this modern age that 8tb of storage space can be easily filled within a year or two of use, bearing in mind the dramatic increase in game and movie file size that a single AAA-grade game can come in 80gb of size and one UHD movie can be 10gb, and the sizes keep increasing.
Moreover, large families that share one game console really need a huge storage space to accommodate the needs of all members, as each member has his/her own preference of games and movies.
It's important to know that an extended storage solution doesn't work as a backup storage, and you cannot use it for the two purposes simultaneously. Moreover, PS4 system will fully format and encrypt your 8tb external HDD in a way that you'll be unable to use it with any other system unless you waive your stored data and perform a full format on it. So if you think to use your 8tb external HDD on PS4 and other systems (PC or MAC), you have then to rethink about it.
Remember also that you can't partition your 8tb external HDD on PS4, only one partition is used, which occupies the whole storage space of the external HDD.
Bear all that in mind and deeply think about what has been said before you make your final decision.
Conclusion
A variety of PS4 users who are so enthusiastic about expanding their console's storage capacity would love to get 8tb external hard drive and enjoy the vast rooms it offers. But there are a few caveats you need to consider before paying a premium for that large capacity.
Just gauge your needs properly and see what capacity suits you best and what PS4 storage expansion method mostly or wholly meets your expectations.