What's the Best PS4 Internal Hard Drive Upgrade?
No savvy with a good technical knowledge argues about the importance of upgrading PS4 internal hard drive (HDD). That's because a better performing PS4 hard drive replacement will surely enhance your gaming experience to a higher level. Additionally, if you read about the specs of the stock PS4 HDD, you'll know why it's imperative to change/upgrade it. It's just an old, slow and obsolete piece of hardware that doesn't even meet the lowest modern storage standards. Therefore, get the best hard drive for PS4 to boost its performance and enjoy a better gaming experience.
Yes, it's possible that you can expand PS4 storage by just adding an external hard drive to it. You set it up as an extended storage and you're done. You eventually will get the storage capacity you want. But that solution will make you miss a significant performance boost that any serious gamer wants to gain. If you are curious about knowing why we prefer upgrading PS4 internal HDD over going for the extended storage solution, kindly visit this article. It fairly compares both solutions and illustrates the pros and cons of each.
Better Reliability
What most users don't know also is that it's not just the speed or storage capacity that calls to upgrading PS4 hard drive. In fact, the reliability of the PS4 stock hard drive is questionable. For that reason many have experienced serious errors with their PS4 after a year or so of use. In many case users start experiencing slowness with their PS4 or that PS4 becomes frozen. Most of these errors are because of a bad performing hard drive that started to decline. That's why we always recommend serious players to find the best PS4 hard drive replacement to get over that problem.
Before we move on with the educational part of this guide, I'll do one thing. I think it's better first to lay out my top internal hard drive upgrade options for PS4.
What's the Best Hard Drive for PS4?
So, many will ask here: what is the best PS4 hard drive replacement do you suggest? Well, in fact, there are just a few, depending on your budget. The internal drives below have been carefully picked for my top recommendation list. They are the best fit for replacing and upgrading PS4 stock hard drive. I have chosen them based on my long experience in the computer technology realm. That helped a lot gauge the pros and cons and make the best option in this regard.
Worth it to say that all the drives below range from 2tb down to 1tb. If you need a larger storage capacity, consider an external hard drive after you upgrade the PS4 HDD. That way you gain the performance boost of the internal hard drive and the extra capacity of the external HDD.
Samsung 860 QVO SSD
There's no doubt that Solid State Drive (SSD) is the best performing storage devices out there. It's up to 5x faster than the fastest traditional hard drive available. Moreover, an SSD is way too reliable more than mechanical hard drives. Thereby, it can last years without any failure/error. But, the main problem with SSDs is their high price. Samsung 860 QVO SSD, although being a budget SSD, it's still costly compared to the other options. The 2tb model costs around $230 as of the time of writing, whereas our second drive in this list costs $80. Both share the same capacity.
My advice is that if you can afford buying an SSD for your PS4 and money is not an issue, go for it. You will enjoy unparalleled speed and very solid reliability that lasts too long. (Read more on the benefits of SSDs for PS4).
So, because an SSD is the best in terms of performance, I have placed one on the top of this list. And according to several IT professionals, Samsung 860 QVO SSD is the best budget SSD as of today. It will maximize the performance of PS4 to the highest possible level that will surely enhance your gaming experience on PS4 like never before. For that reason I have selected it as the best PS4 HDD upgrade, regardless the price.
So, if you want the utmost out of your game console, go for an SSD, but be ready to pay a premium.
Basic Features
Interface: SATA 6 Gbps.
Form Factor: 2.5-inch.
Capacity: 4TB, 2TB, 1TB.
Sequential Read/Write Speed: Up to 550/520 MB/s.
Random Read/Write Speed: Up to 97K/89K IOPS.
Warranty: Three (3) Year Limited Warranty.
---
Seagate Firecuda 2tb Gaming SSHD
Actually, it's not only the performance boost that impelled me to nominate this drive as the best storage upgrade for PS4. Rather, there are different factors that worked all together to influence this decision. The other factors that led me to opting for this drive are the adequate price and large storage capacity.
This drive belongs to the SSHD (Solid State Hybrid Drive) category. It's a combination of 2tb classical hard disk drive (HDD) and 8gb SSD (Solid State Drive). That's in order to provide users with a vast storage space (up to 2tb) with an SSD-like performance.

In terms of performance alone, an SSD is undoubtedly the best storage device for all systems. But bear in mind that Seagate Firecuda 2tb Gaming SSHD can offer up to 80% of SSD performance on PS4 systems. That's because, while an SSD requires SATA III interface to run at its utmost performance potential, PS4 is configured with SATA II interface which significantly limit the data transfer rate to/from the storage device.
I am not going to review this drive here, as it has been already reviewed with elaboration here. I'm just trying to justify my decision by picking up this drive as the best storage upgrade option for PS4.
Basic Features
Fastest 2.5-Inch PC compute and gaming Hard Drive on the market, all within a thin 7mm z-height
The 2TB capacity can store up to 80x 25GB games
Flash-accelerated technology delivers up to 5x faster load times for nonstop performance, play and productivity compared to standard HDDs
Adaptive Memory technology efficiently identifies frequently accessed data to allow for quicker operations
Multi-tier caching technology (mtc) boosts performance, helping applications and files load faster (i.e. 128mb cache buffer in the 1st tier and 8gb NAND SSD memory in the 2nd tier).
SATA III interface
5400rpm spindle speed
5-year limited warranty
Other Sizes
Seagate Firecuda 2.5-inch Gaming SSHD comes in 3 different sizes: 500gb, 1tb and 2tb.
Full Upgrade Kit
Alternatively, you can get a complete upgrade kit like "Fantom Drives PS4 Hard Drive Upgrade Kit" that includes, in addition to the above drive, everything you need for a seamless upgrade process.
---
Seagate Barracuda 2tb Hard Drive
If, for any reason, you don't like to opt for an SSHD, you can go for a traditional hard drive. Seagate Barracuda 2tb HDD features a great option. It's exactly the same drive as above with all features except that it doesn't have a 2nd-tier SSD caching. Additionally, the warranty is only 2 years.
In opposite to what's stated on the official sales page of Seagate Barracuda HDD, this drive does NOT support Multi-caching. Have a look at the official drive's datasheet (download it from here) and skip to page 8. There you can find the drive specification summary. You will realize that this is a mere classical hard drive without any multi-caching system. Whereas the drive specification page of Seagate Firecuda SSHD states clearly this fact. (download it from here and go to page 7)
Anyway, if you're mainly interested in expanding PS4 storage to 2tb, and the current performance of PS4 satisfies you to the extent that you don't want to improve it, you can go for this drive and save around $10 only.
Basic Features
The thinnest and highest-capacity 2.5-Inch Hard Drive available
SATA III Interface
7mm height, less than the 9.5mm height of the stock hard drive of PS4.
2TB of storage capacity
5400rpm spindle speed
2-year limited warranty
Single-layer caching system (128MB cache buffer)
---
HGST Travelstar 7K1000 1tb Hard Drive
If, for any reason, you find the above options not suitable for you, consider this option then. Maybe you don't need excessive storage capacity. Therefore, you can go for HGST Travelstar 7k1000 which comes with 1tb storage capacity and 7200RPM spindle speed. That makes it the fastest non-SSHD 2.5-inch mechanical hard drive on the market.
Travelstar 7K1000 is the industry's only seventh-generation 7200RPM mobile hard drive. It's ideally suited for PS4 console storage upgrades and portable, high-capacity personal storage products. At 500GB/platter, this 2.5-inch hard drive offers a 1TB capacity. It leverages Advanced Format, which increased the physical sector size from 512 bytes to 4,096 (4K) bytes. That improves drive capacities and error correction capabilities.
The Travelstar 7K1000 is the industry's first high-performance 1TB 2.5-inch HDD with a 6Gb/s SATA interface and delivers the highest mobile HDD performance in PCMark Vantage benchmark testing.
HGST provides best-of-breed operating shock and outstanding power management in Travelstar 7K1000 for sturdy unplugged notebook performance. Highlights include proven seventh-generation technology, 1TB capacity, low power consumption, industry's highest shock tolerance, halogen-free design for an eco-friendly footprint and Serial ATA 6Gb/s for high data throughput.
Although PS4 won't remarkably benefit from the SATA III interface that drive is configured with, it's still the best traditional hard drive to go for your PS4 in the 1tb capacity, unless you have made up your mind to pick an SSHD, then this drive would come next in rating.
---
Mushkin TRIACTOR-3D 1tb SSD
When it comes to performance and reliability, SSD is undoubtedly the best storage device ever. It offers up to 5x the speed of traditional hard drives, and can last with you for too long without the fear of any kind of error/failure to occur due to the high endurance and solid consistency an SSD in general offers.
One of the biggest cons of SSDs is the high price compared with mechanical hard drives. This drive costs around $200, which classifies it in the value-oriented category, but that's still not cheap if you get to know that the 1tb HDD only costs you around $50.
Moreover, you have to keep at least 15% of the SSD size empty if you want to maintain its peak performance, which means the available usable space you'll get is minus less than 150gb of the original capacity of the drive.
We have composed a comprehensive guide on PS4 SSD that will enlighten you more on this matter in order to better gauge your needs and pick the right storage device for your PS4 console.
Basic Features
SATA-III 2.5″ 6Gbit/s 3D-TLC 7mm SSD
Compatibility: PC / Mac / Linux / PlayStation / Xbox
Max Read: 565MB/s ; Max Write: 525MB/s
Silicon Motion Controller: SMI SM2258
4KB Random Read: Up to 86,000 IOPS ; Write: Up to 80,000 IOPS
---
Different Hard Drive Types
If you're well-educated about computer hardware, you surely know that internal storage devices are of three types and all these types, in fact, fit for upgrading PS4 stock hard drive.
These types are:
Solid State Drive (SSD)
The fastest-in-history ever. You get blazing fast speed that you could never imagine a storage device can have. And although many PS4 fanboys tend to upgrade their game console with an SSD, we DO NOT recommend it. Unless you have the PS4 Pro model. That's because the standard PS4 is't qualified enough to host an SSD within it. Also, it's a big waste of money, considering the steep price of a regular SSD (Read more on this topic here).
Traditional Hard Drive (HDD)
The type of this storage device is just like the one inside your PS4. You shouldn't expect any major performance boost when replacing the internal hard drive of PS4 with another one of its type. Yes, having a modern hard drive offers slightly better speed, larger capacity and higher reliability. But not that tangible when it comes to performance.
Solid State Hybrid Drive (SSHD)
This is an innovative solution meant to be a compromise between speed, capacity and price. With this hard drive solution you'll get nearly the performance of SSD and the capacious space of HDD. All for an adequate price that's usually not $10 higher than a regular hard drive.
We published a special article on PS4 SSHD and its great benefits it offers to its users. Please have a look for more details.
The need for PS4 HDD Upgrade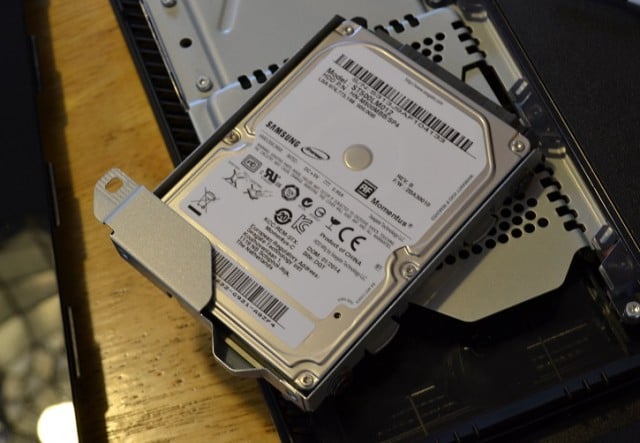 There are several reasons that impel you to seriously think about upgrading PS4 HDD to a better drive. These reasons stem from the fact that the stock PS4 hard drive is no longer the drive to rely on. It's old and obsolete and no longer fits for the position it's placed in. A new drive must take its place in order to provide the performance and reliability that modern PS4 games require.
Upgrading PS4 HDD simply help you get rid of that old stock hard drive inside PS4. You will enjoy better speed and higher reliability. Additionally, you can double or quadruple the internal storage capacity when you go for a new replacement drive. That means a lot of space for your games, apps and movies.
For these reasons you see that almost every PS4 enthusiast tends to upgrading the internal hard drive of PS4. They are aware of the significant benefits they will gain with the upgrade. So, if you're one of them, the upgrade process is inevitable if you care about gaining better performance on PS4.
If you have eventually made up your mind to upgrade PS4 HDD, you need to learn how to do it the right way. There are lots of articles on the internet that explains how to it perfectly.
Finding the Best Hard Drive for PS4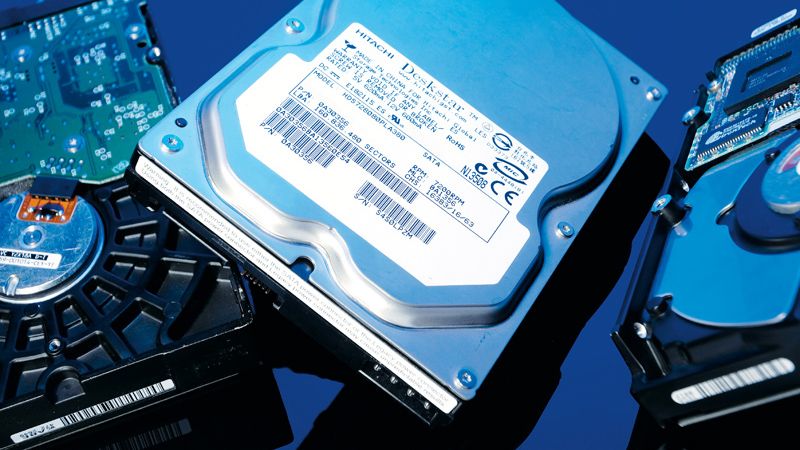 In order to find the best hard drive for PS4, there are a few things to bear in mind before taking the last step and making your decision, which are:
The hard drive you choose for PS4 must meet your expectations and fulfill the needs you want from upgrading PS4 HDD. Although we have already determined the best PS4 HDD upgrade in terms of high performance and the storage capacity limit that should suit the overwhelming majority of users, there're still exceptions that don't find our top recommendation their best option.
When gauging the quality of a hard drive you must take into consideration its brand. Also, the history of manufacturer regarding reliability and failure rate is important. The drive we picked as the best HDD for PS4 is a highly-reputable drive that offers high performance and long reliability to the extent that its manufacturer offers 5-year limited warranty, which is a too long warranty for a consumer-level hard drive. This factor is important to determine which hard drive is best for PS4.
To make sure whether the HDD is really worthy your consideration for upgrading PS4 storage, you need to read the reviews of experts and even ordinary users to see how it performs in real world and what complaints users have against it. Seagate Firecuda 2tb Gaming SSHD, which is our top selection for PS4 storage upgrade has been praised and recommended by IT professionals and even so many savvies. Therefore we have no doubt that it is the best fit for upgrading PS4 internal HDD.
The hard drive price matters a lot. If you don't care about price and you have a broad budget, go for an SSD, as it's without a doubt the best storage device ever, whether for PC or PS4. But because it's too expensive compared to traditional hard drives, we didn't include it in our list here.
Simple Note
Read these tips carefully and see whether our recommendation suits your needs or not. You can get a larger hard drive but miss the performance boost the SSHD offers. You can go for an SSD, or just add an external hard drive, but our priority is for upgrading the internal hard drive of PS4 first, then other options come next.
Conclusion
Upgrading the internal hard drive of PS4 to a new modern drive is mandatory to every serious gamer that looks forward. That's to enhance their gaming experience with PS4 in terms of speed and reliability. That's it. You'll not get only a new speedy hard drive, but also a drive with solid reliability that lasts for long.
If you have picked Seagate Firecuda 2tb SSHD you'll gain remarkably higher speed, larger storage space and better reliability. All of that for an adequate price (less than $100) that fits most users' budget. You'll get, in fact, the best hard drive for PS4. It means your gaming experience will surely go better than before.
On the other hand, we don't really recommend using an SSD for upgrading PS4 stock HDD due to significant loss in performance when an SSD is used within PS4 system. You can though try it with PS4 Pro, but surely not with PS4 standard neither PS4 Slim.