Best PS4 Internal Hard Drive Replacements [2023]
Upgrading the old stock PS4 internal hard drive to an SSD or, at least, a newer classical hard disk drive (HDD) is what any PS4 power user tends to do if they don't plan to buy a PS5 any sooner. Just like how PS5 enthusiasts do when they upgrade their PS5 internal storage with an additional SSD to enjoy a better performance and an extended storage capacity.
It's because replacing the PS4 internal hard drive can inject a new life into the old console and make it fast, almost like new, helping your console serve you for additional 2 or 3 years until you decide to upgrade to a PS5.
Personally, as an expert, I prefer to wait until the end of 2024 or 2025, when Sony stops supporting the PS4, before considering buying a PS5. Why? I have very valid reasons for that; one of these is that the PS4 is still a great game console that suffices my gaming needs. Also, I am waiting for the PS5 Pro or PS5 Slim which will be a better choice than the base PS5.
The PS4 is still a great game console, and with just a simple tweak like upgrading the PS4 internal hard drive to a faster and more reliable one (Experts strongly recommended an SSD), you can save your money and wait a year, two or even three before deciding to buy the PS5.
Best Internal PS4 Hard Drive Quick List
Below is a list that gathers all the drives we recommend for PS4. They are clickable and will take you immediately to the corresponding item once you click on them.
Note that most, not all, these drives come with a maximum 1 TB storage capacity. We have placed a notice below each one clarifying whether there's a 2 TB capacity available for that specific model.
These are the best PS4 hard drive replacements you can find on the market today. Remember that if you opt for an SSD, you'll get the utmost out of your game console and have an amazing drive in terms of performance, durability, and speed.
The Need to Upgrade PS4 Internal HDD
You can bring many benefits to your PS4 console if you replace its internal HDD with a newer and better drive. The reason behind it is that, unfortunately, the PS4 stock HDD is slow, small, and outdated. Over time it will generate errors and become even slower than before, especially with the releases of new resource-demanding games/apps. For that big reason, you see many PS4 users complaining of performance issues with their console, especially slowness, and freeze.
You may be interested in reading more about why PS4 freezes and why the PS4 becomes slow to see how a bad internal PS4 hard drive can lead to that situation.
Note that although most of the PS4 performance issues are caused by a bad hard drive, one issue can be an exception here when the PS4 doesn't turn on, then that's usually something that has not to do with the hard drive.
Time to Consider a New PS4 HDD Upgrade
All that and more make it inevitable for every serious gamer to replace the internal HDD of PS4 with a faster and more powerful drive if they wish to keep their console for the next year until they make up their mind about buying PS5.
Some PS4 users are content with their console's performance and only want extra storage space. Although they will miss the significant performance boost that the PS4 internal hard drive upgrade offers, they can still go for an external hard drive for PS4. Make sure to pick the best external HDD for your console to last for so long with you.
The PS4 stock hard drive is a quite old and outdated device that no longer meets the modern storage requirements of today's games. Additionally, as an old and traditional technology, the PS4 HDD starts generating errors after some time and may fail in many situations. That's when the PS4 freezes or even becomes very slow.
So, what are the significant benefits of upgrading the PS4 hard drive? Is it worth it? And if you've already decided to try it, so what's the best internal hard drive replacement for PS4?
There are lots of issues to address concerning PS4 hard drive replacement. We have covered almost everything you need to know in this comprehensive guide. You will learn about the best hard drive upgrade for PS4, how to upgrade, what type of storage devices is best suited for your needs, what capacity to choose, and much more within this guide. So, keep reading on.
Best PS4 Internal HDD Replacement Brands
---
1.

Crucial BX500 SSD
This is the best internal PS4 hard drive replacement I recommend for PS4. There's no doubt that a solid-state drive (SSD) is the top-performing storage device out there. As for the PS4, and being affordable for most PS4 users, we strongly recommend upgrading the PS4 HDD to an SSD. It's the speed that urged us to recommend this drive, and the solid reliability SSDs boast .
An SSD is up to 5x faster than the fastest traditional hard drive available. Moreover, an SSD is way too reliable more than mechanical hard drives. It can last years inside the PS4 without any failure/error. But, the main problem with SSDs is their high price.
Crucial BX500, Although a budget SSD, it's still costly compared to the other options. The 2 TB model costs around $200 as of the time of writing, whereas our second drive in this list costs $80. Both share the same capacity.
If you can afford an SSD for your PS4 and money is not a problem, go for it. You will enjoy unparalleled speed and excellent reliability that lasts too long. Additionally, you'll have a smooth gaming experience with an SSD over mechanical hard drives. You'll not have to undergo the errors and casual halts that hard drive users have (Read more on the benefits of SSDs for PS4).
So, all in all, I have placed one on the top of this list because an SSD is the best in terms of performance. And, according to several IT professionals, Crucial BX500 SSD is the best budget SSD as of today in terms of performance and price together. It will maximize the performance of PS4 to the highest possible level, enhancing your gaming experience on PS4 like never before. Therefore, I have selected it as the best PS4 HDD upgrade, regardless of the price.
So, if you want the utmost out of your game console, go for an SSD, but be ready to pay a premium.
Maximum Storage Capacity
A 2 TB storage capacity is available for Crucial BX500 SSD. Please check the product page on Amazon for more details.
Basic Features
Boot up faster. Load files quicker. Improve overall system responsiveness
300% faster than a typical hard drive
Improves battery life because it's 45x more energy efficient than a typical hard drive
Micron 3D NAND – advancing the world's memory and storage technology for 40 years
Crucial 3-year limited warranty
---
2.

Western Digital Black Performance HDD
With up to 1TB of storage running at 7200 RPM, you get a high-speed, high-capacity mobile hard drive, offering the perfect storage solution for PS4 gamers. Backed by an industry-leading 5-year limited warranty, WD Black 2.5-inch Hard Drives combine performance and capacity with a trustworthy brand.
WD Black 2.5-inch Hard Drives are purpose-built and tested to ensure they can handle the high-performance tasks you need. With up to 1TB of capacity, you get the space you need for your game's downloadable content, large cache sizes for fast load times, and a 7200 RPM-Class drive for desktop-level performance.
WD Black™ 2.5-inch PC Hard Drives are tested under more strenuous conditions over a longer period when compared to other standard hard drives. This comprehensive testing ensures an overall quality benchmark for a stable, high-performance storage solution backed by an industry-leading 5-year limited warranty.
Maximum Storage Capacity
Only 1TB storage capacity is available for this model.
Basic Features
Fully compatible with PS4 storage upgrade standards.
Performance 2 5-inch hard drives available in up to 1TB capacities
Designed for creative professionals, gamers and system builders
Enhanced-availability (EA) models for applications needing around-the-clock access to lower-transaction environments
5-year manufacturer's limited
---
3.

Seagate Barracuda Pro Performance HDD
The Seagate BarraCuda Pro Performance Internal HDD is a great option for upgrading the stock PS4 hard drive. The uncompromising BarraCuda Pro marries industry-leading storage capacity with 7,200 RPM spin speeds for snappy performance and load times when gaming or performing heavy workloads.
This is an enhanced version of the renowned Seagate Barracuda HDD. It was designed for enthusiasts who want maximum performance from a 2.5-inch PS4 hard drive replacement.
Compared to WD Black Performance HDD, these two drives are very similar. So, you won't go wrong if you pick this drive over the WD Black.
Maximum Storage Capacity
Only 1 TB storage capacity is available for this model.
Basic Features
Fastest Hard Drive delivers 7200RPM spin speed along with sustained data rates up to 160MB/s and burst data rates of 6Gb/s
Thanks to thin 7mm z-height, it's the perfect fit for thin laptop upgrades and similar small-form-factor systems
Compatible with Creative pros systems, Desktop or all-in-one PCs, Home servers, Entry-level direct-attached storage devices (DAS)
Bundled with two years of Seagate Rescue Data Recovery Services, this drive is protected for two years against any mechanical, accidental, or natural disaster
5-year product warranty and 300TB/year workload limit
---
4.

WD Blue 2TB PS4 Hard Drive
WD Blue Mobile hard drive is one of the most powerful 2.5-inch with 2TB capacity SATA hard drives on the market today. It's an excellent choice for PS4 internal hard drive replacement. You can even build an external hard drive for PS4 with this drive.
That drive is a tried and true Western Digital product that won't let you down in most capacities. For that reason, it's worthy of consideration for PS4 hard drive replacement.
With increased affordability, plenty of storage space, and lightning-fast processing speeds, you'll quickly find that it's still a good choice for a hard drive.
The WD 2TB mobile drive is a decent data storage solution and will serve you well. It comes with a two-year warranty and is PS4 compliant.
Basic Features
Fully compatible with all models of PS4
Features 128MB cache, 5400rpm spindle speed, and SATA III interface.
NoTouch Ramp Load Technology: Safely position the recording head off the disk surface to help protect your data
2-year manufacturer limited warranty
Package includes a hard drive only – no screws, cables, or manuals included. Please purchase mounting hardware and cables separately if necessary
Ships in WD-certified box for safe transit during shipping
---
5.

Toshiba 2TB PS4 Hard Drive
Toshiba America Electronic Components, Inc. (TAEC), a committed technology leader, produced a great PS4 hard drive replacement designed for use in notebook PCs, all-in-one and slim-line desktop systems, and other applications requiring high-capacity storage and 2.5-inch mobile-class durability.
The MQ04ABD200 dual-disk model delivers 2tb storage capacity in a compact 2.5-inch, 9.5mm height form factor. The drive's 6 Gbit/s SATA interface and 5,400 rpm performance, combined with a large 128 MB buffer, result in a 34 percent increase in maximum transfer rates and a 50 percent improvement in power efficiency compared to Toshiba's previous 1TB mobile-class model generation, MQ01ABD100.
You can use this drive as an external hard drive for PS4; it will work pretty well. Moreover, Toshiba offers a 3-year limited warranty on this drive. This makes it a very appealing deal for PS4 users.
Basic Features
Fully compatible with PS4 standards and a great PS4 hard drive upgrade.
SATA III Interface
9.5mm height that fits seamlessly into the PS4 hard drive cage.
2TB of storage capacity
5400rpm spindle speed
3-year limited warranty
Single-layer caching system (128MB cache buffer)
---
---
Choosing the Right PS4 Internal Hard Drive (HDD) Replacement?
Many PS4 users keep asking about the best hard drive (HDD) upgrade for PS4, not knowing how to pick the right one. The answer to that question is not the same for everyone. Depending on several factors concerning your situation, the best hard drive for PS4 is determined.
For instance, if you're just a lightweight/mediocre player, not an enthusiast, you better get a "good" drive only. Leave extreme power for power users. You can get an external hard drive instead for PS4 if the console's performance pleases you.
As for enthusiasts who play graphics-intense, resource-demanding games, the most potent drive suits them better. They even get a powerful external hard drive for their PS4 alongside an internal hard drive upgrade.
You can learn more about all aspects you need in this regard before making up your mind on a specific drive in the above list. Just choose the drive model you feel best suits your needs, and remember to make reliability a priority.
What's PS4 Hard Drive?
PS4 hard drive (HDD) is the storage device inside PS4 that holds the system's and user's data. The PS4 HDD is a non-volatile storage device containing magnetic disks or platters rotating at 5400rpm. It is a secondary storage device that stores data permanently, with random access memory (RAM) being the primary memory device. Non-volatile means data is retained when the PS4 is turned off.
Some people refer to the external hard drive used for PS4 as a PS4 hard drive. This is also valid, but it's not the everyday use of that term.
PS4 HDD Specs
So, to better understand the PS4 hard drive, you must know its specifications first.
The PS4 uses a hard drive with 500 GB storage capacity in the earlier version and 1 TB in the updated versions (aka PS4 Ultimate Player Edition). It's configured with a SATA II interface and designed in a 2.5-inch form factor. The table below gives you a better overview of PS4 HDD specs.
This table combines the specifications of both hard drives (500 GB and 1 TB) in one place to make it easier to compare.
Brand & Model
HGST Travelstar Z5K500 (500gb model)
HGST Travelstar 5K1000 (1tb model)
Capacity (Size)
500gb (Initial PS4 version)
1tb (Updated PS4 version)
Spindle Speed
5400 RPM (both drive models)
Interface
SATA II (3.0 Gbps) (both drive models)
Form Factor
2.5-inch (both drive models)
Thickness
9.5mm (both drive models)
Memory Cache
8mb (both drive models)
Warranty
2 Years Limited (both drive models)
Year of Manufacture
2011 (both drive models)
Additionally, if you need more details on the specifications of the PS4 internal hard drive, please visit this page.
PS4 Hard Drive Replacement Types
When you replace the internal hard drive of the PS4, remember that there're three types of storage devices that fit this purpose.
These three types are:
Solid State Drive (SSD)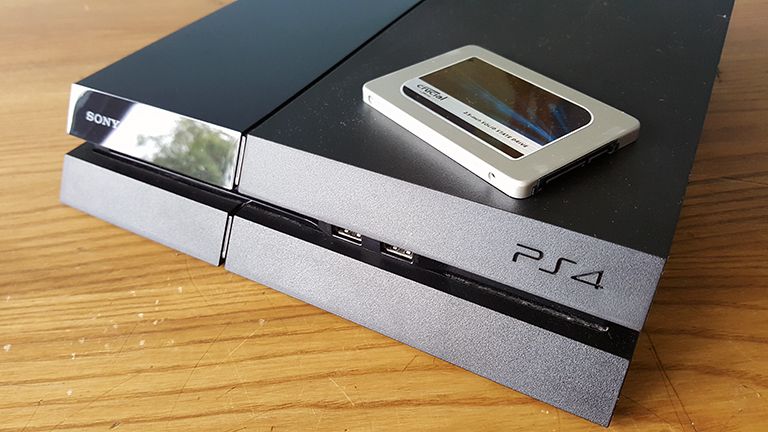 The fastest-in-history ever. You get a blazing-fast speed that you could never imagine a storage device could have.
A solid-state drive (SSD) is a new generation of storage device used in computers and, recently, game consoles. SSDs replace traditional mechanical hard drives (HDD) using flash-based memory, which is significantly faster. Older hard disk storage technologies run slower, often making your PS4 run slower than it should.
SSDs speed up PS4s significantly due to low read-access times and fast throughputs. Additionally, solid-state drives are much more reliable and durable than traditional HDDs. That means you will avoid many performance issues that occur to HDD users. Therefore, you have to expect a smoother and more enjoyable gaming experience when you replace the PS4 internal HDD with an SSD.
The only disadvantage of SSD compared with the traditional HDD is the high price. While you can get a 2tb HDD for PS4 for just $65, the PS4 2tb SSD would cost you more than $200.
For more details on using an SSD in PS4 and the advantages you'll gain, please visit our PS4 SSD upgrade guide.
Note that you can also get an external SSD for PS4 for the maximum possible performance. If you have already upgraded the PS4 internal hard drive to an SSD, it is recommended to use an external SSD for extended storage.
Traditional Hard Disk Drive (HDD)
The style of this storage device is just like the one inside your PS4. So, you shouldn't expect any significant performance boost when replacing the internal hard drive of PS4 with another one of the same type. A modern hard drive offers slightly better speed, larger capacity, and higher reliability. But not that tangible when it comes to performance.
This type of storage is widely used as a PS4 external hard drive.
A hard disk or a hard drive is a data storage device that uses magnetic recording to store and retrieve digital information. Unlike a solid-state drive (SDD) that uses non-moving interconnected flash memories, a hard disk drive (HDD) is essentially composed of a metal platter with magnetic coating. This coating stores the data. A paired magnetic head reads and writes data on this coating while the platter spins.
The real problem with HDDs
The main problem with this kind of storage device is mechanical. Thus, users have to expect varied performance issues with it. For that reason, the PS4 hard drive begins to fail after a few months of use. Also, now you can understand why PS4 becomes slow and starts to lag. A faulty hard drive often causes this. All of that is because the movable mechanical parts of an HDD make it physically vulnerable to mechanical damages due to drops and shudder. The close spacing between the read head and the metallic platter makes HDD prone to scrapes across the platter as the head grinds the thin magnetic coating. For that reason, HDDs are more prone to integrity failure or data loss and overall device corruption.
Some Errors Caused by a Faulty PS4 Hard Drive
There are several errors happen to the PS4 system that a defective hard drive causes, such as:
For this reason, we don't recommend using classical hard drives for upgrading the PS4 internal storage. You can use them as external hard drives instead.
Solid State Hybrid Drive (SSHD)
This is an innovative solution meant to be a compromise between speed, capacity, and price. With this hard drive solution, you'll get nearly the performance of SSD and the spacious space of HDD. All for a good price that's usually not $10 higher than a regular hard drive.
Solid-state hybrid drives, or SSHDs, blend the traditional hard drive and the new solid-state drive technologies. If you have been considering upgrading your PS4 internal hard drive, you may have come across the term SSHD. This new marketing term was coined by Seagate to essentially label what had previously been referred to as hybrid hard drives. This new term can lead to confusion in the market as buyers can mistake these for entire solid-state drives (referred to as SSDs).
So an SSHD is a hard drive and SSD in one, which is why it's called a hybrid. The drive appears as a single device to the PS4 system, and the SSD part is just used for temporary storage to speed things up: your data is stored long-term on the mechanical disks.
SSHD for PS4
An SSHD is still slower than any SSD, but it's a good chunk faster than a plain old hard disk. If you want lots of storage at a reasonable price, an SSHD is a good choice. If your priority is speed and you want the PS4 system to be more responsive, go for an SSD.
The SSHD is the best PS4 hard drive replacement for most users. As for enthusiasts and power users, an SSD is the priority.
Generally, if you want the highest overall performance, buy an SSD. If you want the biggest amount of storage, buy an SSHD. (If you want to spend the absolute minimum amount of money, buy neither – go for a traditional hard drive.
We published a special article on PS4 SSHD and the great benefits it offers to its users. Please have a look for more details.
PS4 Compatible Hard Drive Upgrade
Be sure that all the PS4 hard drive replacements included in our list are fully compatible with all models of PS4. But eventually, you must learn how to pick a PS4-compatible hard drive in case you want to do your research.
So, to choose the right hard drive upgrade for your PS4, you need to ensure it's compatible with the PS4 storage upgrade standards. These standards are specified by Sony. Only the drives that meet all of them can be used for the upgrade purpose. They are:
Support of SATA interface. This is mandatory as PS4 motherboard only accept SATA connection.
Storage capacity is not less than 160 GB and not more than 8 TB. This is also mandatory. This helps you know what size of SSD to get if you want a cheap option. 128GB SSD doesn't work with PS4.
Drive's height is not more than 9.5mm. This is optional if you have the standard model PS4. You can bypass this standard by using a Data Bank accessory. As for PS4 Pro and PS4 Slim, meeting this standard is mandatory.
Designed in 2.5-inch form factor. This is optional for the standard version of PS4 as it can be worked around using a Data Bank solution. PS4 Pro and PS4 Slim models don't have this option, so it's a mandatory condition.
Once the drive meets all these standards, you've to relax. It's relevant to be a DIRECT hard drive upgrade for PS4.
Why Upgrade PS4 Hard Drive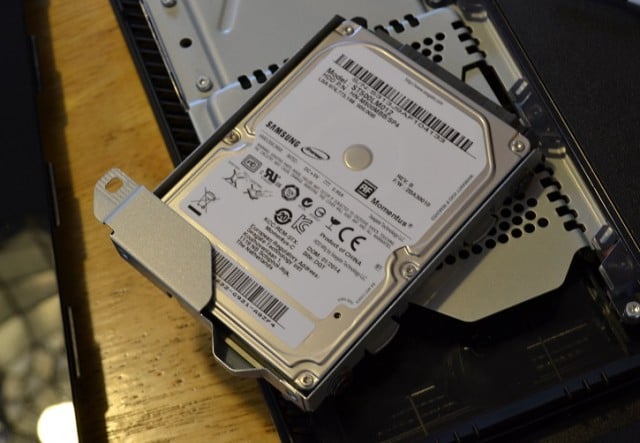 Many PS4 users ask the question: should I upgrade PS4 hard drive in the first place? Is not just getting an external hard drive, or even external SSD for PS4 a much better option?
From an expert technical perspective, the answer is YES, you have to upgrade the PS4 internal HDD. The reasons for that answer vary from one user to another, but the main reason that everyone agrees on is that the stock hard drive of PS4 is just a piece of garbage. Not only that it's small and doesn't offer enough storage capacity to a wide variety of users, but also it's an outdated, slow drive that will start generating errors after months of hours of regular daily use.
The only one that doesn't need to upgrade the PS4 HDD is the casual/lightweight user that doesn't play much or doesn't have graphics-intense games to play for a long time. But even such a user may need to upgrade to avoid potential errors with that old hard drive.
So, what about getting an external HDD/SSD instead? is not that a good option?
If you're serious about improving PS4 performance and enhancing your gaming experience, upgrading your PS4 internal HDD is inevitable.
As for getting an external hard drive for PS4, mostly you'll only gain additional storage space, that's all. Furthermore, you can read this quick comparison between PS4 external HDD vs. internal to find out the pros and cons of each option.
Choosing the Best Hard Drive for PS4
The next thing you've to think about at this point is how to choose the best internal hard drive upgrade for PS4. Although I have abridged the way for you and other readers and laid out the top 4 hard drive replacement options for PS4, you can still do that on your own. You only need to understand how this selection is done and based on what standards.
The first thing you must look at is YOURSELF. Are you an average/lightweight PS4 player? Or do you consider yourself an enthusiast/power user?
If you consider yourself an enthusiast who plays heavy, resource-demanding games, an SSD is the best PS4 HDD replacement for you. Otherwise, go for an SSHD; it offers a decent performance boost with up to 2 TB storage capacity.
Secondly, what do you not like about the PS4 stock hard drive? Is it its limited capacity? Or it's the poor performance it offers? Or maybe both?
If you are content with the performance of the stock hard drive of PS4, yet you want additional storage space, you better go for a PS4 external hard drive. Otherwise, upgrading the internal HDD of the PS4 offers a significant performance boost and a smoother gaming experience.
You can dive into more details on how to choose the best hard drive for PS4 by reading this post. But generally, the basic standards will help you find the right hard drive for your PS4.
The Standards of Choosing a New PS4 HDD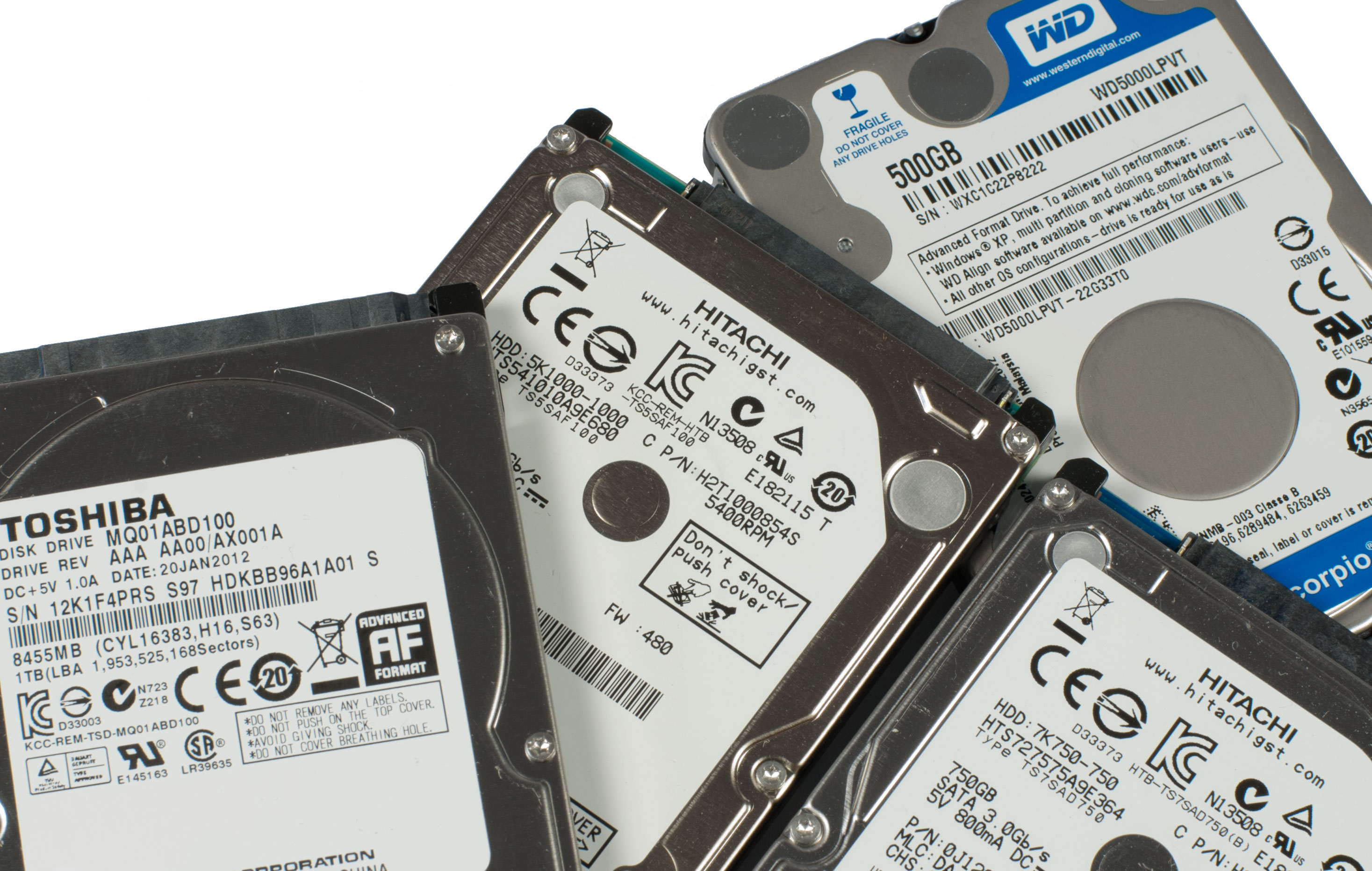 The hard drive you choose for PS4 must meet your expectations and fulfill the needs you want from upgrading PS4 HDD. Although we have already determined the best PS4 HDD upgrade in terms of high performance and the storage capacity limit that should suit the overwhelming majority of users, there're still exceptions that don't find our top recommendation their best option.
When gauging a hard drive's quality, you must consider its brand. Also, the manufacturer's history regarding reliability and failure rate is important. The drive we picked as the best HDD for PS4 is a highly-reputable drive that offers high performance and long reliability to the extent that its manufacturer offers a 5-year limited warranty, which is a too-long warranty for a consumer-level hard drive. This factor is important to determine which hard drive is best for PS4.
To make sure whether the HDD is worth your consideration for upgrading PS4 storage, you need to read the reviews of experts and even ordinary users to see how it performs in the real world and what complaints users have against it. Seagate Firecuda 2TB Gaming SSHD, our top selection for a PS4 storage upgrade, has been praised and recommended by IT professionals and even so many savvy. Therefore we do not doubt that it is the best fit for upgrading PS4 internal HDD.
The hard drive price matters a lot. If you don't care about price and have an overall budget, go for an SSD, as it's undoubtedly the best storage device ever, whether for a PC or PS4. But because it's too expensive compared to traditional hard drives, we didn't include it here.
How to Upgrade PS4 Hard Drive
Before upgrading the PS4 hard drive, ensure you have everything ready.
Screwdriver: To unscrew the hard drive casing and remove the hard drive from PS4.
External Hard Drive: To take backup.
USB Flash Drive (at least 1 GB capacity): Install PS4 system software from scratch.
The New PS4 compatible HDD replacement.
Once you have everything above, you're ready to start the PS4 HDD upgrade process. But first, let's make this precautionary step and back up the original PS4 HDD data, just in case.
Begin the Backup Process
To get the ball rolling, you'll need to plug in your external drive over USB. It needs to be formatted using FAT32 or exFAT, and if you want to back up a full drive, the external drive should have at least the same capacity as the internal drive.
To learn how to format the external hard drive as a PS4 backup storage, please visit this page.
Now, once the external HDD is formatted and properly set up as backup storage, let's start with the backup process.
Connect the External hard drive of the USB storage device to one of the PS4's USB ports.
Now Go to Settings > System > Back Up and Restore.
Choose what data you'd like to back up. Note: If you do not take the backup of the applications, you have to reinstall them again.
Name the backup you are taking and then press the X button on the controller.
It's important to note that the trophies can't be backed up. Of course, trophies sync over PSN, so that's not a problem. If you're sure that everything is already synced, select "OK" and begin the backup. If you want to ensure that all of your trophies are properly synced, you should back out, launch the Trophies app, and ensure that everything is copacetic before continuing.
Download the PlayStation 4 system software
You can grab a copy of the latest version from Sony here. Just follow the instructions at the bottom of the page, under "Update using a computer," to download the correct full system install file—it's nearly 800MB—and create the requisite USB install key.
You can do that by following these steps:
Plug the USB flash drive into your computer and format it using FAT32.
Create a directory named "PS4" and create a sub-directory inside it named "UPDATE."
Move the update file to the UPDATE folder.
That's it all.
Open your PS4
Once you have your drive ready to go, power down your PS4, and unplug everything. Move it over to a large open surface, and slide off the shiny part of the PS4's case. Set it aside.
Extract the old PS4 hard drive by removing the sole Philips screw at the lower left, then gently pulling the hard disk drive cage forward (toward the front of the system) and out.
Remove the four Philips screws from the hard disk cage and pull the old hard drive out. If you need more details on removing PS4 HDD, please visit this page.
Replace the stock PS4 HDD with the new one, then slide the cage back into the PlayStation 4 and re-secure it with the remaining screw.
Replace the hard drive cover, and that's it!
Initialize PS4
When you boot up the PS4 with a new drive, you'll need to initialize it.
So, connect your PlayStation 4 gamepad (with a micro USB cable) and plug the USB stick you just created into the console's second USB port, then power on the system. Button-through the menu and follow the on-screen prompts. If everything goes as planned, the PS4 should boot to the main menu once the initialization is finished. Now you can log into your PSN account again.
Restore backed-up data
Once the PS4 operating system installation is complete, the console will reboot. Follow the prompts until you are back at your home screen. From there, go to [Settings] > [System] > [Back Up and Restore].
Now, reconnect the external drive that your backup is saved to if you haven't already. Select Restore PS4 and choose the image you named previously. Depending on the drive and size of the backup, this process could take a very long time to complete. Follow the prompts, don't turn off your PS4 during the process, and have patience. Once everything is finished, everything will be back where it belongs.
Conclusion
Upgrading the internal hard drive of PS4 to a new modern drive is mandatory for every serious gamer that looks forward. That's to enhance their gaming experience with PS4 in terms of speed and reliability. That's it. You'll get a new speedy hard drive and a drive with solid reliability that lasts for a long.
If you have picked Seagate Firecuda 2TB SSHD, you'll gain remarkably higher speed, larger storage space, and better reliability. That is for a reasonable price (less than $100) that fits most users' budgets. You'll get, in fact, the best hard drive for PS4. It means your gaming experience will surely go better than before.
On the other hand, we don't recommend using an SSD for upgrading PS4 stock HDD due to significant loss in performance when an SSD is used within the PS4 system. You can, though, try it with PS4 Pro but indeed not with PS4 standard or PS4 Slim.
General FAQ
What Size Is The PS4 Internal Hard Drive?
The Ps4 internal hard drive comes in either 500gb or 1tb storage size, depending on the PS4 edition you have.
What Speed Is the PS4 Hard Drive?
The speed of the PS4 internal hard drive is 5400RPM in all models, whether it is PS4, PS4 Pro or PS4 slim.
How to Format the PS4 Internal Hard Drive?
You have first to remove it from the PS4, connect it to a PC and run the format utility on it.
How to Remove the PS4 Internal Hard Drive?
It is a very easy operation. All what you have to do is to uncover the hard drive cage, unscrew the internal HDD, and pull it out.
How to Change the PS4 internal hard drive?
After removing it, you need to have a new hard drive replacement. Just insert the new HDD and fix it inside the cage with the screws. Eventually, follow the upgrade steps in this guide.