Fastest External SSD | High Speed & Solid Build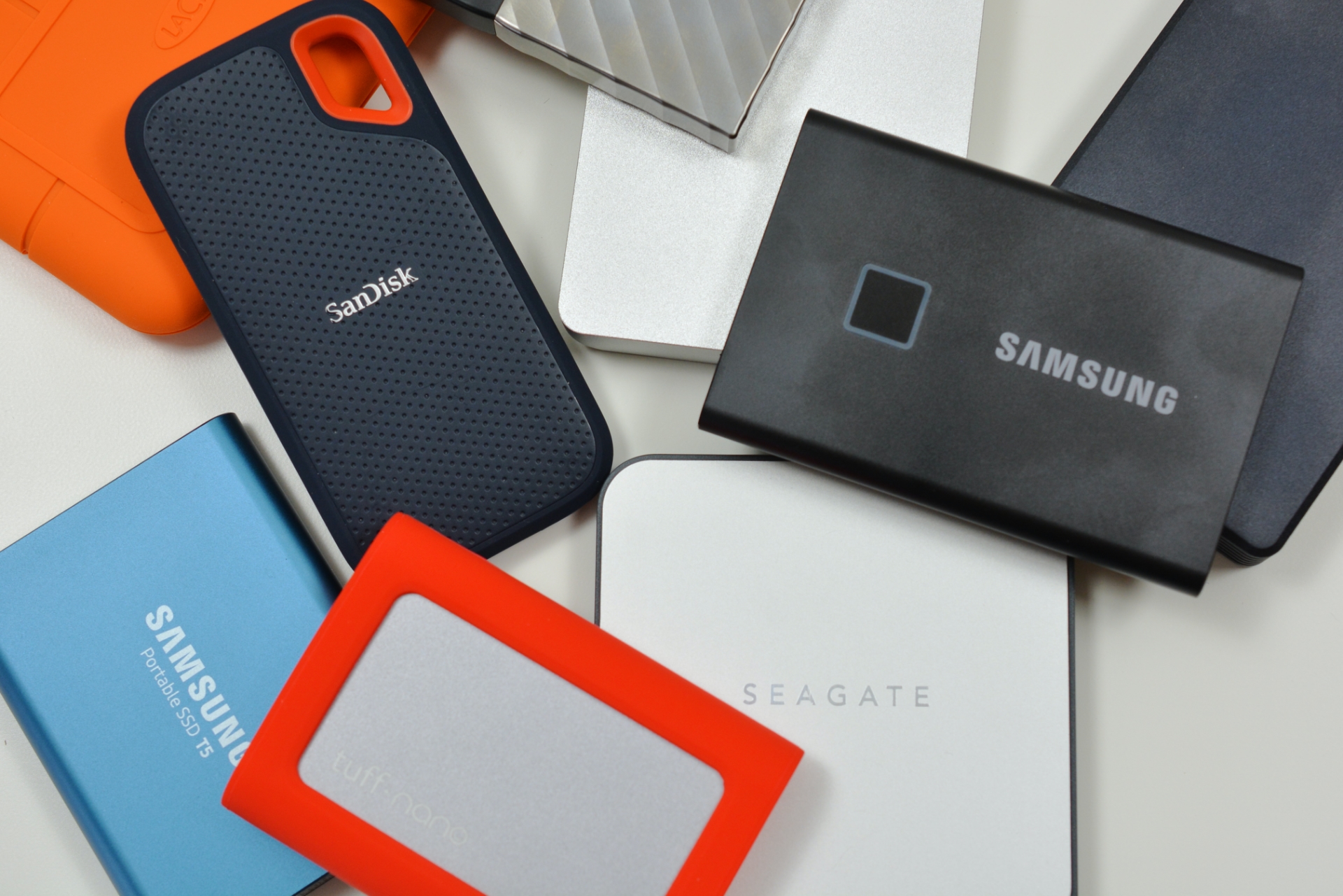 Speed is king when it comes to external solid-state drive (SSD). Although you should factor in build quality, capacity and features depending on your use, the crux of what makes an external SSD worthy of your serious consideration is how fast it is. For this reason, if you're a power user, you have to care much about choosing the fastest external SSD.
Once prohibitively expensive, SSDs of all stripes have been falling in price over the past few years. Consequently, external SSDs have emerged as alternatives to classical external hard drives, delivering as much as five times the speed and much greater durability.
This guide will walk you through the fastest external SSDs you can get for your professional needs.
The Fastest External SSD Brands
Here we lay out the fastest external SSDs on the market as of today. They feature unparalleled speed and very solid quality that won't let you down.
Just note that the first 3 items of this list feature the fastest USB external SSDs, whereas the last item features the fastest thunderbolt 3 external SSD.
Let's start with the details..
1.

SanDisk Extreme Pro Portable SSD
Most external SSDs, like most internal SSDs, feature a fast write cache. Once you transfer 10s to 100s of gigabytes, depending on the specific device, that write cache will fill. Once it does, write performance degrades severely in most cases. That's a big problem for a creative pro or just someone performing lots of large file transfers on a daily basis. The result can set back a workflow schedule significantly. That is why SanDisk's Extreme Pro is our top pick; it doesn't slow down.
SanDisk's Extreme Pro Portable SSD is the fastest USB 3.1 Gen 2 external SSD we've seen to date. That makes it a perfect choice for extreme gamers. Burst performance is roughly on a par with the runner-up Samsung T7's, but it blows that drive out of the water during long writes.
Additionally, with a tough, protective design that is IP55 rated, this drive is built to keep up with you no matter what the condition. And, it can connect to almost any computer with its USB interface, unlike most Thunderbolt 3 devices. So you can backup and edit on almost any platform.
Basic Features
Up to 1050MB/s transfer speeds
Ruggedized: IP55 rating for dust- and water-resistance
Up to 2TB of space for full libraries of content
Lightweight and pocket-sized for portability
Works with PC and Mac computers, and USB-C and USB-A(2) inputs
---
2.

Samsung T7 External SSD
The Samsung SSD T7 is the latest model of the company's flagship portable SSD line. It features a very nice upgrade to the older T5. It's thinner, a significantly faster reader, and it also sports a fingerprint scanner that you can employ, or not—your choice.
Sporting a sleek and slim design, the T7 leverages the USB 3.2 Gen 2 interface and offers a speedy physical alternative to store digital projects and redundancy for backups coupled with the Cloud. It also offers another option for supplemental storage where connectivity might be an issue.
While the T7 Touch isn't the fastest portable SSD out there, its speed is more than enough for copying all but the largest of files. Unless you regularly access multi-gigabyte videos, the Samsung's throughput should suffice. At more than 20 cents per gigabyte for the 1TB model, it's a bit pricey, but it's nevertheless an excellent all-around external SSD that offers both good performance and easy-to-use security.
Basic Features
SSD with fingerprint and password security
Transfers files nearly 9.5x faster than hard drives
Reads up to 1,050 MB/s — Writes up to 1,000 MB/s
LED status indicator
Shock-resistant and withstands drops from 6ft
---
3.

Crucial X8 Portable SSD
Crucial's X8 Portable SSD is affordable, fast with everyday tasks, and sports a classy design. It feels nice in the hand and looks good emerging from your pocket.
Crucial's X8 is a durable portable SSD that is compatible with a broad variety of devices. This includes Windows 10, macOS, Linux PCs, the Apple iPad Pro, Chromebooks, Android tablets and phones, and the PS4, and Xbox. So, with most USB-equipped devices, it will just work.
Being such a better option than SATA SSDs, it's as simple a choice to upgrade your system with a Crucial P1 SSD as it is to choose the X8 over other SATA based portable SSDs. With Crucial's X8, the company is expanding into a new market segment yet again, but they still continue to play it safe in the market and shoot for the masses.
Basic Features
Incredible performance with read speeds up to 1050MB/s
Works with Windows, Mac, iPad Pro, Chromebook, Android, Linux, PS4, and Xbox One with USB-C 3.2 Gen2 and USB-A connectors
Beautiful and durable design, featuring an anodized aluminum unibody core. Drop proof up to 7.5 feet. Extreme-temperature, shock, and vibration proof
Backed by Micron, one of the largest manufacturers of flash storage in the world
---
4.

SAMSUNG X5 Portable SSD
The X5 is the fastest external storage device we've seen to date. If you have a Thunderbolt 3-equipped device and plan to move content to other TB3 hardware as well, then the X5 is a great choice. It is expensive and the transfer speeds aren't as spectacular as one might expect, but this drive is still exceptionally fast given the right connector.
But then again, Samsung made it clear in marketing messages that this is a 'halo effect' product – in other words, not something destined for the mainstream market, with that audience having the T7 (and the T5) to purchase. Instead, the X5 will appeal to (and likely convince) those looking for the ultimate in performance regardless of the price.
Basic Features
THUNDERBOLT 3 AND NVMe POWER: First ever NVMe-based portable SSD from Samsung featuring Thunderbolt 3 technology, the X5 delivers up to 40Gb/s data transfer speeds
LIGHTNING FAST READ WRITE SPEEDS: Sequential read and write performance levels of up to 2,800MB/s and 2,300MB/s, respectively
DURABLE DESIGN: Full metal body with glossy top and non-slip bottom mat withstands drops of up to 2 meters; Shock resistant internal design features Dynamic Thermal Guard technology to help maintain optimal performance and temperature
SECURE ENCRYPTION: Optional password protection and AES 256-bit hardware encryption keeps your personal and private data more secure
WARRANTY AND COMPATIBILITY: 3-year limited warranty; Ensure to have the latest firmware/bios installed for the device and the computer
---
Opting for a Fast External SSD
You may ask: why to opt for the fastest external SSD while there're other cheaper options out there? Well, you don't really need the fastest external SSD for your work to be accomplished. Just any external SSD with high speed can do the job perfectly. But there's something you have to understand about this matter that enthusiasts always like to get the best products.
With a fast external SSD you won't have to wait too long for huge files to transfer. See for example game files that are gigabytes in size, they will take too long on a classical external HDD to transfer. Moreover, during the transfer process through the USB cable, data might get corrupted due to electric surge or circuit inner shock, and that happened a lot. For that reason it is always good to have a fast external storage solution to cut down on time of file transfer.
Additionally, if you're a video editor or a serious gamer, surely you want to accomplish your heavy and resource-demanding tasks seamlessly and quickly. This can't be done with a slow external storage device. You will need something that offers high speed, and that can be found in external SSDs. If you get the fastest external SSD your work experience will change significantly.
Also, with the rapid advancement of technology, the digital files are getting huger and huger, day after day. This fact impels wise users to look further for an external storage solution that lasts a few years more. Otherwise, it will be just a big waste of money. It's just like buying a new car or a new laptop. The strongest car or laptop will serve you well enough more than 5 years. That's why, if you budget permits it, you must look for the most powerful option.
External SSD for Game Consoles
If you have a game console like PS4 or xBox, an external SSD is a good addition if you can afford it. Although we usually advise to always upgrade the PS4 internal hard drive with a better drive, you can still get an external SSD for PS4.
We always advise of replacing PS4 HDD with SSD before going for an external SSD. That way you'll get the maximum performance boost out of your external SSD. Otherwise, if the PS4 internal hard drive is not fast enough, it'll be a performance bottleneck for the external SSD you picked.
Additionally, if you own the PS4 Pro model, you will enjoy even more power with an external SSD. Just make sure to upgrade the PS4 Pro HDD to an SSD first.
External SSD vs External HDD
In this section, we've compared External SSDs with External HDDs based on some major factors such as storage capacity, speed, cost, and reliability. The comparison given here would help you make the right decision in selecting drive as per your preference.
1. Storage Capacity
External HDDs get an upper hand, if you're looking for massive storage space. The HDDs are available in a wide range of capacities ranging from 40GB up to 18TB. In addition, there are even larger capacities for enterprise use.
As for external SSDs, they are also available in varying capacities and huge storage spaces, but an external SSD with a given capacity is much costlier than an external HDD of nearly same capacity.
Moreover, the consumer-class external SSD doesn't exceed the 2tb limit as of today, although the enterprise class has much bigger options, whereas the consumer class of an external HDD has reached the 18tb limit.
Thus, external HDDs are a better choice over external SSDs when your main motive is to store a huge amount of data.
2. Speed
The SATA-III Hard Disk Drive at 5,400 RPM will have read/write speeds of around 100mb/s, while for a 7,200 RPM drive it'll be around 150mb/s.
On the other hand, data read/write technology in SSDs is entirely different from HDDs. The average read and write speed of an SSD with SATA III connection is around 550mb/s and 520mb/s, respectively. Some of the SSDs may even deliver a speed of 600MB/s. If you pick the fastest external SSD in this list, you can easily get that high-speed on your hand.
Consequently, external SSDs are much faster without any doubt.
3. Cost
While choosing an external storage device the first thing that might strike your mind is the cost. Typically, for a given capacity, external SSDs are much costlier than external HDDs. You'd get larger capacity at a much lesser price.
However, if you want a balanced deal, you can go for older/used SATA-III-based external SSDs which offer a fair speed and good durability. They're pocket friendly and are not very costly in comparison with some HDDs of similar capacities.
4. Reliability & Durability
There are various factors on which reliability or the lifespan of drives depends, such as the amount of data written over the time, how you handle the drive, environmental conditions, age of the drive, etc.
SSDs don't have moving parts like HDDs. Therefore, they're not susceptible to physical damages. SSDs can be considered more reliable in terms of portability as they are less likely to damage.
Moreover, environmental conditions and age of the drive also decide its life. Factors such as temperature & humidity have an impact on these drives. Humidity leads to oxidization of metals inside the drives. People assume data stored in these drives will last forever, which is untrue. Data stored on an external hard drive will degrade and so will the data on external SSD though at a faster rate as SSDs store data as electrical charges which leaks away with aging.
How to Choose the Fastest External SSD
It's not really difficult to find out what the fastest external SSD is. You only need to read few reviews published on trustworthy tech websites and deduce which one it is. In fact, unless you have the equipment, time and money, you can conduct speed test on varied drive to figure out which the fastest external SSD is. But that is too much time and money consuming that most users can't afford.
For that reason, just follow what experts say in this regard. We have just done that here to compile these items in our list. The fastest external SSD is what we saw experts deeming it that.
Conclusion
Eventually, it's not necessary to get the fastest external SSD out there if you're running low on budget. Just pick the external SSD that you feel is fast enough for your needs, as everyone's needs differ. Additionally, all modern external SSDs are super fast, and the fastest of the same type won't offer tangible difference. So, rest assured about that.