How to play PS5 games on PS4 | Expert's Guide
A wide variety of PS5 users look for a way to play their favorite PS5 games on the PS4 console, and that's for a valid reason. Yes, the PS5 console is the best place on which you can play these games, but it happens sometimes that you want to play these PS5 games with a friend who still uses PS4 and doesn't own a PS5.
Perhaps you have another reason for that idea to implement, but for whatever reason you have, you can definitely play PS5 games on PS4, and it is good to learn that in case you will need to do that in the future for some unexpected reasons. This guide will walk you through how to play PS5 games on PS4 without hassles, so keep reading up.
IMPORTANT NOTE
You may not be aware that the PlayStation system only supports backward compatibility and doesn't support forward compatibility. That means you can play your PS4 games on your PS5, but not vice versa.

As a result, theoretically, playing PS5 games on PS4 is NOT possible without some tricks and twists, but we don't guarantee that they will always work on all PS5 games or on every version of the PS5 system software. You just need to try your luck and see if it works for you or not.
This guide will teach you how to play PS5 games on PS4 through either Share Play or Remote play. These are currently the only two possible methods through which you can do that trick.
Method #1:

How to play PS5 games on PS4 Through Remote Play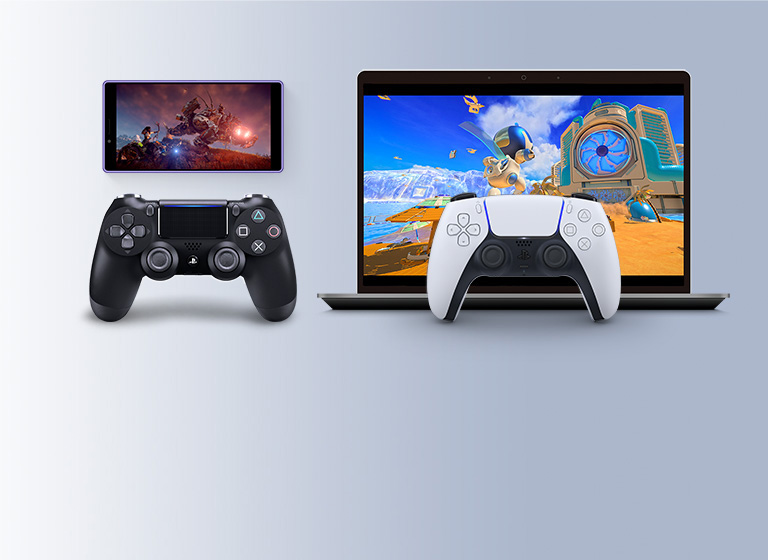 The first method to play your PS5 games on PS4 is to use the "Remote Play" app. It's such a great feature that may allow you under certain conditions to play PS5 games on PS4. Unfortunately, this doesn't always work and it does come with some restrictions (illustrated below).
But you may ask here, why would "Remote Play" allow you to play PS5 games on PS4? The answer is simply that "Remote Play" will see you streaming your PS5 to your PS4 which leads to allowing you to control your PS5 via your PS4. That is the trick here that you can take advantage of in order to play PS5 games on PS4.
Basic Knowledge to Acquire on "Remote Play"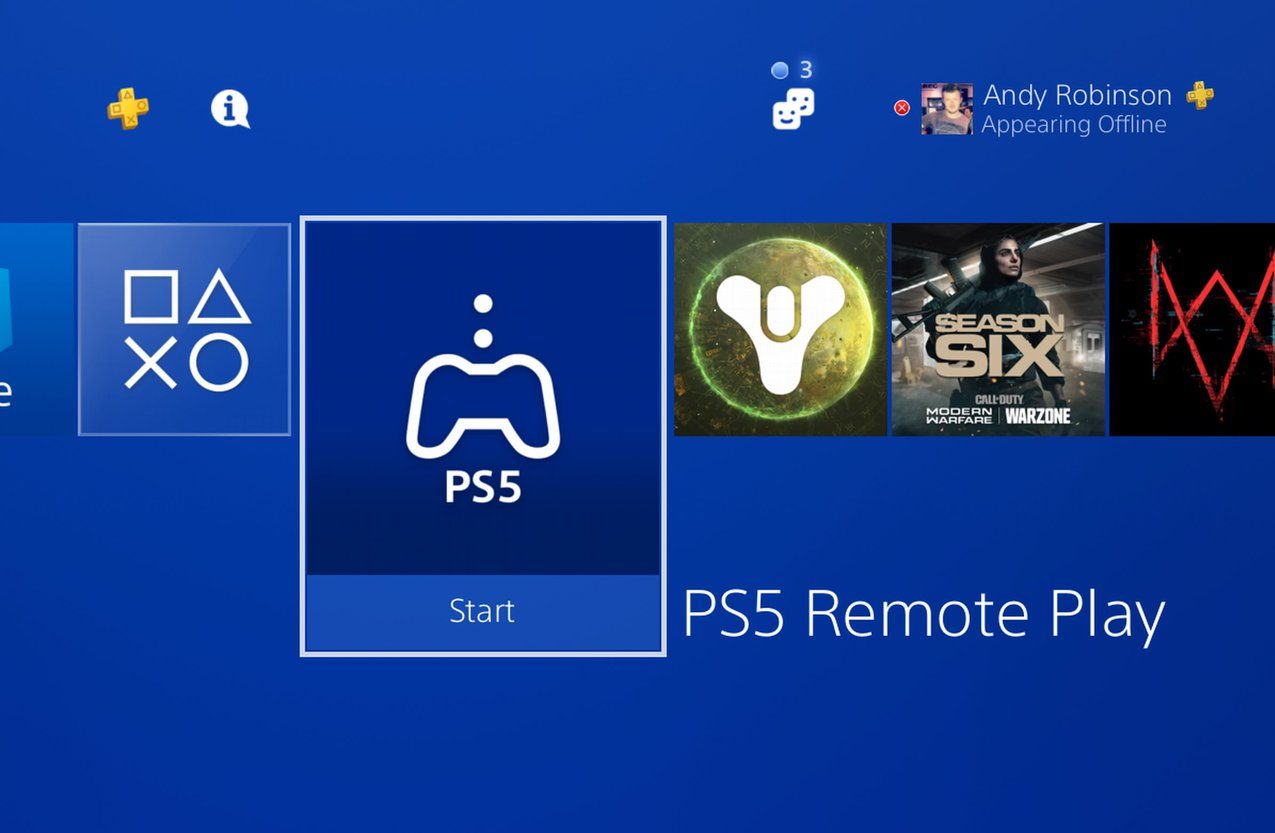 Before trying to use the "Remote Play" method, there are a few things you have to learn about the "Remote Play" app in PlayStation and what you must do in order to play PS5 games on PS4 successfully without trouble.
The first and most important part here is that you must already have PS5 and PS4 consoles in your house, and both of them must connect to the same wireless network.
The DualSense controller does not support the PS4 system, which means you have to use your PS4 controller on the PS4. In other words, you can't make use of Dualsense features such as adaptive triggers and haptic feedback when the PS5 games you want to play on PS4 utilize these features.
You must have an active subscription to the PlayStation Network (PSN) because you need to sign in to it on both PlayStation consoles.
Once you start using the "Remote Play" app, your mates can join you as "added players". The maximum number of players that can join a particular multiplayer game is THREE. The session would immediately end if the Remote Player host leaves it. Additionally, It's not possible to use a microphone while attending a multiplayer game.
Not all PS5 games support "Remote Play", so don't expect to always have the ability to play any PS5 game on the PS4. Additionally, PS5 games that require external devices such as PlayStation VR or PlayStation Camera (i.e. PSVR games) won't work on "Remote Play". Moreover, since the base PS4 doesn't support 4k resolution, it can't display PS5 games in that resolution.
You are unable to utilize "Remote Play" in one of the following situations:

You're using "Share Play", "Share Screen" or broadcasting your gameplay.
Some users are using "Remote Play", "Share Screen", or "Share Play".
Someone is broadcasting their gameplay.
The PS5 is being used by somebody else during your play on PS4. The connection then will be lost.
You're playing a Blu-ray, DVD, or playing music through Spotify on your PS4.
You are using the PSVR.

Note that it's also not possible to go through any of these situations if you have already started using the "Remote Play". In other words, you can't use "Share Play", "Share screen, etc. if you're using "Remote Play".

During "Remote Play", and according to Sony, some or all video content might not be displayed on your device depending on the game or video service.
Worth it to say that the quality of "Remote Play" performance fundamentally depends on how good your internet connection is, and you should always expect "input lag" while using the "Remote Play". Based on what Sony recommends in this case, a minimum 15 Mbps high-speed internet connection is required for a good experience on "Remote Play", and the higher the speed is, the better the performance goes.
Illustrating How to play PS5 games on PS4
As being said already in the previous section, if you wish to play PS5 games on PS4 you must connect both consoles to the same wireless network and both must run the latest system software version. Moreover, make sure that your last use of PS5 has not exceeded 60 days. If you are not sure enough, just turn it on and log in.
How to enable Remote Play on PS5
First of all, you need to enable "Remote Play" on your PS5, so turn on the console and follow our guide below to access the required settings.
From the PS5 home screen, go to Settings. It's the small cog-shaped icon in the top right-hand corner of the screen.

In the next menu, select System. It's the sixth option in the list, so scroll down and press X.

Scroll down the next menu until you come to Remote Play. It's the fifth option down.

You'll find that Enable Remote Play, the top option in this section, is disabled by default. Press X on it, and it'll switch on.

"Remote Play" is now ready to go, but before we move on to the PS4 you want to stream to, there are a couple of other settings you need to change.

Go back to the previous menu and select Power Saving. It's the option directly below Remote Play.

In the Power Saving Menu, press the middle option: Features Available in Rest Mode.

Make sure that both Stay Connected to the Internet and Enable Turning On PS5 From Network are enabled. These two settings will combine to ensure that you can start your "Remote Play" session from your PS4.

Connecting PS4 to PS5 Remote Play
Now, after you have successfully enabled "Remote Play" app on PS5, you need to learn how to connect your PS4 to PS5 "Remote Play". Here are the steps to follow:
Make sure your PS5 is on or in rest mode
On your PS4, on the home screen, or under your app menu, select the "PS5 Remote Play" app, and click on "Connect to PS5"
On that screen you can choose between the listed resolutions for your streaming. Just click the "option" menu and select what suits you best.
You are supposed now to find your PS5 device and display your PS5 home screen. From there you can pick any PS5 game you want to play.
If there are friends you want to join your Remote Play game (in couch co-op), let them turn on their controller first, then sign in and press the 'Options' button on their controller.
Now you can enjoy playing PS5 games on PS4 if everything has gone smoothly in this process.
Note that to disconnect your PS4 from PS5 "Remote Play", press the PS button on your controller and select disconnect, an option will be given to you to either leave your PS5 on or leave it in Rest Mode. This Remote Play menu can help you also switch between the PS5 and PS4 screens.

PlayStation "Share Play" is an app that allows PS5 console users to let their friends with PS4 consoles view their game screen or try out their PS5 games for free. You can pass your controller virtually to a friend, or pass a second controller virtually to play co-op games together.
One good point about "Share Play" also is that if your friends don't have the games on which you want them to play with you or even they don't own a PS5 console, they can still join your multiplayer games.
But, just like "Remote Play", "Share play also have its own restrictions explained below.

When you want to play PS5 games on PS4, the second method you must consider is "Share Play", but it is a feature that's more useful to your friends than yourself, and you'll learn why soon if you keep reading.
The host player must own a PS5, and it doesn't matter what console other friends have, whether it is a PS5 or PS4.
For now, only two people can "Share Play" at a time.
The ones who want to play your PS5 games must be your friends on PSN.
Share Play won't work if the game you want to play isn't available in the visitor's PlayStation Store, if the visitor's parental control levels don't match the game, or if the visitor's age is lower than the game's age rating.
Your both PS consoles must run the latest system software version, so verify that before using "Share Play".
You must have a stable internet connection of a minimum 2Mbps speed, according to Sony.
Be aware that the "Share Play" sessions don't last that long as you may think. It can only last 60 minutes. Therefore, to work around that you may want to keep restarting the session.
Although you don't need a PS Plus subscription to watch someone play through "Share Play", you do need that subscription if you want to give the controller to a visitor. It is only the host who requires an active PS Plus subscription, not any other member.
This might be intuitive but still worth saying that only the host should have the PS5 game to share.
During the "Share Play", trophies can only be earned by the host.
"Share Play" app only allows you to share your game screen and audio. As for other screens and non-game app screens, they can't be visible to visitors.
Some game scenes may not appear to visitors because "Share Play" is not compatible with all games. So, make sure you chose the game that fits for that matter.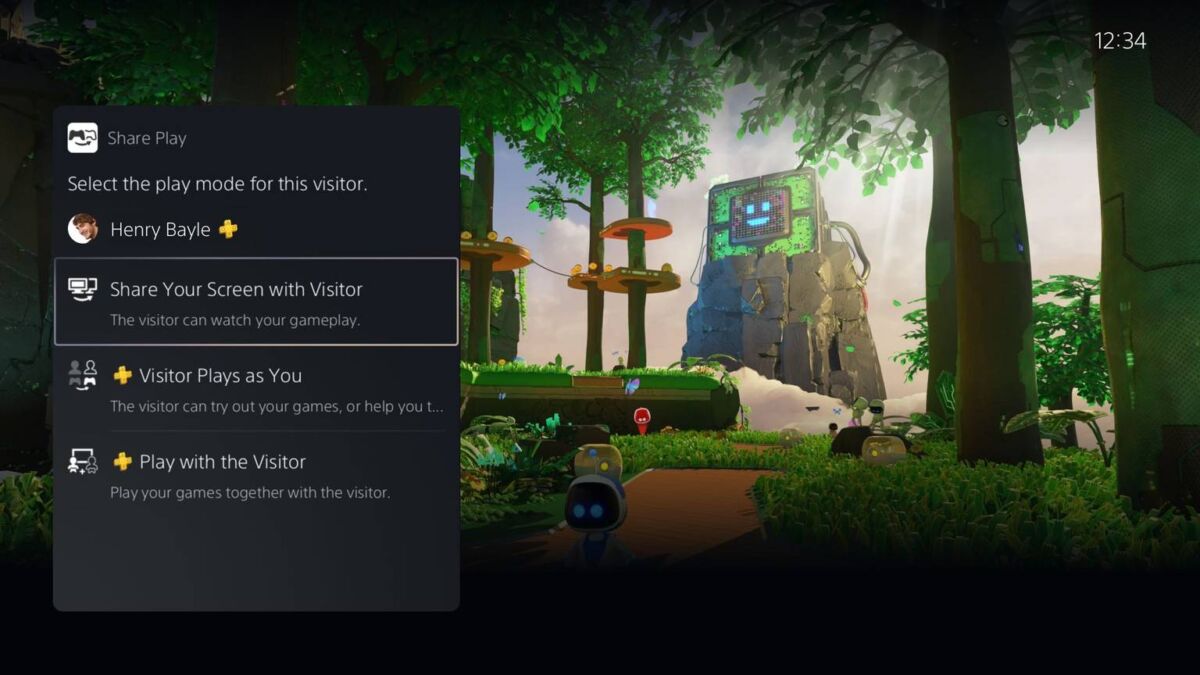 Here's how to start a Share Play session with a friend. You can start a session whether you have a PS4 or a PS5.
On the Invite Players screen, add the friend you want to start a party with by searching for them, or select them from your friends list. Follow the instructions and choose Send Invitation.
Load the game you want to play.
Press the share button on your DualShock 4 controller.
Choose Share Play on your TV screen.
Select the friend you want to share your game with from your list. After they accept your invitation, your game systems will link and the 60-minute session will start. After the session expires, you can immediately restart another session and pick up where you left off.

The person you're Share Playing with will be able to see your screen as well as talk to you if you're both playing with microphones. After you're in a session together, you can also let your friend try out the game. Here's how:

Press the share button on your controller.
Choose Go to Party for Share Play on the TV.
Select Give Controller to Visitor.
From there you can choose either Allow Visitor to Play as You or Play a Game Together (if your game has a multiplayer mode). The visitor doesn't have to be a PlayStation Plus member, but the host does have to be in order to do this. As for playing co-op, it requires both gamers to be PlayStation Plus members, but only the host needs a copy of the game in both cases.

To go back to basic screen sharing, press the share button on your controller again, select Go to Party for Share Play and choose Take back Controller. This is also the path you'll take to Stop Share Play.

Conclusion

So, these are currently the only two methods via which you can play PS5 games on PS4. Maybe Sony will allow an additional and better method for that to happen in the upcoming system software update, but until then you have to accommodate to what you have in hand.