The Largest USB Flash Drive for Enthusiasts
USB flash drives are a very popular storage medium trusted by a wide variety of users in the digital world. In fact, it's nearly impossible to find someone who has a computer without a USB flash drive. That's due to several reasons including the ease of use a USB flash drive offers to users and the high portability it boats. Because of that, no wonder why users with big storage requirements search for the largest USB flash drive. In this article we present the largest USB flash drive brands available on the market as of today.
You have to note though that currently the largest capacity USB flash drive is 2tb, but it's very uncommon and you can hardly find. Moreover, if it happens that you find one, you can't find any larger than that in the consumer-level segment. Additionally, if you allow for a little larger physical shape, consider going for an external SSD instead. They are just a little bigger in shape than USB flash drives.
Recommendations for the Largest USB Flash Drive
The largest capacity USB flash drive laid out below is 1TB. There're a few brands that ship with that storage capacity limit.
1.

Corsair Flash Voyager GTX 1TB Premium Drive
With storage capacity up to 1tb, and high transfer speed, this is our top pick for the largest USB flash drive. It combines the large storage capacity with high speed together in one entity. The Voyager GTX USB 3.1 premium flash drive puts SSD performance in your pocket, with up to 440MB/sec read and 440MB/sec write speeds. You can't find faster than that in any other brand, especially the write speed that we've not seen any drive offering that limit.
Basic Features
Experience portable USB storage with the speed of a solid-state drive
High-speed 3D NAND memory unlocks read speeds up to 440MB/second and write speeds up to 440MB/second
Available in 128GB, 256GB, 512GB and massive 1TB capacities, so you can carry all your data, wherever you go
Premium rugged zinc-alloy housing with aluminum accents protects your data in style
Optimized for USB 3.1 Gen 1, USB 3.0 and USB 2.0 for future-proof and backwards compatibility
---
2.

Patriot 1TB Supersonic Rage Elite USB Flash Drive
The Supersonic Rage Elite is the ideal combination for everyday users that require both, ultra-fast transfer speeds and larger capacities to save time while allowing you to quickly access files immediately. No more losing caps, go capless! This user-friendly, plug and play USB features a retractable design to protect the USB connector when it's not in use.
Basic Features
1TB USB 3.1/USB 3.0 Flash Drive Up to 400MB/s Read: Up to 300MB/s Write
Durable slide to connect design to protect the Drive.
Rubber coated housing protects from drops, spills, and daily abuse.
Backwards compatible with USB 3.0, USB 2.0, USB 1.3
Compatible with legacy and current versions of Windows, Linux 2.4 and later, Mac OS9, osx, and later
---
3.

PNY Pro Elite 1TB Flash Drive
The PNY PRO Elite USB 3.0 1TB Flash Drive is the third largest USB flash drive we recommend for our valuable readers. It is built for speed, boasting not only expanded capacity but also exceptional performance, making it the ideal solution for extreme users working with the largest files and most demanding applications.
With read speeds of up to 400MB/s and write speeds up to up to 250MB/s, the PRO Elite USB 3.0 Flash Drive is up to 80x faster than standard USB 2.0 Flash Drives.
The PRO Elite is designed with both performance and convenience in mind, and is the perfect solution for transferring and storing large documents, high-resolution photos, and HD videos quicker and easier than ever before. It is compatible with USB 3.1/3.0 equipped PC and Mac desktop and laptop computers, and backwards compatible with USB 2.0.
---
4.

ARCANITE 1TB USB 3.1 Flash Drive
Although this company is not so famous, but it produced a solid USB flash drive. Its read speed reaches up to 400mb/s, but its write speed is low compared to the previous three items. It reaches up to 100mb/s only.
This drive is a great cheaper alternative to premium flash drives if your main concern is the read speed.
Basic Features
Interface: SuperSpeed USB 3. 1 Gen 1 Type-A connector (backwards compatible with USB 3. 0, 2. 0 & 1. 1)
Specification: made in Taiwan, dustproof, shockproof, temperature resistant/ size: 2. 23 × 0. 71 × 0. 35 in
Plug & play: use on the go with read speeds up to 400MB/s, write speeds up to 100MB/s.
Recommended use: storing documents, pictures, videos
System compatibility: devices with USB Type-A connector. Windows 10/ 8/ 7 Vista, etc. Mac OS 10. X and later
---
Why Opting for the Largest USB Flash Drive
There are several reasons that promote buying the largest USB flash drive, such as:
Large Capacity
The advantage of Large USB flash drives compared to smaller ones is that they offer much huger storage space. It's possible to choose a USB flash drive with 1TB of storage capacity. Video files are very large in size which makes it important to ensure you're choosing a USB flash drive which has plenty of space available.
High Speed
USB flash drives connecting via USB 3.x will work at very high speeds. This makes it easy to copy large files quickly to your hard drive. SSD-based USB flash drives will make it possible to work faster.
A normal USB flash drive may not be suitable for video editing because it will work too slowly. This will make it difficult to use it for video editing. It's impossible to wait a long time for large video files to be copied to and from your USB flash drive. That's why you should always choose one which is configured with USB 3.x connection.
Portability
One of the best things about USB flash drives is that they are portable. This makes it really easy to carry them around with you. They can be plugged into any computer and will be supported instantly without needing to install any drivers. The good news is that almost every computer now supports USB 3.x connection. That makes the experience of using your large USB flash drive very flexible.
Choosing a USB flash drive which uses an SSD technology allows it to offer huge storage capacity in a smaller shape. USB flash drives are also designed to cope with transport and shocks.
Extra Space
If your computer is lacking space then storage works will be difficult. A large USB flash drive offers an easy and quick solution for emergency by adding up to 1TB of storage space to your computer immediately.
Ease of Use
USB flash drives are very easy to use. USB devices are automatically detected as soon as they are plugged into any computer. They are automatically supported on Windows and Apple mac computers. As soon as you plug the drive in it will be displayed as a removable drive on your computer. This makes it possible to treat it exactly like it was an internal drive fitted inside your computer.
Flexibility
USB flash drives are very flexible and can be brought in different capacities.
Large USB flash drives make using a computer to store video files on the go much easier. Anyone who uses a desktop computer for photo editing will find that a large USB flash drive will make their task much easier.
Choosing the Largest USB Flash Drive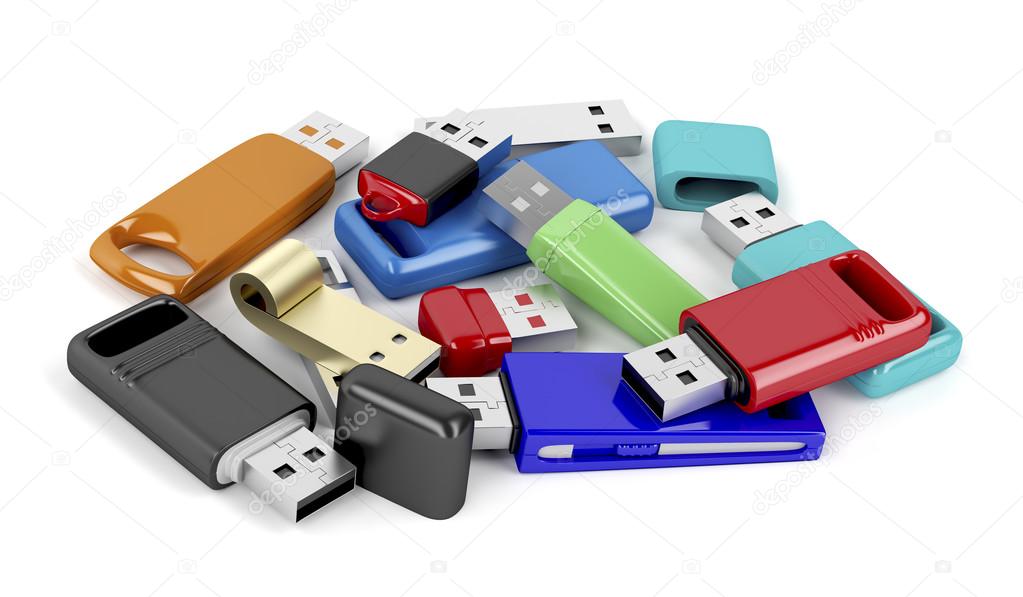 Choosing the largest USB flash drives for your heavy needs can be overwhelming, so here are some things you can consider before making your order.
Primary Use of The USB Flash Drive
How will you use the large USB flash drive you want? Are you going to store huge files regularly on it? Or you want to use it for video editing purpose? Perhaps you want to install your favorite games on the drive and share them with friends?
It's important to know how you intend to use the large USB flash drive you plan to buy so that you can decide on the best product or style that will appropriately suit your needs.
You have to always bear in mind that USB flash drives are not designed for long-term storage solution. It works just as a portable medium between different computers. So, if you want a small and very portable storage solution that can last for so long, go for an external SSD.
Transfer Speed
What transfer speed would you prefer? There are two types of USB flash drives that are currently on the market. There's the USB 2.0 flash drive and the USB 3.0 flash drive. The USB 2.0 flash drive transfers 60 megabits of data per second while the USB 3.0 flash drive has a transfer rate of 640 megabits of data per second. This means that the USB 3.0 has a transfer rate that is ten times faster than the USB 2.0. Which of the two types would be more useful for your needs?
Taking the largest capacity USB flash drive into consideration, a 1TB USB flash drive with USB 2.0 connection is NOT recommended to get. It's more a luxury than being practical. That's because 1tb of USB flash drive means you want to transfer huge files to and from the drive. Remember that the USB flash drive is not a permanent storage solution, it's just used to transfer files between computers. This is the primary purpose of this device.
Hardware Compatibility
What kind of computers are you working with? Hardware compatibility is something that should be considered. While most USB flash drives work across different computers and laptops, you may run the risk of underutilizing the flash drive's capabilities if you aren't aware of your current hardware set-up.
Most computer USB ports are either USB 2.0s or USB 3.0s. If a computer has USB 2.0 ports, that means it can only transfer data at the USB 2.0 rate, even if a USB 3.0 flash drive is plugged in. You will still be able to use the USB 3.0 flash drive in a USB 2.0 port, but you won't be able to maximize the transfer rate capabilities.
Speed
The speed of a USB flash drive also matters a lot. Generally speaking, the faster the USB is, the better. Two factors decide the speed of your USB flash drive: USB port itself and the components of the drive.

Another interesting thing is that when finding two similar USB flash drives and both of them with USB 3.0 and 64 GB capacity made by one manufacturer, you may raise a question what makes their costs different? The answer is the quality of components, which decide the performance of your drive.
USB 3.0 is much faster than USB 2.0, but both the USB port itself and the drive itself must support the standard. If your flash drive is USB 3.0 but the computer's port is USB 2.0, the transfer will take place at a speed of USB 2.0.
The flash drive and controller type inside the stick also has impacts on the speed.
The best drives use the same type of advanced controller and memory quality in solid state drives (SSDs), while the cheaper drives use cheaper components that do not perform well in transferring and storing data.
Performance
The performance of a USB flash drive is also essential factor when you are making a choice on the largest USB flash drive purchasing. The largest USB flash drive's performance depends on three aspects: the interface, USB mass storage controller and the NAND flash memory chip inside the drive.
Most of large USB flash drives apply the standard rectangular Type-A connector, but the controller will support a range of USB standards up to USB 3.1. The cheapest drive is limited to USB 2.0 with a maximum speed of 40 MB/s. USB 3.0 can reach speeds of about 625 MB/s in theory, while USB 3.1 can reach 1,250 MB/s.
The actual maximum transmission rate is lower than its theoretical rate – even the fastest USB 3.1 only can reach 440 MB/s in practice. This is because although USB 3.0 and 3.1 drivers are not hindered by slow interfaces, they are still limited by the speed of the controller and the NAND flash chip itself.
In fact, even the fastest USB flash drives are hard to reach 300 MB/s, and most of the peaks are between 100 MB/s and 200 MB/s when transferring large files in sequence.
For a comparison between USB 3.0 vs USB 2.0 in flash drive, please visit this page.
Conclusion
Actually not everyone needs a huge capacity USB flash drive. Most users tend to get a moderate size that can fulfill their daily needs of small storage works. On the other hand, in some exceptional cases, there's a real need for a quick and portable large storage solution, and there where the largest USB flash drive comes to place.