PS4 PRO SSD Upgrade Guide – The Best Options
PlayStation 4 Pro is undoubtedly a very powerful game console that stands out in many aspects in the video game space. It boasts some of real solid features that unarguably make it a mighty high-end game console designed for professional gamers. With PS4 Pro SSD upgrade it's possible now to make this game console even more powerful than ever.
According to the modern standards, PS4 Pro is impressive in everything except that related to storage. In fact, this is almost the only weak side in this mighty game console. To professionals, it's a major drawback indeed.
Certainly, Solid State Drive (SSD) is the best storage upgrade for PS4 Pro in terms of performance. It offers up to 50% performance boost. And now, especially after Sony added a new feature to the PS4 System Software called Boost Mode, which is designed solely for PS4 Pro model, users can take more advantages of the power of SSD with their console.
Best SSD for PS4 Pro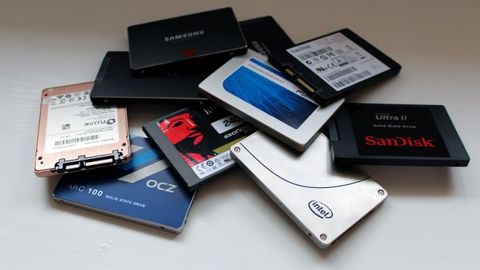 The standards for choosing the best SSD for PS4 Pro differ from those for PC or MAC. That's due to the fact that game consoles in general (and PS4 Pro is NOT an exception) are not as powerful as computers that are designed for more than just gaming. But, the good news here is that there's a trend by Sony to broadly support PS4 Pro with the upcoming firmware updates, and the Boost Mode is just the beginning for this wide-range support.
Moreover, game makers will develop/update their games to become fully compatible with the enhanced features of PS4 Pro. That includes its support for SATA III, which allows SATA III storage devices, such as an SSD, to have a remarkable effect on the overall performance of the game.
In a nutshell, that means PS4-Pro-optimized games will function better on PS4 Pro in some major aspects. It will take gaming experience to the next level.
We will lay out below the best SSDs we recommend for PS4 Pro console. If you wish to read further on this topic, you can skip this section to the next one.
---
Best

1

tb SSD for PS4 Pro
This is the most popular PS4 Pro SSD size, and it's suitable for the overwhelming majority of users. It comes with almost the same size of the stock hard drive, and as long as you are the only user for your game console, or you have an additional partner on the same console, this 1tb SSD storage capacity will probably suffice.
ٍCrucial MX500 1TB SSD
Crucial MX500 1tb SSD has a lot to offer if you are still looking for a SATA SSD for your next PS4 Pro storage upgrade. The MX500 is one of the cheapest SSDs on the market at the moment. Additionally, it offers real-world performance very close to the Samsung 850 EVO. Therefore, the MX500 is an almost perfect combination of performance and price for PS4 console. And with the 5-year lengthy warranty, I don't hesitate to place this drive on the top position as the best SSD for PS4 Pro.
ٍSamsung 860 EVO 1tb SSD
Samsung 860 EVO 1tb SSD has not been placed in the second position due to a performance issue. Rather, it's a matter of price. Otherwise, it has almost an identical performance grade to Crucial MX500. The price difference between the two drives is almost USD30 and I don't see it justified to pay that amount just for the brand name. This drive comes with a 5-year limited warranty as well.
Alternatives
The following drives feature good alternatives to the above one. They offer 1tb of storage capacity and high data transfer rate, with the same price range (under $300) as our top recommendation.
---
Best

2

tb SSD for PS4 Pro
The 2tb capacity SSD is best suited for enthusiasts with exceptional storage needs. Most enthusiasts are content with 1tb though. But when they need an additional storage space, they use an external hard drive for this purpose.
This PS4 Pro SSD size comes with a high price tag that most users cannot afford. But if your budget is fine with that, here we list below the best 2tb SSDs for PS4 Pro:
ٍSanDisk 2TB Ultra 3D SSD
SanDisk Ultra 3D SSD is a very solid choice for PS4 Pro in the 2tb storage capacity. Not because it outranks its competitors in terms of performance, NO. Rather because it offers real solid performance and high reliability for the cheapest price a 2tb SSD can ever be tagged. This drive costs less than USD 260. This is the cheapest, high-quality 2tb SSD I have ever seen in the market as of today.
Alternatives
There's only one 2tb SSD that can compete with the above drive in terms of price and performance. Other SSDs with the same capacities are too expensive and we won't be recommending them.
---
Choosing the Right PS4 Pro SSD
When comparing the performance of PS4 Pro CPU and the performance of SSD, we can easily tell there's a big gap between the two in the favor of SSD. This results in a bottleneck in the data transfer rate between the CPU and SSD. That consequently constrains SSD from operating at its peak performance level. This explains why the benchmark numbers of SSDs inside PS4 Pro barely reach the half of the same SSD inside a computer with a powerful CPU.
We won't be too technical here, but we have to enlighten you about this matter. That's in order to understand on what basis we picked the SSDs in our recommendation list above.
Therefore, getting an expensive high-end SSD with a transfer rate above 550 MB/s is just a waste of money. Particularly if you get to know that this high-end SSD will have a transfer rate of almost 220 MB/s inside PS4 Pro.
Even a mainstream SSD is a waste of money for the same reason. In fact, the best SSD type you can get for PS4 Pro is the entry-level. The entry-level SSD offers the maximum data transfer rate that the CPU of PS4 Pro can handle. That's with almost a difference of $100 in price between it and a mainstream SSD, like Samsung 850 EVO SSD.
SSD Features to Look for
The SSDs we have recommended for PS4 Pro share the following common features:
All SSDs are configured with SATA III interface.
Year of manufacture is not less than 2016. That way we make sure these SSDs implement the latest storage technologies.
Sequential read speed is not less than 450 MB/s.
All recommended SSDs come with minimum 3-year limited warranty
Other features, such as encryption and NAND-memory type are not important in the game console environment. That's because they won't add any noticeable improvement in performance.
Why Upgrade PS4 Pro HDD
To better illustrate why you have to upgrade the internal hard drive of PS4 Pro to an SSD, you need to know what kind of storage device PS4 Pro employs for its storage works. It's simply a mechanical hard disk drive (hdd) in 2.5-inch form factor. It's configured with SATA II interface and spins at 5400 RPM.
We have made a detailed article studying and investigating PS4 Pro stock hard drive. Click here to visit it.
Such a mighty game console designed for professionals having such a storage device is, indeed, a big shame. Sony was aware of this already, but it's main goal was to reduce the price of PS4 Pro to the lowest possible level. That's to gain extra marketing points against its competitors.
On the other hand, it's ridiculous to know that PS4 Pro supports the 3rd generation of Serial-ATA (i.e. SATA III). Whereas its hard drive only supports the older generation SATA-II. That indicates that this drive isn't really intended to be a permanent storage solution for PS4 Pro. It's a clear hint that PS4 Pro is worth a better storage upgrade than the stock hard drive.
To read more about PS4 Pro hard drive and its specifications, please visit this article.
Only PS4 Pro Model is worth an SSD
We have stated earlier that PS4 Pro comes with enhanced features and advanced support. That makes an SSD an inevitable storage upgrade to power users. It offers to them the best gaming experience with their game console.
There're several reasons why PS4 Standard cannot take the full advantages of the performance optimization an SSD offers. The most important ones are:
PS4 processor is not as powerful as computers to decompress files in a large pace. This intuitively has a strong impact on the performance and loading times.
PS4 System Software was not coded to conform to the SSD standards.
Games are coded according to PS4 standards, and the loading time was set with these standards in mind, and the increase in speed you notice while using an SSD is basically due to the fast loading of the media files of the particular game. Therefore, theoretically, the more media files in a game, the faster loading process is.
For these three major reasons you won't observe any big performance difference when using an SSD on either PS4 or PS4 PRO with the same version of the game.
More Advantages For PS4 PRO Systems
But now, the situation is changing in the favor of PS4 PRO. Many games now are being optimized to meet PS4 PRO standards. So if you're a PS4 PRO user, expect a tangible performance gain once your favorite game is updated.
Moreover, Sony is constantly updating PS4 System Software and adding a new features to it. That's to help PS4 Pro users in specific to get more power from their mighty game console, and the Boost Mode feature that was designed only for PS4 Pro is an indicator of Sony's trend in this matter.
So, with SATA 3.0 interface, powerful processor, and the new Boost Mode feature, PS4 PRO's performance can be go to higher levels. In fact, a professional game console like PS4 PRO with its premium features you can equip with an SSD instead of a classical hard drive in order to acquire the utmost advantages out of it.
Our Criteria for PS4 Pro SSD Upgrade
Based on the fact that a high-end SSD is basically designed to undergo very difficult situations of data processing dealing with huge heaps of heavyweight, multitask workloads, which can happen only in advanced computer systems, and no matter how frequently or extremely you use your game console, the data workloads are considered minimal compared to that advanced computers are made to handle.
For this reason we can confidently say that an enthusiast (high-end) SSD is not for game consoles. You'll just waste your money with it.
You have then two choices here, either go for a mainstream SSD or entry-level SSD. The mainstream SSD comes below the high-end SSD in terms of performance and speed. It's still a pretty good product for the overwhelming majority of computer users. But still.. we don't recommend it for any game console, including PS4 Pro.
We only recommend entry-level SSD, and it can easily drive PS4 Pro to the maximum level of performance. That's because, as has been stated above, PS4 Pro processor is not designed to handle multitasks or instant heavy workloads that an SSD can handle. Just imagine it. The maximum data transfer rate PS4 Pro processor can handle is around 250 MB/s, and modern entry-level SSDs offer up to 500 MB/s sequential read and around 250 MB/s sequential write. (Note that write speed is only important when installing games, so it's not a big deal here).
All that impels us to confidently say that entry-level SSD is the best SSD class you can get for PS4 Pro.
So, based on this perspective, we have made our own criteria with varied factors for picking the best SSDs for PS4 PRO:
The compatibility with the standards of PS4 PRO storage upgrade. We make sure the SSD is a SATA-based drive (only SATA III are picked) and not thicker than 9.5mm (as the PS4 PRO drive bay doesn't accept bigger ones).
The SSD manufacturer must be highly reputable in the industry. We only listed the trusted SSD brands in the market to reassure the quality of the drive.
Reasonable price below $300. PS4 PRO console costs currently almost $400, and it doesn't seem reasonable to many that an SSD is at a closer price tag than the console itself. Therefore we tried our best to select the cheapest SSDs without compromising the quality.
The item's model is not more than 3 years old. This to ensure that the SSD is meeting the latest performance specifications.
Not less than 1TB of storage capacity. It doesn't make since if the drive is less than that whereas the factory hard drive of PS4 PRO is already 1TB.
Not less than 3-year limited warranty. This is to guarantee the peace of mind of the user, bearing in consideration that the standard life of a game console is 3-4 years only.
PS4 Pro SSD, Cons and Pros
Like what's said previously, an SSD is the best storage upgrade for PS4 Pro in terms of performance, but that doesn't mean it's free of disadvantages/drawbacks, just like anything else in this life.
Let's start first with listing the advantages of SSDs inside PS4 Pro console, compared to the stock hard drive:
SSD Advantages
There are a few major advantages an SSD offers to PS4 Pro, that are:
Less boot-up time and much better game/movie loading speed. An SSD can simply improve the loading speed of games and movies by 40-50% or even more.
Enhanced online gaming experience and faster game installation due to the high write speed of SSD, where regular hard drives are slow and not impressive at all.
Faster data transfer between the internal and external storage devices. This can be clearly observed when using an external SSD as an external storage device with PS4 Pro.
High reliability is one of the major aspects SSDs boasts of. Many PS4 users complained that the stock hard drive has failed and stopped working and their data has been lost. SSDs last more than 3-5 times longer than a regular hard drive.
Long Endurance. An SSD can last more than 10 years without undergoing any failure/defect, due to the solid architecture SSDs boast. That's why you can easily find a mainstream-class SSD with a standard 5-year limited warranty.
PS4 Pro SSD Performance Benchmarks
After running a bunch of heavy games on PS4 PRO with the stock hard drive in the first round then with an SSD in the second round, the performance benchmarks showed up as seen below:
PS4 Pro SSD Benchmark
↓↓ Game Title ↓↓
PS4 PRO Stock HDD
PS4 PRO Replacement SSD
1.
Battlefield 1: Through Mud and Blood
95.3 sec.
41.2 sec.
2.
Battlefield 1: The Runner
60.0 sec.
27.8 sec.
3.
Fallout 4: Exiting Vault 101
24.2 sec.
15.9 sec.
4.
Fallout 4: Concord Town (Initial Load)
48.9 sec.
26.6 sec.
5.
Just Cause 3: New Game
76.6 sec.
42.4 sec.
6.
Just Cause 3: Mission Respawn
33.4 sec.
17.8 sec.
The benchmark numbers are very impressive. The game load time can be minimized to the half of that on the stock hard drive, which is quite appealing.
SSD Drawbacks
SSDs have their own drawbacks as well. When you decide to pick one for your PS4 Pro, you have to balance between the cons and pros before making any step forward.
Honestly, we couldn't find other than three drawbacks with SSDs on PS4 Pro, which are:
SSD is way too expensive compared to the classical mechanical hard drive. Just imagine how it is when you know that 1tb of SSD costs you more than $250. Whereas the same storage capacity of classical hard drive costs you less than $50.
Not all games are optimized for SSDs. For that reason some games don't really benefit from the existence of SSDs inside PS4 Pro. But this is supposed to change. Sony is giving broader support for its flagship game console (i.e. PS4 Pro) that helps taking more advantages of SSDs. Additionally, the game designers are just following the same footsteps of Sony in this regard. So you can say it's a temporary situation for the majority of games.
Just like any game console, no matter how mighty it is, PS4 Pro cannot benefit from many powerful features of SSDs that only high-end computers make use of. So you have to bear in mind that an SSD in PS4 Pro won't perform, by any means, the same as if it is inside a high-end computer. That makes an SSHD (Solid State Hybrid Drive) like Seagate Firecuda 2tb Gaming SSHD a better solution for PS4 Pro in terms of price and storage capacity. But if your main concern is performance, and you're not ready to lose the few seconds cut-down an SSD offers over an SSHD in favor of price and capacity, then ignore this point.
That's it. An SSD, despite its drawbacks, still justifies its use in game consoles. With the appealing features it offers, it leave all other storage devices unable to be a real challenger.
Conclusion
The SSD is undoubtedly a great storage devices. It offers outstanding features to PS4 Pro console that you won't get from any other storage device. But this doesn't come without an extra expense. If price is a marginal issue to you, and your main concern is performance, then rest assured that an SSD is ultimately the right storage upgrade solution for your PS4 Pro. You'll see then how it takes the gaming experience to the next level.
And just remember, PS4 Pro SSD upgrade is not mandatory. You can still get a remarkable performance boost with an SSHD. We suggest to have a look at Seagate FireCuda 2tb Gaming SSHD before making up your mind.