What's PS4 USB Storage Device & How to Use It?
The use of the USB storage devices on PS4 has not been as common as nowadays. In fact, the USB storage device is the most popular option to expand the PS4 storage capacity. That's because users don't have to go through the hassles of the PS4 internal HDD upgrade process. This saves them lots of time and efforts, although they will miss the significant performance improvement the PS4 internal HDD upgrade offers. But, nevertheless, the use of the PS4 USB storage device is still prevalent over other PS4 storage expansion options.
There are many issues related to the PS4 USB storage device that every PS4 user must know. For that reason we've combined this comprehensive guide to help addressing these issues.
It's worth to note that this guide is composed for educational purposes only. If you're looking for the best USB storage devices for PS4, please pick your choice from the following list:
What Is PS4 USB Storage Device?
The PS4 USB storage device is a peripheral device that holds user's data and files apart from the local HDD. It connects externally through the PS4 USB ports and works either as an extended storage or a backup medium. You can't use the same PS4 USB storage device for both purposes at the same time.
The first support for the PS4 USB storage device appeared in 2015 with the PS4 system software v. 2.5. Before that date it was not possible by any means to use a USB storage device with the PS4.
Worth it to say that any USB storage device works well with PS4 as a backup medium. There's no condition/restraint on that.
Later, in 2017, Sony announced the support for the extended storage with version 4.5 of the PS4 system software.
Unlike the backup medium, there are several conditions that the USB storage device must meet before using it as an extended storage. You'll learn more about that later in this article.
PS4 Compatibility Guide
An external hard drive isn't deemed compatible with PS4 unless it conforms to the PS4 external hard drive compatibility standards. These standards differ depending on the purpose you want the external hard drive for. Thus, determine your purposes first before picking your PS4 external hard drive.
Quick LinkPS4 System Software Update (Latest Version)
PS4 Backup Storage Standards
In order for PS4 system to accept an external hard drive as a backup storage solution, it must meet the following standards. They are:
Configured with USB interface, no matter what generation it is. So, whether you have a USB 1.x or USB 3.x external hard drive, it all will work properly as a PS4 backup solution.
Maximum storage capacity is 8tb without any minimum limit.
Single-layer drive. If you connect a dual-layer external HDD to PS4, the PS4 system will only recognize the first layer and ignores the second. Consequently this means you'll lose half the storage capacity.
Not a NAS drive. Network Attached Storage (NAS) external hard drives are NOT supported by PS4. So just pick a regular USB 3.0 drive instead.
Wired Connection as PS4 system can't recognize wireless external hard drives.
Non-partitioned drive. Ps4 system can't handle partitions. So, make sure your drive has only one volume with the full capacity.
Formatted with either FAT32 or exFAT file system. Users had to do that on a computer in the past, but now the recent updates of PS4 system software have this function as a built-in feature. So, make sure to install the latest PS4 system software on your console.
PS4 System Software 2.5 or higher. Otherwise your external hard drive won't be recognized.
PS4 Extended Storage Standards
The external hard drive you want to use as an extended storage on PS4 must conform to the following standards:
Configured with USB 3.0 or Higher. Unlike the backup storage standard, PS4 system won't approve any external HDD as an extended storage unless it supports USB 3.0 connectivity.
Capacity Ranges from Minimum 250gb to Maximum 8tb. Note that there's a limit on the minimum storage capacity, unlike the backup storage standard.
No Hub Connection. Whether the USB hub is built in your external HDD or you just use an additional hub to connect to PS4, both won't work. (Note that recently some users had good experience with hub external hard drives on PS4 with the latest system software updates. I haven't personally tested that and once I confirm it I'll update this content.)
Not a NAS drive. Network Attached Storage (NAS) external hard drives are NOT supported by PS4. So just pick a regular USB drive instead.
Wired Connection. PS4 system doesn't approve wireless external hard drives.
Single-Layer drives. If a dual layer external hard drive connects to PS4, only the first layer will be recognized and the other PS4 system will ignore.
Full Dedication. Note that PS4 system will totally format and encrypt your external hard drive with special file system that only works on PS4. So, unlike the backup storage solution, you cannot use this drive on a PC or MAC.
Once you find the drive that meets with all these standards, be sure it's fully compatible for use on PS4.
Types of PS4 USB Storage Device
There are two types of USB storage devices that work for PS4—External hard drive and USB flash memory.
External hard drive
An external drive is just a hard drive (HDD) or solid-state drive (SSD) that is connected to the PS4 on the outside rather than on the inside.
Some external drives draw power over their data cable, which of course comes from the PS4 itself, while others may require an AC wall connection to derive power on their own.
One way to think of an external hard drive is as if it were a regular, internal hard drive that has been removed, covered in its own protective casing, and plugged into the outside of your PS4 console.
Internal hard drives can even be converted into external hard drives via what's called a hard drive enclosure.
External hard drives come in varying storage capacities, but they all connect to the PS4 by USB connection.
External hard disks are sometimes referred to as portable hard drives or mobile hard drives. The vast majority of mobile hard drives in the market are based on standard hard drives, and there is a small number of micro-hard drives (1.8-inch hard drives, etc.), but price factors determine that the mainstream mobile hard drives are based on standard hard drives.
Benefits of Using External HDD on PS4
External hard drives offer a wealth of conveniences. They're easy to install—simply plug them in with your USB cable, format it as an extended storage, and you're ready to save games/apps directly to the new external drive. It works almost identically to a USB flash drive.
External hard drives are also convenient for transferring files from one PS4 console to another. Need to get all your movie files onto your Playstation 4? Want to play your favorite games on your friend's console without having to download and install the game? An external hard drive allows you to accomplish this with ease.
Finally, they're a great back up to the internal drive. You can have all your files stored on a second device in case your PS4 ever gets wrecked/broken. If you backup your files to a separate device, you can rest easy knowing that you have two copies of everything. Never forget to back up your files!
Additional benefits
Some other great benefits of external hard drives include:
Huge storage capacity – You can easily store great amounts of files, images, videos, and more with an external hard drive. Plus, you can increase the amount of data depending on the make and manufacturer of the drive you choose.
Portability – You can take them with you anywhere. They are a great choice if you travel a lot, or if you need to exchange files between multiple locations.
Lightweight – In addition to being portable, external hard drives are also very lightweight. They can typically fit in your pocket, bag, or briefcase with ease. Plus, they require no special formatting required to be able to use them on another PS4.
Increased security – Since your data is always right in your hands, you know that it will always be secure. You can get rid of the risk of your data being stolen by carrying it with you, rather than leaving it vulnerable on a single game console.
PS4 External HDD vs Internal
The main difference between the PS4 internal hard drive and the PS4 external hard drive is location. While internal hard drives are built-in to your PS4, external drives are not.
All game consoles, including the PS4, need an internal drive to operate. Within the drive, files, data and media are stored. While you can physically remove the PS4's internal drive, there is really no point to unless you wanted to replace it with a more powerful drive.
External drives are portable and — with the right cables — can be connected to all PS4 models, allowing you to take your files, data or media with you at all times.
You can read more on the comparison between the PS4 internal and external HDD to better educate yourself.
USB Flash Drive
A flash drive is a small, ultra-portable storage device which, unlike an optical drive or a traditional hard drive, has no moving parts.
Flash drives connect to the PS4 via a built-in USB Type-A plug, making a flash drive a kind of combination USB device and cable.
Flash drives are often referred to as pen drives, thumb drives, or jump drives. The terms USB drive and solid state drive (SSD) are also sometimes used but most of the time those refer to larger and not-so-mobile USB-based storage devices.
Benefits of using USB Flash Drives
There are several benefits of using a USB flash drive on PS4 when comparing it with external HDD. The major benefits are:
>Reliability. The USB Flash Drives are more durable and reliable than external HDD because they do not have moving parts. They will serve you longer compared to the hard drives.
Portability. Flash drives are much smaller than external hard drives. They are very lightweight that makes them extremely portable. You can attach them to a keychain or slip them in your shirt or trouser pocket. Majority of these devices are between two and three inches.
Transfer speed. The 3.0 version of USB drives can offer to transfer data at a speed of 4.8 gigabytes per second. This is great speed compared to that of external hard drive, although external SSDs can be faster.
Compatibility. All USB flash memory sticks are compatible with PS4 for the backup purpose. But if you want to use it as an extended storage, there're additional conditions the drive must meet.
---
How to Use a USB Storage Device on PS4
You want to either use the PS4 USB storage device as a backup medium or an extended storage. Each purpose has its own set-up process, and here we'll cover both of them.
Using PS4 USB Storage Device for Backup
The backup storage refers to a storage device, medium or facility that users use for storing copies and instances of backup data. Backup storage enables the maintenance, management, retrieval and restoration of backup data for PS4 system.
Before you can use USB storage device as a backup storage with your PS4, you have to format it to the exFAT file system. Technically, the PS4 will also support USB storage device formatted as FAT32, but if you want to store files larger than 4GB you'll want to make sure to use exFAT.
You will not be able to use a USB storage device that has been formatted to NTFS until it is first formatted to exFAT. While you can format the USB storage device using your computer, it's easier to use the PS4. Note that formatting the USB storage device will remove any data you already saved to the drive, so make sure to back up everything important!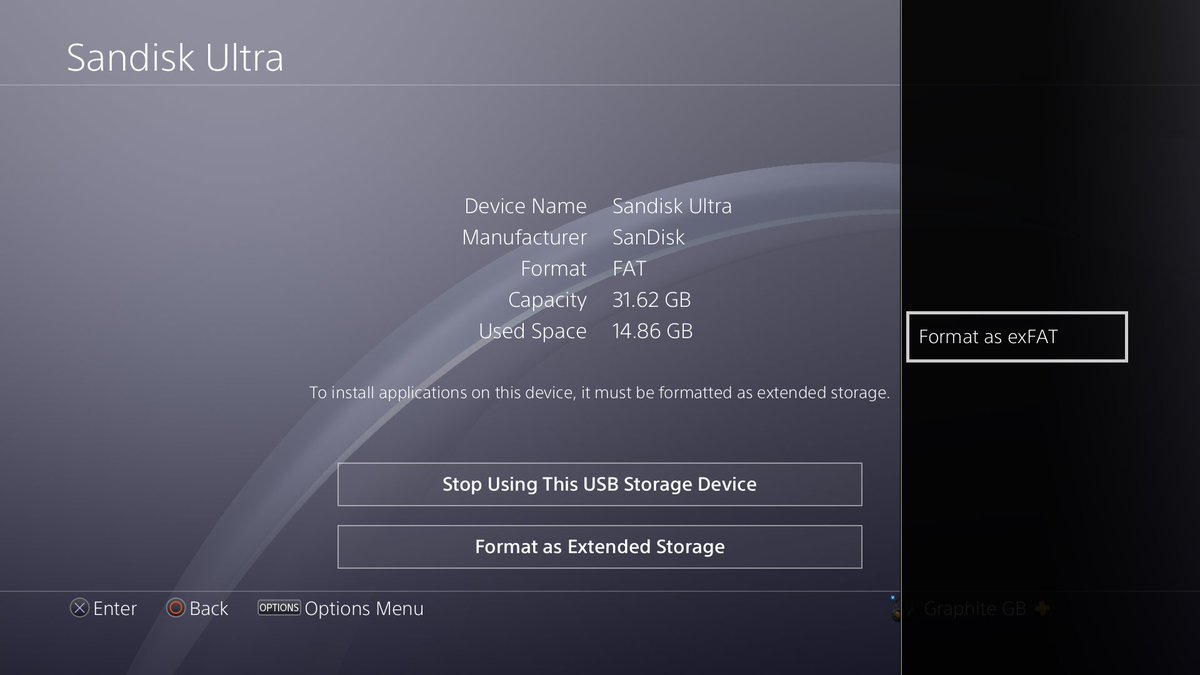 To format your PS4 USB storage device to the exFAT file system using your PS4 system, follow these steps:
Plug the external hard disk drive into one of the PS4's available USB 3.0 ports
Navigate to the [Settings] menu on your PS4
Select [Devices] then [USB Storage Devices]
Choose the USB storage device from the list and press X
On the next screen, select [Format as exFat] then select [Next]
Select [Format] then [Yes] and finally [Okay]
The PS4 System will format the USB storage device to the relevant file system and that's it. The formatting process generally doesn't take very long, so you can use the USB storage device in just a few minutes. The new drive will show up when you navigate to the [Storage] menu in [Settings], and you can use it to back up your data—Apps and games and their saves.
For more information, please read this article.
Using PS4 USB Storage Device as Extended Storage
If your PS4™ system storage doesn't have enough space to install a game, you can use a USB storage device to add more game storage. You can download games and add-ons from PlayStation®Store directly to your USB storage device or move games from your PS4™ to the USB storage device. Storing game content on an external drive lets you take your games with you.
Formatting the USB Storage Device
The first time you use a USB storage device, you'll need to format it. Select a device to format in (Settings) > [Devices] > [USB Storage Devices], and then select [Format as Extended Storage]. When formatting is complete, the device is automatically set up as an install location for your applications.
Installing Games and Apps to the USB storage Device
Once formatted, your external HDD will be set as the default download location as long as it remains plugged in.
If you want to switch back to your PS4 internal storage for downloads (and back again to the external HDD), that's easy too:
Go to the Settings menu from your PS4 home screen.
Scroll down to 'Storage'.
Choose which location you want to download to – either System Storage or your external HDD.
Press the 'Options' button and select 'Application install location' to set the target download location – either 'System Storage' or 'Extended Storage'.
Moving games and apps onto the PS4 USB Storage Device
Once you have all that extra storage, you'll likely want to start moving some of your existing games and applications to the new USB storage device. It's important to note that you cannot save application save data, PS4 themes, screenshots, or video clips to the PS4 extended storage. When you move a game or application, these files will remain on the PS4's internal storage, though it will have no problems accessing them. Additionally, you cannot have a game or app installed on both the main system storage and the extended one simultaneously.
So, if you want to organize the games and apps that are currently installed on your PS4 internal storage, you can easily move them over to the USB storage device.
Go to the Settings menu from your PS4 home screen.
Scroll down to the 'Storage'.
Select 'System Storage', then 'Applications'.
Press the 'Options' button, then choose 'Move to Extended Storage'.
Choose which games and apps you want to move by ticking the boxes that appear next to their names. You can select as many as you like, providing your external HDD has enough free space to store them.
Select 'Move' then hit 'OK' to begin the transfer.
PS4 USB Storage Device Isn't Working
There are many reasons why the PS4 USB storage device stops working after a while, or not at all since the beginning. Usually the file conflicts occur within the PS4 system software are responsible for a big part of this problem. On the other hand, sometimes the USB storage device itself becomes defective and needs either maintenance or disposal. You can refer to this article for extensive knowledge on this matter.
Conclusion
There are different uses of the PS4 USB storage device. You can either use it for backup purposes or as an extended storage. Each purpose has its own pros and cons. You can read this quick comparison between both of them to enlighten yourself more on this subject.