PS5 Error Code (CE-107622-8) | Fixed by Experts
Although the PlayStation 5 console is a very powerful game console that boasts many amazing features and lightning performance, it is, just like any computer or game console, has its own functionality errors. One of the most annoying PS5 errors that many users experience when trying to launch specific games is Error (CE-107622-8). It comes with a message saying: "Can't start the game or app".
This error has affected a wide variety of PS5 systems without any visible reason that keeps players confused about what to do to fix it properly and how to get back to gaming seamlessly.
If you're unfortunate enough to experience PS5 Error (CE-107622-8), this article will help you understand what that error is, why does it occur and how to work around it and play your favorite games without experiencing this error again.
What Is PS5 Error (CE-107622-8)?
If you get the error code (CE-107622-8) while trying to launch a specific game/app, it means part of that game/app is corrupted and must be resolved.
You may ask here: but there are many PS5 errors that occur for the same reason, so why they are different in numbers?
Well, we'll try to answer this question in a simple way that everyone understands.
Although most PS5 error codes indicate a sort of data corruption whether in the system or the game/app you want to run, they are different in numbers, why? That solely depends on the aspects of the game/app that generated that error. In other words, in order for a game/app to run properly and flawlessly on PS5, there are specific PS5 system files that a particular game needs to integrate with and utilize so as to completely load and run, and the difference of PS5 error code numbers indicates the variety of the PS5 system files that fail to run in order to help that game/app to launch.
But, what are these system files? This is something we cannot really specify, and it won't benefit us anyways. The more useful thing to know at our end in the first place is to know what type of error is that, by finding out what causes it, so we can base our solution on that information.
Causes of PS5 Error (CE-107622-8)
By now, we know it's caused by a sort of data corruption either in the PS5 system files (which is unusual) or the game/app files, which is most common. But, what causes this corruption to files in the first place?
Improperly downloading/installing the game/app or its update. This usually happens when you use a scratched disc or your internet connection was interrupted for a moment while downloading the game/app file or its update, or even due to a sudden power surge or power fluctuation.
Your PS5 database is corrupted due to long use and installing many games/apps.
The cache of your PS5 is filled with tons of files and must be cleared, or there's not enough space in the cache portion.
The internal PS5 system storage is full or almost full.
If you're trying to play your game from an external hard drive, it might be the external HDD itself that causes the problem, because a defective hard drive may prevent access to some essential files of the game, thus PS5 Error (CE-107622-8) occurs.
In most scenarios, fixing these is easy and doesn't require lots of knowledge or effort, and you'll be lucky enough if your case is an easy one.
Fixing PS5 Error (CE-107622-8)
Here are a few different methods you have to follow in order to resolve the issues concerning PS5 Error (CE-107622-8).
1.

Turn Off Your PS5 Completely
The very first step you have to take in order to fix any PS5 error is to turn off your console.
The more you use your PS5, the more applications will be running in the background. Those things just have to be reset at some point so they're not always running. It just builds up over time, and the more you use it, the slower it will get.
Plus, turning off your PS5 on a weekly basis can avoid buggy technology. You've probably had PS5 issues that a simple reset fixed, and making that reboot a habit can nip those problems in the bud. It resets the game console and gives it a fresh start.
In order to get the utmost benefit of restarting your PS5, follow these simple steps:
Normally turn off your PS5 and wait until the system completely turns off.
Disconnect your PS5 from the power source by unplugging its power cord from the wall outlet.
Unplug any connected peripherals to the PS5, including the DualSense controller.
Wait at least 3 minutes before connecting your PS5 to the wall power outlet and turning it on again.
Only connect your PS5 controller to the console while it is off, then turn it on.
Once your PS5 system is completely loaded, try now to launch that particular game that caused Error (CE-107622-8), assuming that it's installed on the local storage device, and check whether it works now or not.
If your game is installed externally, connect the external HDD to your PS5 and try again. If it doesn't work still, move your game to the PS5 internal system storage and try launching it from there.
If this method hasn't fixed your issue, let's try the next one.
2.

Rebuild PS5 Database
Rebuilding the PS5 database is the second step to take in order to fix PS5 issues. It can fix lots of errors related to data corruption and file conflicts, and PS5 Error (CE-107622-8) might be fixed through it.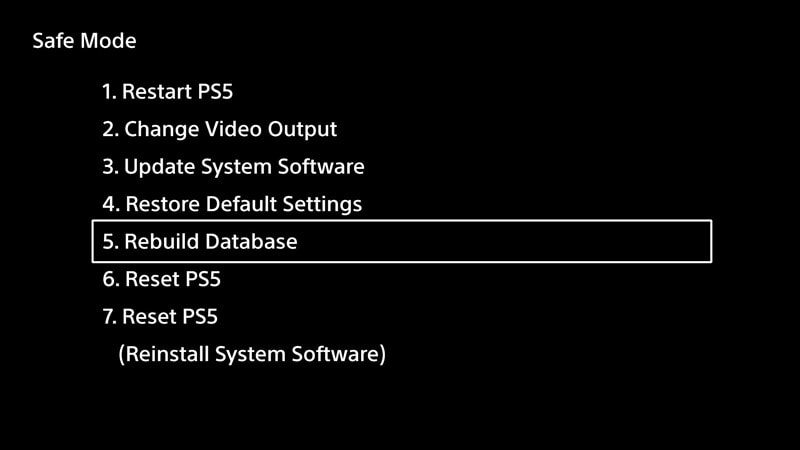 By creating a new database, your Playstation will scan the drive and create a new database of all content on the system.
In order to rebuild the PS5 database, follow these simple steps below:
Turn off your console by pressing the power button
The power indicator will blink for a few moments before turning off
Once the system is off, press and hold the power button again
Release it after you hear the second beep
One beep will sound when you first press, and another seven seconds later
Connect the controller with the USB cable
Press the PlayStation button on the controller
Select Rebuild Database from the safe mode screen
After the process is complete, restart your PS5, try to launch your game, and see whether PS5 Error (CE-107622-8) still occurs or not.
3.

Free up space on PS5 internal storage
Filling your PS5 internal system storage with data can result in systematic errors and performance degradation. The PS5 Error (CE-107622-8) might be fixed by just freeing up space on the PS5's main storage, and here's how to do it:
Navigate to settings.
Click on storage.
Wait for a while to show up how much space you have left.
Select internal storage.
Delete the game or application you want to delete and free up storage.
Note that the PS5 main internal storage must be at least 15% free in order to maintain peak performance. Therefore, make sure to always preserve that amount of free space and not use it.
4.

Move Your Game To the Internal Storage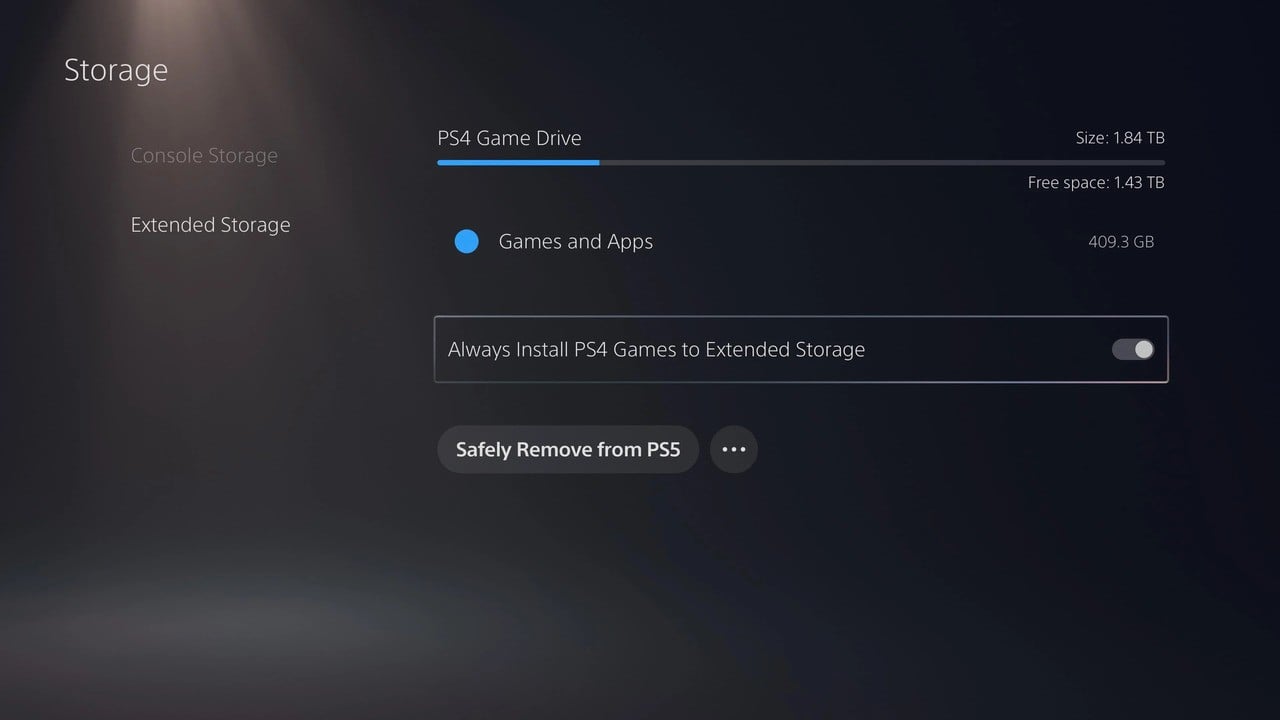 Assuming that the game you're trying to play is a PS4 game installed on an external hard drive, it's strongly recommended to move it to the local internal PS5 storage in order to better troubleshoot PS5 Error (CE-107622-8). Why so? Well, it's because your PS5 external HDD might have some performance deficiency that results in errors. Also, it might be the USB connection between your PS5 and the external HDD that has some sort of trouble. Therefore, to avoid checking and diagnosing all that, just move your game to the PS5 main internal SSD and launch it from there.
5.

Reinstall your game
That particular game that causes Error (CE-107622-8) might not be installed properly, or some of its core files are missing. Even if it was working fine before, this might also happen for several reasons. So, what you can do in this case is just to delete that game entirely, restart your PS5, then reinstall it. Now see if your problem has been resolved or not.
6.

Stay up to date
Each new release of the PS5 system software comes with many bug and incompatibility issue fixes. That's why updating your PS5 system software is essential in order to resolve a wide variety of issues the system undergoes, including error codes like (CE-107622-8).
Moreover, if there's an update for the game you have problems with, you should immediately download and install it.
7.

Factory Reset PS5
Ok, this is the last resort if nothing has worked for you to fix PS5 Error (CE-107622-8). You should factory rest your PS5, then only install that particular game and try to launch it. Don't install any additional game or app until you make sure that your game is working properly.
Note that using this method will erase everything installed on your PS5 internal storage, including user data and game saves. So make sure to have a backup of your important data before you factory reset your PS5.
Navigate to the Settings menu (cog icon)
Select System software
Select Reset options
Select Reset your console
Select Reset
After a few minutes, your PS5 will automatically reset itself and boot into the standard setup screen. proceed through the setup as normal.
Conclusion
PS5 errors related to data corruption, including PS5 Error (CE-107622-8), are usually easy-to-fix errors. The worst scenario with that type of error is that you have to eventually factory-reset your PS5 and reinstall the PS5 system software from scratch. But, in rare cases, this error can be caused by a hardware failure that resulted in data corruption. Here things will get difficult on you and you may want the help of a professional technician.
---
PS5 Error Code (CE-107622-8) FAQ
Why am I getting PS5 Error Code (CE-107622-8)?
There are various reasons why you get PS5 Error Code (CE-107622-8) when trying to launch a game/app, such as system file corruption, game file corruption, hardware failure, power fluctuation and other reasons.
What does PS5 Error Code (CE-107622-8) indicate?
PS5 Error Code (CE-107622-8) indicates that the game/app you're trying to run is not functional due to file corruption/damage issue.
Is it possible to fix PS5 Error Code (CE-107622-8)?
Yes, fixing PS5 Error Code (CE-107622-8) is usually easy if you do the right troubleshooting. You may end up with factory resetting your PS5, but don't worry, that will usually fix it entirely.