PS5 Error Code (CE-108255-1) | Totally Fixed by Experts
Error Code (CE-108255-1) is one of the most annoying errors that PS5 users may encounter. It usually happens when you try launching a particular game/app, and suddenly it crashes, and you see this error message screen showing up on the monitor: "A problem occurred in the following app the last time your PS4 was used."
"It is common for the first shipment of devices to stumble upon unexpected errors. All manner of consumer electronics — smartphones, laptops, and consoles — have a low percentage of errors early on in their release," said Joost van Dreunen, the founder of New Breukelen, a video game investment firm. "Contemporary consoles have a lot of complexity under the hood and, unfortunately, problems only present themselves when the first few million units hit the market."
A Sony customer service representative said the company is working with the developers of several popular PS5 games — "NBA 2K21," "Marvel's Spider-Man: Miles Morales," "Call of Duty: Black Ops Cold War" and "Demon's Souls" — to release a patch to fix the issue. The rep said the issue is affecting users who purchased both versions of the PS5, the standard edition, and the digital-only version.
Sony has been very clear in saying that these in-game crashes are absolutely software-based and have no connection to any hardware failure. That means that games that generate Error (CE-108255-1) have incompatibility issues with the installed version of PS5 System Software. The solution, in this case, is either that Sony releases a software update that suits these games, or the games get updated to fix that issue.
So, until that's resolved, let's suggest some actions you can take in order to work around this issue, even if it's temporary.
Causes of PS5 Error (CE-108255-1)

There are various factors that can cause PS5 Error (CE-108255-1) to occur, and you'll be lucky enough if the reason for the error you're getting is not by any means an incompatibility issue.
Incompatible game/app | We've already spoken about that earlier. Because the PS5 system is still NEW to the industry, not all games succeed to flexibly and seamlessly merge into it. The game manufacturers need to release update patches to fix that issue, or that Sony should release a big system software update to fix it.
Corrupted PS5 database | The PS5 database corruption can happen because of defects in the underlying platform, which the PS4 database relies on to store and retrieve data; such as disk subsystem, controllers, communication channels, drivers, firmware or other hardware faults. PS5 database corruption can also occur if the system restarts suddenly or it reboots due to a crash of other system components. If the database instance was in the middle of writing data to disk, it could write the data partially, which may end up with a page checksum that is different than expected. As a result of all that, PS5 Error (CE-108255-1) occurs.
Outdated PS5 System Software Version | The PS5 system software update comes with patches and fixes for several issues in the system related to the overall performance of the console. It has already been reported that many users got rid of PS5 Error (CE-108255-1) once they updated to the latest version of the PS5 system software.
Bad Installation of PS5 System Software Update | It's possible that you have tried to update the PS5 system software via the internet, but the connection got interrupted for a moment and came back, which has caused some file corruption during the update process. You will need then to reinstall that update or just reset the PS5.
Damaged Game Files | If you're able to play other games flawlessly without any issue, yet there's one specific game that causes PS5 Error (CE-108255-1) when you try to launch or even during playing on it, it's possible that that particular game has damaged files that cause this issue.
Unstable/Unreliable Power Supply | Poor quality or fluctuating power supply can often cause power surges, spikes and voltage fluctuations. As a result, some of the data stored on the PS5 storage device might be lost/corrupted. Thus, Error (CE-108255-1) may occur.
Conflict with an external gameplay recording card | This is one of the uncommon reasons for PS5 Error (CE-108255-11) that many are not aware of. Fixing this issue is easy; you only have to disable HDCP before connecting your capture card.
Failing Internal Storage Device | It's possible that what causes PS5 Error (CE-108255-1) is a failing internal storage device of your console that cannot provide a secure place for data. As a result, the data stored on this device get corrupted or missing. Although this is rare to happen as SSDs are strong devices that have a very low failure rate, it is still a possibility. Lucklessly, there's no easy replacement solution for this part of PS5, and you need the help of a professional to figure that out for you.
So, these are the most common causes of Error (CE-108255-1) that you have to be aware of. In the section below, we suggest various solutions to work around this issue and get Error (CE-108255-1) fixed.
Things to Do to Fix PS5 Error (CE-108255-1)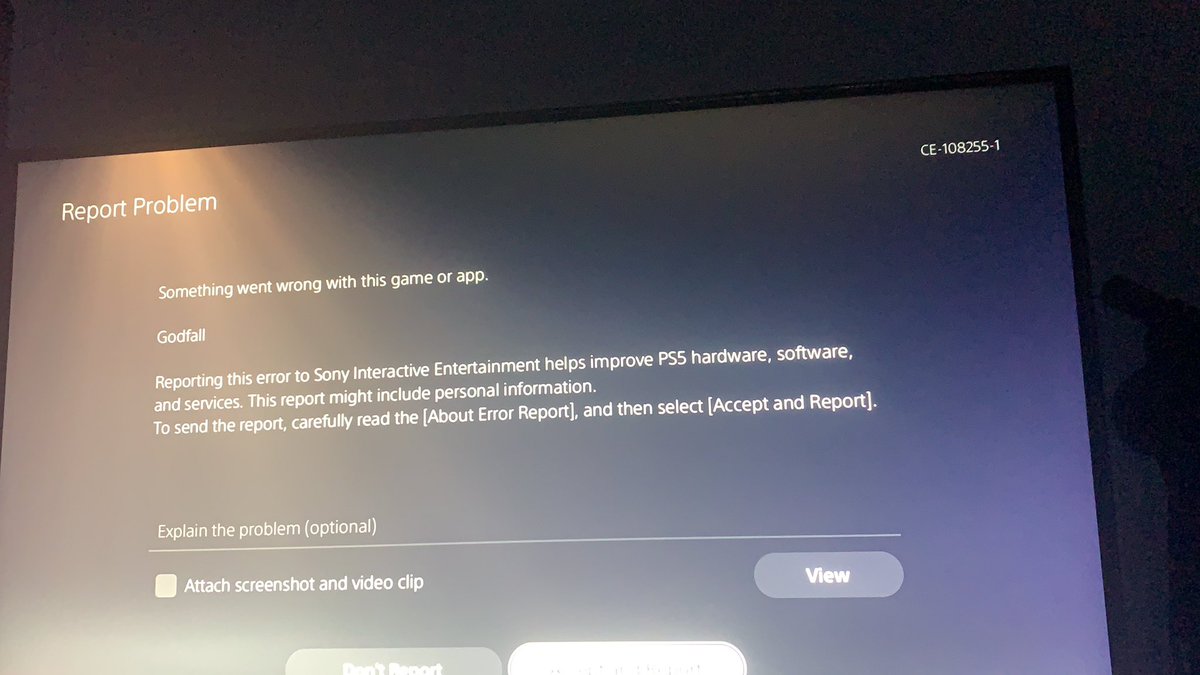 Here we lay out several solutions that may help you resolve Error (CE-108255-1).
1.

Update PS5 System Software
Since PS5 Error (CE-108255-1) is mainly software-based, whether it's a matter of incompatibility or data corruption, updating the PS5 system software to the latest version can effectively help resolve this issue. In fact, many users reported that once they updated the PS5 system software, this issue was fully fixed.
So, how to do that and update PS5 system software?
Well, there are two methods to update PS5 system software; the first is online via PS5 User Interface screen, and the second is offline via a USB storage device. You only need to go for the second method if, for any reason, the first method doesn't work for you.
A.

Update PS5 System Software Online Through PS5 UI
On your PS5 controller, press the PS button in order to bring up the menu bar that will appear on the bottom of the screen.
Press the "Downloads & Uploads" button on the menu bar which will lead you to view the "Downloads/Updates" page.
From there, head to menu on the left and click "Downloads / Copies" link.
On the menu on the right side, select "Update System Software" option.
Another menu will show up, just select "Update" and confirm your selection, then wait for the update process to complete entirely.
follow any instruction appears on the screen, including restarting your console (which is supposed to be the last step in the procedure.
Once you finish updating your PS5 system software, try to launch the game/app that caused Error (CE-108255-1) and see if that has fixed that or not.
B.

Update PS5 System Software Offline Through USB
For some reason, the online update for PS5 system software may not suit you. The alternative method then is to update your console's software offline using a USB storage device.
Before doing that, you need to make sure your USB storage device capacity is not less than 8Gb, and it's formatted in the FAT32 filesystem.
You can format the USB storage device in the FAT32 filesystem easily on a Windows PC. Just connect the USB device to your PC, right-click on it, and pick the FAT32 filesystem.
Also, make sure the Allocation unit size is set to 4096 bytes.
After you've got your USB storage device ready, follow the steps below in order to update PS5 system software offline to get rid of Error (CE-108255-1).
Connect your USB storage device to a PC and create a folder with the name "PS5" in the main directory.
Now, open the new folder named PS5 and create another folder inside it with the name "UPDATE".
On your PC still, open the web browser and head to the PS5 system software update page.
Once the page is fully loaded, scroll down to the Download an update file for a PS5 console and click on PS5 update file. You'll be downloading a file named PS5Update.PUP. Save it directly to the UPDATE subfolder on your USB storage device, or simply save it anywhere else then copy it to that specific folder on your USB storage device.
Connect the USB storage device to your PS5 while it's turned off.
You'll need to go to Safe Mode in order to proceed with the update process. To do that, turn on the PS5 by pressing the power button for 7 seconds until you hear the second beep, then release the button and let the PS5 start in Safe Mode.
A black screen with a 7-item list will show up. Choose option #3 from the list.
Afterwards, select Update from USB Storage Device, then click Ok to confirm your selection.
Wait until the system verifies the integrity of the update files and installs it over your existing OS.
Once the update process completes, you'll have to restart your PS5 and check whether that has fixed Error (CE-108255-1) or not.
If you have successfully updated your PS5 system software yet, Error (CE-108255-1) still occurs; you may want to try the other methods to work around this issue.
Delete and Reinstall Your Game(s)
This method is effective if PS5 Error (CE-108255-1) takes place in some specific games, not all. If you see Error (CE-108255-1) everywhere on every game/app, this method is not for you.
The concept behind this method is that since Error (CE-108255-1) is mainly caused by data corruption, chances that the particular game(s) installation causing that error is corrupted. You can resolve that simply by deleting then reinstalling these games.
How to Delete Games on Your PS5
It's easy to delete games and free up valuable storage space on your PS5 – just follow these steps:
From the Home screen, head to the Settings app (the gear icon in the top-right).

Scroll down and select Storage.

Select Console Storage from the menu on the left if you want to delete games from your console, or select External Storage if you want to delete PS4 titles on an external SSD.

Select Games and Apps.

Select the title(s) you want to delete.

Press the Delete button in the bottom-left and confirm your choice to free up storage.

The game will then be deleted from your storage, and you'll be able to re-download it again whenever you like via the Library app on PS5 or the PlayStation Store itself.
After reinstalling the game, check whether this has resolved Error (CE-108255-1) or not. If not, please try the remaining methods listed below.
Changing Language Settings in Call of Duty | Cold War
If the game that causes Error (CE-108255-1) is Call of Duty – Cold War, it's possible that you have an issue with the language settings.
Many users reported that they no longer saw PS5 Error (CE-108255-1) after they changed their console/game language settings to American English. It might be inconvenience to some users, but currently, this is the only solution for this problem until the company of the game releases an update to fix Error (CE-108255-1).
In order to change the language settings in Call of Duty – Cold War, follow the instructions laid out below:
Access Settings menu from the main dashboard of your PS5 system. It's located in the top-right corner of the screen.
In the Settings menu page, scroll down and select "System" from the list.
Now, select Language from the vertical menu on the left, then move over to the right-hand menu and access the drop-down menu associated with Console Language.
Afterwards, from the Console Language drop-down menu, change the default language to English (United States) and save the changes before restarting your console.
Restart your PS5 now and try to launch the game to see if this has resolved Error (CE-108255-1).
If PS5 Error (CE-108255-1) persists still, continue with other suggested solutions below.
Rebuild PS5 Database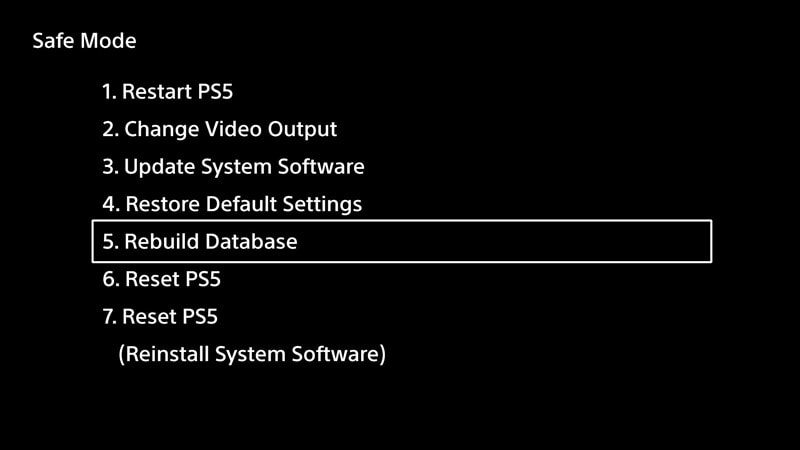 Rebuilding the PS5 database can resolve many issues related to the system performance, including data errors. Every PS5 user must carry out this process on a regular basis for the sake of the health of the system.
Benefits of Rebuilding PS5 Database
There are several benefits of rebuilding the PS5 database, all relate to performance. These benefits are:
Frees up valuable space on your drive. In a fragmented drive, free memory space may to scattered to be useful to you. After rebuilding, this free space becomes usable.
Helps fix issues to do with disk speed. This includes low frame rates, stuttering, and even crashing. Because the drive is now able to access files much more quickly, it vastly improves the performance of the CPU, graphics card, and RAM.
Solves issues to do with downloading and installation of add-on gaming material.
The console performs must faster. After a successful rebuilding, your console runs like new, assuming no other issues.
How To Rebuild PS5 Database
Since PS5 Error (CE-108255-1) is related to data/system files, rebuilding the database can be the fix you're seeking.
It is very easy to rebuild your PS5 database, despite how complex it may sound. Here is how to do it.
Power down your console. Make sure it is off and not in rest mode.
Connect the default DualShock controller using its default USB or another similar data transfer cable. A Bluetooth pairing won't work for this: You need the cable connection.
Boot up your PS5 into safe mode. You can do this by holding down the power button on the console or the X button on the controller for about 7 seconds or until you hear two distinct beeps. Safe mode is a 'developer' menu that can be used to troubleshoot, update, or otherwise maintain your console.
Choose the Rebuild Database option.
The screen goes black when the rebuilding is underway. Make sure not to interrupt the process. Don't turn off the mains socket either until it the process ends.
Now, once you turn on your PS5 again, check whether that has resolved Error (CE-108255-1) or not. If not, the issue seems more serious in your situation. Let's try the remaining suggested solutions.
Reset PS5 & reinstall system software
This process will erase all your data on your PS5 and install a fresh copy of the PS5 system software. You shouldn't try that until you try other solutions to no avail.
In many cases, deleting the whole operating system and reinstalling it from scratch resolves tons of issues related to system performance, and PS5 Error (CE-108255-1) might be one of the issues that a system reset can resolve.
It has already been reported that several users have resolved PS5 Error (CE-108255-1) through this method, which proves the effectiveness of this method in resolving Error (CE-108255-1).
You have to bear in mind that this process will FULLY erase your PS5 storage device and keeps no data on it. So, if you have any important data on your PS5 storage device, go and back it up before carrying out the PS5 reset.
Steps to Reset the PS5
Once you are ready to reset your PS5 and every associated file, follow the instructions below in hope that Error (CE-108255-1) is fixed:
Start your console, then press and hold on to the power button of your console to boot in Safe Mode. Release the power button once you hear the second beep.
After your console successfully enters Safe mode, select option 7 from the list (Reset PS5 – Reinstall System Software).
Next, confirm at the confirmation prompt and wait until the operation is finished.
Once the operation is complete, your console will restart, and the factory firmware will be reinstated.
Make sure that after the PS5 boots back up, do not install any game until you install every pending firmware update.
After your firmware version is up to date, install the problematic game that was previously triggering the CE-108255-1 and see if the problem is now fixed.
Disabling HDCP in HDMI Settings
In case you're getting Error (CE-108255-1) when you use your external capture card to capture the gameplay, disabling the HDCP in HDMI Settings can help resolve this issue.
For many people, HDCP will mean absolutely nothing. Up until now, its existence has probably had no consequences to them at all. But if you are someone who plans on creating and sharing videos of your gaming exploits on your PS5, then HDCP is going to impact you. So here is a handy little explainer to tell you all you need to know about HDCP.
What is HDCP?
HDCP stands for high-bandwidth digital copyright protection. As wordy as this is, it is, in essence, a means of preventing external devices from recording video from your PS5. The reasons for having such a feature are pretty simple. The PS5 is much more than a gaming machine; it gives you access to a wide range of media apps, such as Netflix, Hulu, Amazon Prime, and Disney Plus. There would be an obvious problem if you were able to record video on the PS5 while accessing any of these apps. So that's the reason HDCP exists on your PS5.
The question of whether you should disable it is what we will look at next.
Why Should I disable HDCP?
Given that HDCP is designed to prevent video from being recorded, if you are someone who plans to use a game capture device such as an Elgato, then HDCP is going to be a problem. You would need to disable HDCP to be able to use this sort of device and capture video.
How to disable HDCP?
If you do want to disable HDCP, then the steps are pretty simple:
Go to Settings and then click on System
Choose HDMI to get a list of options
Turn off HDCP by hitting the toggle next to Enable HDCP
This will enable you to start using game capture devices. But the caveat to be aware of is that it will prevent you from using many of the streaming services that are available on PS5. You can alternate between having it on and off, should you need to.
Now check whether this method has fixed PS5 Error (CE-108255-1) or not. Otherwise, there's only one last method you have to try.
Contact PlayStation Support
Once you have tried every method you find in order to fix Error (CE-108255-1) yet nothing has worked for you, it's time to contact PlayStation Support and ask them for advice.