What Kind of Hard Drive to Pick for PS4?
There are different types of storage solutions out there in the market that fit for the purpose of expanding PS4 storage capacity, either internally or externally.
The main advantage of going for PS4 internal hard drive upgrade solution is the remarkable performance boost you'll gain when getting rid of the old and obsolete hard drive PS4 is utilizing for its storage works (For more details, read: PS4 HDD Specifications). You'll replace this slow, weak drive with a modern and fast drive that offers solid performance and constant reliability that you can trust for a long time to function without any serious failure, if not at all.
As for the external storage solution, it mostly impress non-savvies who don't care much about enhancing their gaming experience by improving the overall performance of PS4. It's a very quick-to-implement solution that doesn't take more than 5 minutes to be up and ready. We have conducted an informative comparison between the two solutions in order to help you pick the most suitable for you.
And because we strongly support and prioritize upgrading the internal hard drive of PS4, we have made this article that addresses what kind of hard drive recommended for upgrading PS4 storage. Or you can just visit our PS4 Internal hard drive upgrade guide if you want to learn more about this issue in deep details and see the available options out there for this purpose.
So, lets dig into the topic..
Different Hard Drive Types
If you're well-educated about computer hardware, you surely know that internal storage devices are of three types and all these types, in fact, fit for upgrading PS4 stock hard drive.
These types are:
Solid State Drive (SSD)
The fastest-in-history ever. You get blazing fast speed that you could never imagine a storage device can have. And although many PS4 fanboys tend to upgrade their game console with an SSD, we DO NOT recommend it unless you have the PS4 Pro model. Because the standard PS4 is not qualified enough to host an SSD within it, and it will be then a big waste of money, considering the steep price of a regular SSD (Read more on this topic here).
Traditional Hard Drive (HDD)
It's just like the one inside your PS4. You shouldn't expect any major performance boost when replacing the internal hard drive of PS4 with another one of its type. Yes, having a modern hard drive offers slightly better speed, larger capacity and higher reliability, but not that tangible when it comes to performance.
Solid State Hybrid Drive (SSHD)
This is an innovative solution that's made as a compromise between speed, capacity and price. With this hard drive solution you'll get nearly the performance of SSD and the capacious space of HDD for an adequate price that's usually not $10 higher than a regular hard drive.
We have made a special article on PS4 SSHD and its great benefits it offers to its users.
The need for Upgrade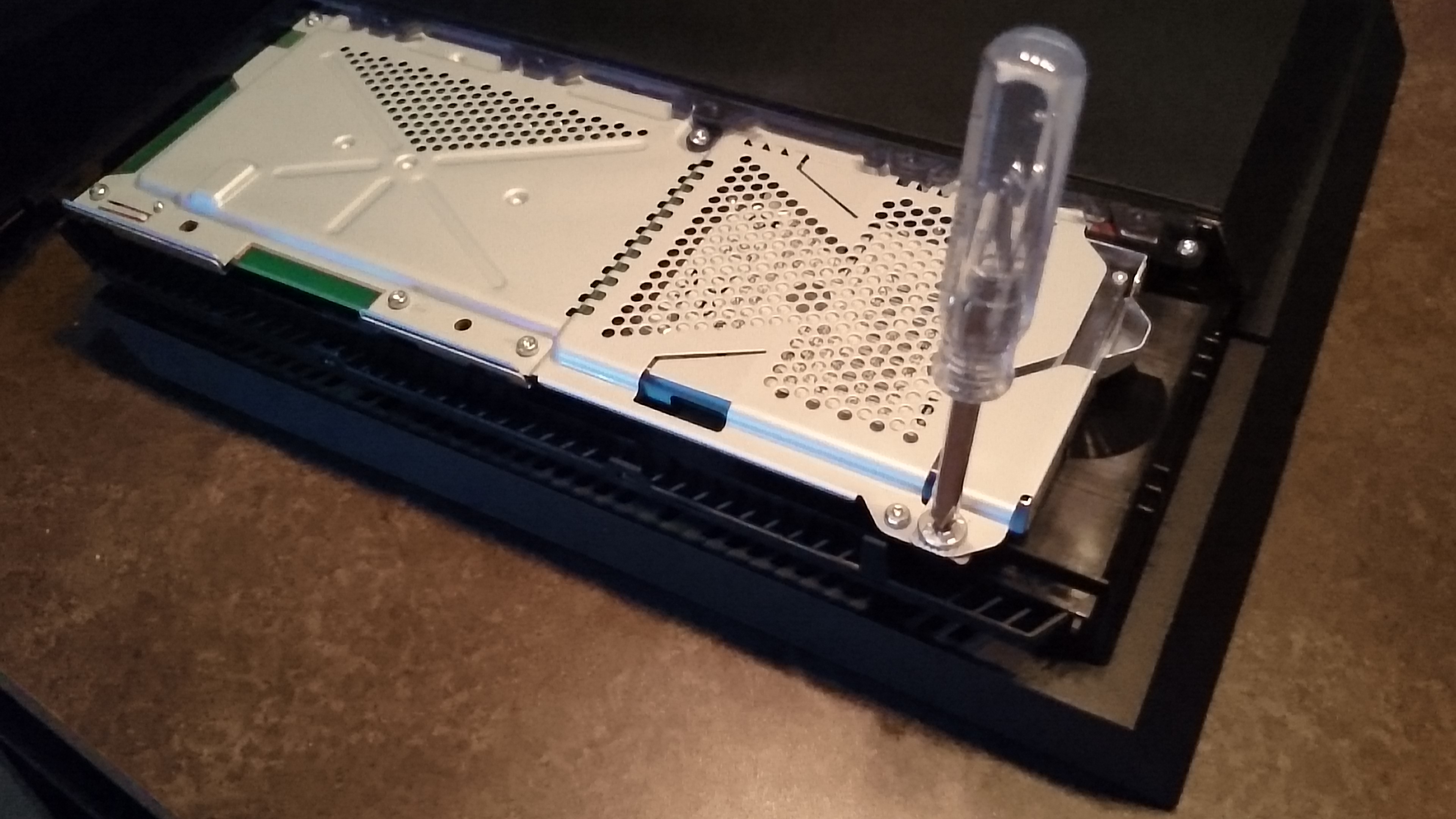 As a gaming enthusiast whose PS4 is played daily, or, perhaps hourly and I never take for granted the graphical capabilities, processing power and countless hours of fun that my PS4 has provided me with. Being the gamer that I am, I have quite a large gaming collection (to say the least) and as such require an immense amount of storage to hold my expanding collection.
This is where, for me, replacing the hard drive in my PS4 was such a desired upgrade as it provided me with more storage capacity than the stock HD that came from the factory.
Thankfully, when it comes to replacing the hard drive for a PS4; Sony couldn't have made it any easier for us gamers and nerds alike. This, we'll be covering in-depth later on in the guide but first we'll be covering some "topics of interest" that are related to the PS4 hard drive.
Time for a New PS4 HDD
There are an array of reasons that one may want (or need) to switch-out their old, outdated ps4 hard drive for a new one. Typically, the reason behind gamers "needing" to change-out their ancient artifact drive is because over time, after continual use and hundreds of hours of gaming, PS4 users may perhaps run in to certain "error related problems" stemming from the HD.
While such errors are no surprise with older drives, they're certainly no fun to experience especially when they error while you're in the final lap of your "Gran Turismo 6" race and you're about to cross the finish line (yes, this actually happened to me).
When this started to occur, I knew the time had come to find a new hard drive for PS4 which would accomplish two objectives:
More storage capacity would allow me the ability to actually download more of my gaming library to my PS4 rather than needing to use an external drive.
Faster loading times on the new drive would improve my gaming experience and media playback speeds as I wouldn't need to wait quite as long for data to load.
These reasons alone were well worth the endeavor of switching out the hard drive as the added benefits would tremendously improve the overall experience of my PS4 entertainment set-up.
What you'll appreciate about this guide is that the information provided below is all up-to-date so upon your completion of "reading thru to the end", you'll be prepared to choose a PS4 hard drive so you too can enjoy the same speedy upgrades.
What kind of Hard Drive for PS4?
When it comes to the kind of hard drive for PS4 that you need, there's only one brand that's considered to be the go-to solution for replacing the HD: SEAGATE!
Seagate is the leading manufacturer and the only provider of compatibly-sized hard drives for thePS4 and with a 1TB-2TB HD option you'll get everything you could hope for plus a whole lot more!
Conveniently, Sony implemented 2.5" laptop-sized hard drives in to all three of the PS4 models and maintaining this standard across the board really made the process of upgrading much easier for us.
It was an incredibly smooth transition and took less than 20 minutes to complete.
One small but helpful piece of information that you may find "cool" is that when you replace the hard drive in your PS4, your factory warranty is not voided or forfeited. Any issues with the system following the changing-out of the hard drive will be covered under the warranty from by Sony (providing that your warranty is still "active" of course).
Seagate 1TB Gaming SSHD
The first upgrade option at your disposal is the Seagate 1TB Gaming SSHD which provides a great balance of storage, performance and cost. This Seagate HD is big improvement compared to the original in the PS4 as it'll provide you with twice storage capacity (if you had a 500gb PS4 model), much faster loading speeds and improved performance overall.
Upgrade to the Seagate 1TB Gaming SSHD and receive benefits that include:
A fast and responsive "Solid State Hybrid Drive" that will perform similar to an actual SSD
Increased performance with up to performance be four times as quick than the older 5400-RPM HD
Easy transition and upgrade without voiding your factory warranty
Improved Cache (128MB) with a total of 8GB NAND Flash which boosts loading speeds while reducing power consumption (more cost-efficient in the long-term)
One thing to keep in mind is that this drive isn't quite as quick as a traditional SSD since it in-fact relies on the reading from a physical disk. However, speed and performance increases will be quite noticeable while at the same time allowing you to store more of your entertainment library.
Not that bad at all considering how affordable of a solution it is!
By far, the most popular and no-brainer decision among the upgrade options that are available is the Seagate 2TB FireCuda Gaming SSHD.
SeaGate 2TB FireCuda Gaming SSHD
If you're wanting to step up your PS4 a notch, or two, than don't think twice about it and go for the 2TB SeaGate SSHD as it's the ultimate upgrade for not only the performance improvements but for the incredible amount of storage; 2 Terabytes! 2,000 Gigabytes!
This new and improved SSD is, essentially, a rebranding of the Seagate product line-up which involved the marriage of the technologies from two separate HD's. The Seagate 2TB SSHD has a total "head cache" of 128mb with 8 gigabytes worth of "Solid State Drive" storage space.
This 8GB of SSD storage a great little perk to this drive as it's enough space to hold a decent chunk from a game or could be used for videos, music or any other media content that you may have.
Upgrading to the Seagate 2TB FireCuda SSHD will provide some awesome benefits that include:
Having the fastest 2.5″ hard drive on the market
Increased storage capacity with enough room to store 100 20-gigabyte games/files
Very fast load times with the use of "Flash-accelerated" technology which can speed-up load times by as much as 5x
Quicker access to your most used media thru the use of "Adaptive Memory" technology (remembers your most visited files/games for quicker accessing)
A new and improved mtc (multi-tier technology) which substantially increases performance (assistance applications and "file load times")
This SSHD also boasts a drive speed of 7200 rpm which will accommodate anyone's speed demands.
We hope you found this guide useful and if you were looking for what kind of hard drive for PS4 you needed then you finally came across what you were looking for.
If you're ready to ditch the old HD and experience improved performance, much quicker load speeds and TONS of more storage for your games and movies than you may want to consider upgrading to a more up-to-date hard drive.