How To Fix A Keyboard Not Working On PS5
Even though the DualSense 5 controller is a cutting-edge piece of technology, you may have special preferences that it doesn't offer to you. But in some cases, the PS5 keyboard won't work, even though you're sure that the keyboard is fully functional after testing it on another device (a computer for instance.)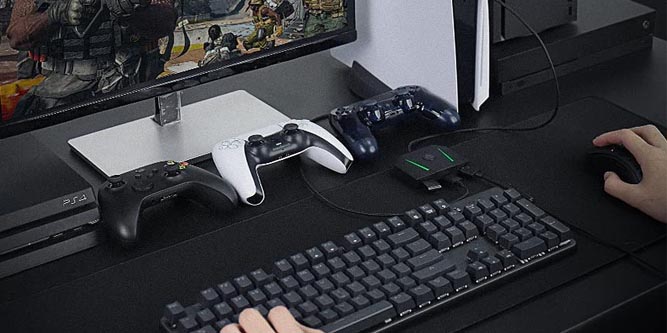 If you intend to play on your PS5 console as you would on a PC with a keyboard, you must understand how keyboard and mouse support on the PS5 functions. This involves recognizing its common faults, limitations, and troubleshooting techniques.
Why Your Keyboard Isn't Working On PS5?
So, what are the main causes of the keyboard and mouse breakdown on your PS5? Well, there are several most common reasons for this case, that are:
The keyboard and mouse are not supported by the game you are playing.
Your keyboard is damaged. Physical damage can cause issues when you're trying to use your keyboard. Especially in the case of a USB keyboard, make sure to inspect both the body and the connecting cable for any signs of damage.
Your keyboard battery is low. If you use a wireless keyboard, ensure that the battery is charged. If needed, change the battery.
You're using the wrong USB port (Learn more about PS5 USB ports). You may have plugged your keyboard into a USB port incompatible with it. You may also have a damaged USB port that needs to be replaced.
The PS5 is not compatible with your keyboard or mouse.
Your game's keyboard and mouse are not enabled.
A firmware flaw or sporadic problem in your PS5 disables appropriate Bluetooth functionality.
A strange problem caused the Bluetooth keyboard to be detached from the console.
The Bluetooth keyboard was detached from the PS5 due to a power glitch or surge.
How Does the PS5 Keyboard Support Work?

You see, the PS5 is keyboard and mouse compatible. You can play in an old-fashioned way using a complete PC setup.
However, playing in this manner can be more challenging than playing using a controller. For simpler playing, the DualSense 5 offers a variety of streaming functions.
However, some game genres, such as first-person shooters, role-playing games, and MOBAs, may function better with a keyboard and mouse. The PC configuration is frequently more precise and provides more buttons to map your activities.
There are several limitations to the PS5's keyboard and mouse capabilities, though. Not all games work with the setup, and not all keyboards and mice work with the PS5. That can be the source of your issue.
USB and Bluetooth keyboards and mice are supported at the system level by the PlayStation, but game developers will determine whether to support them at the game level. Therefore, keyboard and mouse support differs depending on the developer and the game.
Troubleshooting a Keyboard that Is Not Working
We'll check the possible solutions to your problem. Often, it's a matter of compatibility or reconnecting the keyboard and mouse to your console.
1.

Power Cycle the Console
Let's check to make sure your console isn't being corrupted by arbitrary firmware or power problems first. To clear its cache, we must perform a power cycle.
Turn off your PS5 by holding down the PS5 button for 7 to 10 seconds until you're sure it turns off and its light stops flashing.
Unplug your PS5 power cord from the power source (whether it's a wall outlet or a power strip).
Unplug any connected device to PS5, such as a controller, headset, external storage, etc., and most importantly, unplug your keyboard and mouse in this state.
Reconnect all of the cables, then turn the PS5 on.
Reconnecting your keyboard and mouse might work this time. If not, try the next solution.
2.

Reconnect Your USB or Wireless Keyboard and Mouse
Reconnecting your keyboard and mouse peripherals is the next step after the console has been reset to its original state. For WiFi, Bluetooth, or USB choices, there are many steps to follow.
Let's begin by discussing how to attach a wired keyboard and mouse to your PS5:
Utilizing the USB ports, connect your keyboard and mouse to the PS5.
The PS5 ought to detect the gadgets automatically.
On your PS5, navigate to Settings > Devices to verify your peripherals. You should locate your devices there, where you can change the settings.

Owners of wireless keyboards and mice should take the following actions:
Connect the wireless keyboard and mouse adapter to a PS5 USB port.
The console should begin to recognize your gadgets after a little while. Put your wireless mouse's On/Off switch or button on since it likely has one.
Once more, you may further personalize your peripherals by going to Settings > Devices.

Last but not least, Bluetooth keyboard/mouse owners can adhere to the following guidelines:
Your keyboard and mouse should both have Bluetooth enabled. Make sure these gadgets are fully charged.
Activate pairing on all of your devices. Depending on the gadget, this could be automatic. Otherwise, look at the mouse and keyboard instructions.
Go to Settings > Devices on your PS5.
The new menu lets you choose your devices.

Normally, in order to activate it and make it function, you would have to press the ESC key on your keyboard. The PS5 has four USB ports, and a USB hub like this one is required if you need more.
3.

Check If the Keyboard and Mouse Are Compatible
With the PS5, almost any mouse and keyboard will work. Some connections might require several tries or only a few seconds, while others might cause new problems. However, you should check the compatibility on the documentation for your peripheral, its official website, or online.
No matter how hard you try, the PS5 won't recognize them if they are incompatible. Typically, that occurs with wireless or Bluetooth keyboards and mice. They employ signal transmitters that hinder the PS5's response time or are incompatible with the device.
Normally, in order to activate it and make it function, you would have to press the ESC key on your keyboard. The PS5 has four USB ports, and a USB hub like this one is required if you need more.
4.

Check If the Game Is Compatible
Keyboard and mouse support varies by game and developer on the PS5. You may always utilize these tools to navigate the console's UI in particular, but it takes on responsibility for incompatible games.
Despite Sony's offering, not many PS5 titles support the keyboard and mouse. Instead, there is a list of options:
Assassin's Creed Valhalla
Ark: Survival Evolved
Call of Duty: Black Ops – Cold War
Call of Duty: Modern Warfare
Call of Duty: Warzone
Cities: Skylines
DayZ
DC Universe Online
Death Stranding
Deep Rock Galactic
The Elder Scrolls Online
Final Fantasy XIV
Fortnite
Ghostrunner
Hollow Knight
House Flipper
Immortals: Fenyx Rising
Minecraft
Mount and Blade: Warband
Neverwinter
Overwatch
Paladins
Planet Coaster
Project CARS
Quake
Risk of Rain 2
Slime Rancher
Smite
The Spectrum Retreat
Splitgate
The Sims 4
Terraria
They Are Billions
Untitled Goose Game
Wick
Wick: No Way Out
Warframe
War Thunder
Some of these games don't support the mouse; they only require the keyboard. One example is Hollow Knight, whose 2D mechanics don't require the usage of a mouse.
5.

Use a Keyboard & Mouse Adapter
There is an alternate option if the game you wish to play with a keyboard and mouse is not included in the list below.
An adapter is used. The majority of these are USB hubs that let you use a keyboard and mouse with nearly any game. Each item's usage instructions are different, but generally speaking, these are the steps:
Connect the controller and mouse to the hub.
Connect the PS5 to the hub.
After a short while, the PS5 ought to detect the accessories.
To modify the peripherals, use the exclusive adapter app.

You can purchase the following examples of adapters:

Many folks use one of these adapters to play games like Destiny 2 on a PS5 with a keyboard and mouse.
5.

Enable Your Keyboard and Mouse Configuration Per Game
The next step is to turn on your keyboard and mouse for the game you are using your controller for. The settings are different for each game, but normally you can find them on the menu.
Here are the steps, for Call of Duty: Warzone, as an illustration:
Start the game.
Access its Settings
Choose Controller
Choose Keyboard and mouse under Input device.

Additionally, look through the Accessories menu on your PS5 to further configure your peripherals:
Go to Settings.
Select Accessories.
Select the language, delay, and rate on Keyboard. PS5 keyboard possibilities.
Choose the Pointer Speed (sensitivity) on the Mouse and the Type for left- or right-handed use. mouse sensitivity and type PS5
---
PS5 Keyboard Not Working FAQ:
How to pair a Bluetooth keyboard or mouse with your PS5 console?
Turn on pairing mode on your device. Refer to your device's instruction manual for details on pairing.
On your PS5 console, go to the home screen and select Settings > Accessories > General > Bluetooth Accessories.
Select the device you want to pair.
How do I fix my keyboard glitch on PS5?
The only way to fix is to restart the PS5.
Why my keyboard is not working properly?
Dust, dirt, hair, and other debris can fall into the keyboard over time and obstruct a key's movement or interfere with its circuitry. Try removing the key that isn't working, and clean the area under and around it.