PS4 2tb SSD Upgrade Options – Powerful & Capacious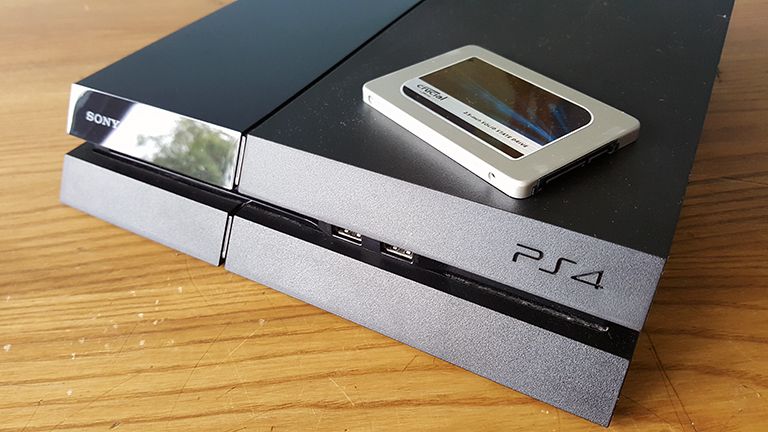 No savvy ever can deny the might of SSDs in the data storage realm. They are, unarguably, the best storage devices in history in terms of performance. Just one year ago I wouldn't recommend upgrading PS4 storage with an SSD. That was solely for one major reason—The steep price. That time, a 2tb SSD cost something around $500 or more, which was too much. But now, with the remarkable decrease of SSD prices, even the 2tb SSD has become a very reasonable PS4 storage upgrade.
PS4 SSD Upgrade—Pros & Cons
There are several major benefits from upgrading PS4 storage to 2tb SSD. On the other hand, there're also disadvantages that you must be aware of.
So, let's start first with the advantages.
The Advantages
SSDs are the most reliable storage devices ever in history. Therefore, if you care too much about performance consistency and the safety of your installed data, SSD is the number one choice to consider. Without any exaggeration, they can last more than 5 years in use with no failure at all. Just make sure to pick the right SSD that belongs to a renowned brand; such as Samsung, Crucial, Corsair, SanDisk, etc.
When talking about speed, SSD is king. An SSD can significantly decrease the loading time of your games and applications and make them launch in a remarkably shorter time. Users reported performance improvement between 40% to 60% when using an SSD with PS4. Additionally, if you own PS4 Pro, the results are even better.
With an SSD, you'll get a better and smoother online gaming experience. That's possible only if your opponents also use SSDs.
The 2tb SSD offers a huge storage capacity that suffices the needs of a wife variety of enthusiasts. But, if you still feel it's not enough, you can expand the storage limit of PS4 with a USB external storage device.
A well-reputed SSD comes nowadays with a standard 5-year limited warranty. This just reflects how solid these devices are, to the extent that the manufacturers dare giving that long warranty.
These are the major advantages to bear in mind when considering buying a 2tb SSD for PS4. But what are the disadvantages? Let's see below.
The Disadvantages
When it comes to the disadvantages of SSDs as compared with the traditional HDD, there's only one to consider—The high price of SSD.
Although the prices have fallen down dramatically lately, SSD are still expensive. Just imagine that while you can get a premium 2tb hard drive for PS4 for less than $100, the 2tb SSD costs you almost $300. This is not an issue at all to some users who can afford it, but it's, indeed, a big issue to the vast majority. For this reason most users prefer to upgrade their PS4 with a 2tb HDD instead.
Best 2tb SSD for PS4
Since we care the most about the reliability of a storage device, we've prioritized this factor when selecting the best 2tb SSD for PS4. So, rest assured that all the drives below feature solid reliability that you can relax about for long years. Moreover, all these drives belong to reputable brands that have a bright performance history in the industry. Therefore, what you'll get here are super fast storage devices that will remarkably boost the performance of your PS4 gaming, as well as high reliability that you don't have to worry about losing your data in the long run.
Samsung 860 EVO 2tb SSD
If there's one company that tends to rule in the SSD market space, it's Samsung. The Samsung EVO series has been the go to SSD for price versus performance aficionados for many years now and it looks like that won't be changing anytime soon. The 850 Evo was a long-time favorite, which remains viable even today, but the 860 Evo line has largely displaced it.
Samsung 860 Evo delivers performance that iterates on its predecessor with improved read/write speeds and an array of form factors, while still maintaining its budget price. In fact, it's not substantially quicker than the model it replaces, but the extended lifespan is certainly worth the modest investment.
Looking at this drive's testing results, one thing becomes crystal clear—the 860 EVO is the second best performing SATA SSD on the market. The only better performing SATA SSD is Samsung's own 860 Pro. The 860 EVO easily outperforms competing SATA SSDs including more expensive MLC powered competitors.
Best of all, the 860 Evo isn't some overpriced luxury: the cost per gigabyte is perfectly reasonable for a 2.5in SSD of this calibre, at 32.8p for 250GB, 30.4p for 500GB, 29.6p for 1TB, 30.8p for 2TB and 31.3p for 4TB.
Eventually, the 860 Evo is the best 1tb SSD for PS4 in terms of performance without having to break open their piggy banks.
This drive comes in varied capacities ranging from 250gb to 4tb with a 5-year limited time warranty.
---
Crucial MX500 2b SSD
This drive from Crucial is one of the best options on the market, offering excellent performance for PS4 at a consistently reasonable price. Crucial's MX500 is one of the few drives that really has no weak points, and with PS4 game install sizes getting larger, buying the largest SSD you can afford is becoming increasingly important.
In PS4 console gaming, Crucials MX500 SSDs are just as fast as the 860 Evo, and they now also have five years of warranty and are particularly competitively priced. So, whether the Samsung 860 Evo is a good purchase depends mainly on the only thing the manufacturer did not want to tell us before the launch: pricing.
The Crucial MX500 is one of the top performing PS4 compatible SSDs, and perhaps more important, it's one of the more affordable. It ends up delivering an incredible value. It remains the first choice for the price-conscious buyers, but the 860 Evo's offer overall just a bit better performance and score even better in terms of consistency. Whether you're going to notice that in practice, remains a question, but Samsung undeniably offers a slightly better product for a little more money.
This drive comes in varied capacities ranging from 250gb to 2tb with a 5-year limited time warranty.
---
SanDisk Ultra 3D NAND 2tb SSD
This drive from SanDisk won the editor's choice award of a few online tech publishers as being the best budget SSD in terms of performance in 2017. In fact, it's a great choice for PS4 at a consistently reasonable price.
The SanDisk Ultra 3D is a client SSD that leverages 3D NAND that is being marketed as an HDD replacement. Because this drive is on the lower end of the performance scale, its main application will be general upgrades from an HDD-based system to solid-state technology for faster boot up times and speedier overall performance.
As with most SSDs, users will see an improvement in performance, boot time, endurance, and a reduction in latency swapping out their HDD for flash. The drive comes in 250GB, 500GB, 1TB, and 2TB capacities. It will also come with shock and vibration resistance and SanDisk software like SSD Dashboard. The drive is more or less identical SanDisk version of the WD Blue 3D SSD leveraging the same NAND in a branded model.
---
Upgrading PS4 to 2tb SSD
The process of replacing the stock hard drive of PS4 and upgrading it to a 2tb SSD is quite easy.
Replacing PS4 HDD with SSD
With your new 2tb SSD acquired, it's now time to remove the old drive from your PS4.
Lay the PS4 flat.
Slide off the shiny section (to the left, as you look at the console). The hard drive is right there, in a fairly normal-looking caddy.
There is one screw with the iconic PlayStation button symbols — unscrew it.
Slide the drive caddy out.
Unscrew the screws holding the drive in.
Carefully pop the drive out.
Screw your new drive in.
Slide the caddy in.
Finally replace that fancy screw.
Reinstalling PS4 System Software
The next step is to reinstall the PlayStation System Software. For this step, you will need a USB drive with 1GB of free space, and the PS4UPDATE.PUP file from the official Sony website.
Connect the flash drive to your PC and create a folder called PS4, and inside that create a folder called UPDATE.
Copy the PS4UPDATE.PUP file to the UPDATE folder.
Turn off your PS4. If the power indicator is illuminated orange, touch and hold the power button for at least seven seconds (until the console beeps a second time).
Plug in the USB drive.
Hold the power button for seven seconds to start the PS4 in safe mode.
Select Update System Software from the menu that pops up.
Now follow the on-screen wizard to restore your PS4 to an operational state. The restoration process will take at least a few minutes.
If you need help with upgrading or replacing your PS4 hard drive, the video embedded below can walk you through the process.
https://www.youtube.com/watch?v=18EKMmmHhf8
Conclusion
Getting a 2tb SSD for PS4 or PS4 Pro is a trend that keeps getting bigger day after day. You'll get a 2tb of storage capacity which is quite huge, alongside with a blazing fast device that can noticeably boost the performance of PS4. Additionally, if you own PS4 Pro, your console can leverage the 2tb SSD much better (read more.)
Finally, if you find the 2tb SSD still expensive, you can try PS4 1tb ssd instead and compensate the shortage with an external hard drive. Just gauge your budget and see what suits you best.