Best External Hard Drive for Gaming [2020]
Almost nothing is worse than realizing you don't have enough space on your gaming PC/laptop to store your latest game files. The best gaming external drives can be a great solution to that problem. Additionally, they feature a good backup source to keep your most precious game data protected. After all, you want one that's fast, easy to use, and won't break the bank.
The best gaming external hard drives hit that sweet spot between cost and practically. They Offer an effective and portable backup solution for carrying your game files wherever you go. Consequently, these hard drives are a great way to save, secure and protect all your game files and folders. The fact that they are typically affordable makes them an even more cost-effective solution for everyone.
But with dozens of models available, how do you know which is the best external drive for your gaming rig to buy? And should you opt for a faster, more rugged (and more expensive) external SSD instead of a hard drive made up of fragile moving parts? To help you pick the best portable external drive for your needs, we review key drives and publish our list of specific recommendations on this page.
Best Gaming External Hard Drives for PC & Laptop
Two things are for sure: No one ever said they wanted less storage space, and no one ever said they wanted a slower drive. Our latest top picks for best performance gaming external hard drive are really blazing-fast. That's quite great news if you're moving around large amounts of data.
Because game files are too huge in size, a slow external HDD won't fit the purpose here. You surely need a very fast external HDD that offers huge capacity. Otherwise it will be a big hassle for you, especially if you use that external hard drive for installing games.
Below is a list of what we deem the best external hard drives for gaming PC's and laptops.
There are also other external hard drives that works well for gaming, but these drives are the best you can find in terms of performance.
---
1.

SanDisk Extreme Pro Portable SSD
SanDisk makes the Extreme Portable SSD that delivers speeds up to 550MB per second transfer rates. But if you're an extreme gamer with heavy resource-demanding needs looking for something faster for your gaming PC or laptop, the Extreme Pro Portable SSD is the way to go.
SanDisk's Extreme Pro Portable SSD is the fastest USB 3.1 Gen 2 external SSD we've seen to date. That makes it a perfect choice for extreme gamers. Burst performance is roughly on a par with the runner-up Samsung T7's, but it blows that drive out of the water during long writes.
The 1TB version ($200) only costs $30 more than the standard Extreme Portable and it delivers almost twice the speed with 1,050MBps (just over a gigabyte per second) transfer rates, according to SanDisk.
A simple test made on this drive showed that copying 4.2GB video file to the SSD would take 8.1 seconds. That test was conducted on a 2019 Mac Mini running a Core i5 processor with 16GB of RAM.
This is a great external storage device for gaming purposes. Any serious gamer would love to get that external SSD for gaming.
Compatible with Macs and Windows PCs, it's technically ruggedized with an IP55 rating, meaning it can withstand a sustained spray of water. It's also shock-resistant. It has a USB-C interface and includes both USB-C to USB-C and USC-A to USB-C cable. The price for the 2TB model jumps to $370.
If you want more gaming external SSD options, please visit our guide on the best gaming external SSD.
Basic Features
Save time moving and editing your files with our lightning-fast, in-house NVMe technology that dramatically increases transfer speeds to up to 1050MB/s.** [**Read speed only; write speed lower. Based on internal testing; performance may be lower depending on drive capacity, host device, usage conditions, and other factors. 1MB = 1,000,000 bytes.]
Ruggedized design with a forged aluminum body protects the SSD core and dissipates heat. Its IP55 rating lets you know that it's water- and dust-resistant while its durable, silicon rubber coating delivers higher impact resistance.(1) [(1) IEC 60529 IP55: Based on internal testing in 2019. Tested to withstand water flow (30 kPa) at 3 min.; limited dust contact does not interfere with operation. Must be clean and dry before use.]
With capacity of up to 500GB,* creative professionals have enough space for full libraries of content [*1GB = 1,000,000,000 bytes. Actual user storage less.]
Compact, pocket-sized design won't weigh you down when you travel. Vibration 10Hz-2000Hz 5gRMS. Operating temperature-0°C to 45°C
Universal compatibility with PCs and Mac computers with USB Type–C and Type-A connections,(2) so you know it will work with the way you work [(2)USB Type-C cable and Type-A adaptor included]
Limited 5-Year Manufacturer Warranty
---
2.

MiniPro Dura RAID External HDD
If you buy a larger desktop drive with two or more spinning platters, you'll almost certainly have the option to configure the drive as a RAID array using included software. The good news here is that this drive doesn't need any software for that. Depending on which RAID level you choose, you can prioritize capacity, speed, or data redundancy, or some combination thereof.
A collection of spinning drives configured with a RAID level designed for faster data access can approximate the speeds of an SSD, while you should consider a drive with support for RAID levels 1, 5, or 10 if you're storing really important data that you can't afford to lose.
Basic Features
USB 3.1 Gen II (10Gbps) Type-C (USB-C)
Universally compatible with all USB & Thunderbolt 3 ports (not compatible with Thunderbolt 2)
Configurable for JBOD, RAID 0, RAID 1, & BIG modes. No software required.
Selectable bus-power or external power adapter (included)
Power management technology: If the computer goes to sleep, the MiniPro will follow.
LEDs provide verification of drive status
Includes: MiniPro Dura RAID, USB C-C cable, USB C-A cable, power adapter, user guide
---
3.

Seagate Firecuda Gaming Dock External HDD
The FireCuda Gaming Dock is a 3.5″ form factor solution that aims gaming laptops and users that while docked want the desktop experience. With modern high-end gaming notebooks often having Thunderbolt 3, Seagate saw this as an opportunity to provide an all-in-one solution that can add both high capacity storage with its 3.5″ HDD and very quick storage with its inclusion of NVMe.
Additional ports include a second Thunderbolt 3 port for daisy-chaining, DisplayPort for adding a monitor, and a host of USB 3.2 Gen 2 ports for 10Gb/s connectivity. Seagate has also added in USB DAC for its 3.5mm in and out along with gigabit ethernet for network connectivity.
Basic Features
Firecuda gaming dock is an external laptop hard drive and Hub Offering 4TB of spacious capacity for storing older games, media files, and tomorrow's hottest new titles
The expandable NVMe slot is perfect for inserting an ultra-fast upgrade, like the Firecuda NVMe SSD
Hub includes a Thunderbolt 3 port, DisplayPort, USB 3. 0, RJ45 Ethernet network port, 3. 5mm audio-in/mic port, and a 3. 5mm audio-out port
Features a minimalist industrial design and customizable LEDs with a range of colors and light patterns
Enjoy long term peace of mind with the included limited product protection plan
3-year limited warranty.
---
4.

Seagate Desktop External Hard Drive
When it comes to speed and reliability, stationary (desktop) external hard drives are much better their portable siblings. For that reason gaming enthusiasts and power-users opt for such a drive for their gaming works.
Here's a desktop external hard drive from Seagate that won't let you down.
Basic Features
Ideal for the home, office, or dorm, the Seagate Desktop Drive offers 8TB of enormous desktop storage for photos, movies, music, and more
An external hard drive for Windows or Mac computers, simply back up with a quick drag and drop
The perfect laptop hard drive or PC drive, just plug into to a computer for automatic recognition no software required
Includes an 18 inch USB 3.0 cable and 18 watt power adapter
Enjoy long term peace of mind with the included 1 year limited warranty
---
5.

WD Elements Desktop External Hard Drive
The 8TB Elements Desktop USB 3.0 External Hard Drive from WD provides users with up to 14TB of add-on storage for their game files. It features a 5Gb/s micro-USB 3.0 interface, which is also known as USB 3.1 Gen 1. It's also compatible with 480Mb/s USB 2.0. Moreover, it's powered using an 100-240 VAC power adapter and may be reformatted for use with macOS Sierra and High Sierra. Also included is a USB cable.
Basic Features
Fast data transfers
High capacity add on storage
Plug and Play Ready for Windows PCs
WD quality inside and out
2 year manufacturer's limited warranty
---
6.

G-Technology ArmorATD All-Terrain External HDD
The ArmorATD external hard drive from G-Technology (a subsidiary of Western Digital) is an attractive little beast. Measuring 0.8 by 3.4 by 5.1 inches, it has a slick-looking case in blue brushed aluminum, wrapped with a rubber bumper.
The ArmorATD is a 5,400rpm platter-based drive toughened to IP54 standards. That means it's dust-resistant, and you can splash (but not immerse) the unit with no ill effects.
Basic Features
Triple-layer shock resistance for added durability
Rain-and dust-resistant (IP54) enclosure with a 1000lb crush rating
With capacities up to 5TB* of storage for your photos and footage
USB-C ready; USB-3.0 and Thunderbolt 3 compatible
Ready to go with mac and Windows
7.

WD Black P10 Game Drive Portable
Here is an external drive from a reputable manufacturer that costs less than $130 for 5tb of space. You obviously don't get five terabytes of SSD space inside the robust and attractively styled case for so little cash, but you do get plenty of raw capacity to play with. It's bus-powered too, so you don't need to carry around an external power connector, which helps in the mobility stakes.
Because of its portability, the WD Black P10 Game Drive features a great option for gaming laptop users. Therefore, we have picked this drive as the best portable gaming external hard drive.
Basic Features
Up to 5TB that can hold up to 125 games, so that you can save old favorites and still have room for new titles. Number of games based on a 36GB average per game. The number of games will vary based on file size, formatting, other programs, and factors.
Portable and durable form factor that provides fast access to your gaming library, anywhere you go.
High-performance HDD to optimize your console or PC gaming experience and drive your game.
Purpose-built for gamers based on WD Black quality and reliability so you can play without limits.
---
Choosing the Right Gaming External Hard Drive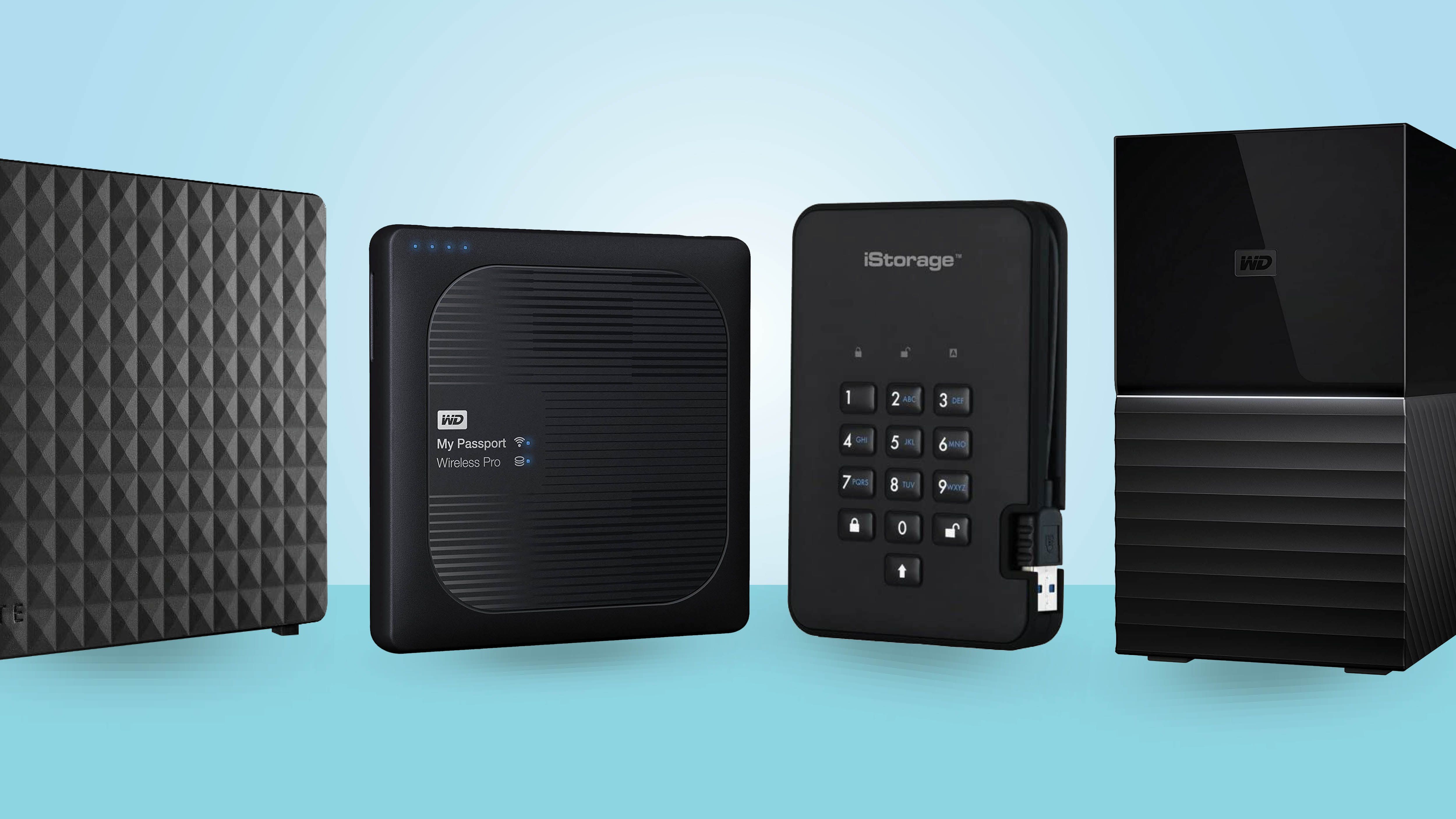 Choosing a gaming external drive isn't as simple as buying the most expensive one you can afford, however. The drive capacity is the most important factor to consider, and it can increase or decrease the cost dramatically depending on your needs.
The second important factor is speed. As a gamer, you have to choose a speedy external hard drive that cuts down on the time of transferring your game file from and to the external HDD.
Other factors include the physical size of the drive (is it designed to be carted around, or to sit on your desk?), how rugged it is, the interface it uses to connect to your PC, and even what colors it comes in.
So, let's break things down and address each fundamental factor on choosing the best external hard drive for gaming.
The Aspects to Consider
In fact, there aren't that many specs you need to consider in order not to suffer from a buyer's remorse syndrome. Here we gathered four main specs you need to pay attention to. They include:
Disk capacity;
Transfer Speed;
Connection Interface;
Memory type;
Form-factor.
Important: perhaps you don't need to buy an external hard drive for gaming purposes at all. If you want an external hard drive mainly to back up or store your game files, there's a good trick to carry out. Simply, if you have a spare HDD or SSD you don't use in your PC, consider buying a simple case that converts your internal SATA drive to external drive. These are extremely cheap and will make a good job for those on a tight budget. We recommend Sabrent 2.5-Inch SATA to USB 3.0 Tool-Free External Hard Drive Enclosure (fits 2.5-inch HDDs and SSDs) or UGREEN External Hard Drive Enclosure Adapter. There's the same model with the USB-C interface.
What to Look For in a Gaming External Hard Drive?
Depending on how much money you have to spend on an external drive (and whether you pick up an internal unit and an enclosure or pre-built unit), there are various factors and features that alter:
Disk Capacity
Before you even begin to think about buying a new gaming external hard drive, you need to evaluate your storage capacity needs. New gaming external hard drives range in capacity from 250 gigabytes to several terabytes (1000GB = 1TB). You don't want to buy the cheaper 500GB external gaming hard drive only to discover you actually have 1TB of data to store.
Take a look at all your documents and media. This includes PDFs, photos, videos, songs and more. You'll need a gaming external hard drive to easily store everything you already have plus a good deal of storage left over for additional documents and media. So tally up the total storage capacity needed for your current data and estimate how much additional data you'll create while using the new gaming external hard drive.
How big is too big?
When it comes to numbers, this depends largely on what you need to store on the gaming external drive. The good thing about having physical drives as opposed to services is you can always purchase more and create a small collection (or part with more funds for even larger capacity). For a few games, you could get away with anything between 100-500GB.
That said, there's no real harm in going too big. Pick up a 1TB (1,000GB) drive and you'll have more than enough space for the future. But if you have many games to store externally, estimate your needs and pick bigger capacities.
Transfer Speed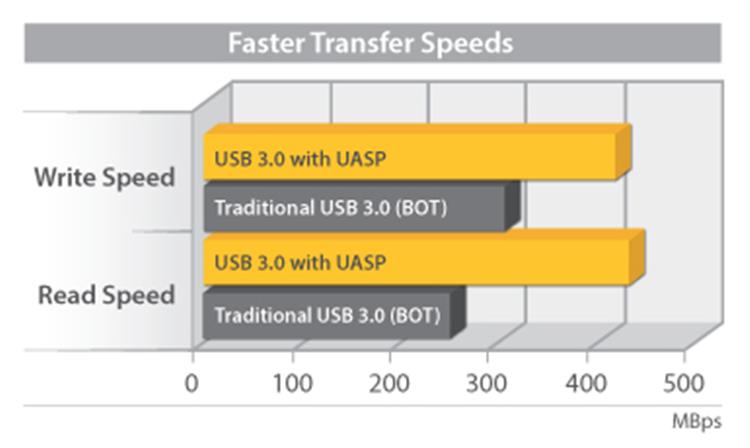 The transfer speed of a gaming external hard drive not only relates to the type of interface (USB 2, USB 3, eSATA) but also rotation speeds in mechanical HDDs. That's it, cheaper externak hard drives are 5200rpm, while more powerful 7200rpm drives will set you back a little more. External SSDs are unaffected and vary depending on employed flash memory/technology.
However, the speed fundamentally matters depending on the purpose you want to use the gaming external HDD.
In fact, typical read and write speeds for consumer gaming external drives with spinning platters are in the 100MBps to 200MBps range. Surely this is depending on platter densities and whether they spin at 5,400rpm (more common) or 7,200rpm (less common).
On the other hand, external SSDs offer at least twice that speed and sometimes much more with typical results on benchmark tests in excess of 400MBps.
Practically speaking, this means you can move gigabytes of game data to an external SSD in seconds rather than the minutes it would take with a regular external spinning drive. For that reason we always recommend external SSDs for serious gamers, as speed matters a lot in gaming space.
Not only is it faster to read and write data stored in an external SSD, but it's also safer. Because there is no spinning platter or moving magnetic head, if you bump the SSD while you're accessing its data, there is no risk that your files will become corrupted and unreadable.
After all, gaming external hard drives work so well for the vast majority of gamers who don't have exceptional needs.
Connection Interface
The Interface of a gaming external hard drive also affects their performance as different interfaces provide different bandwidths and data transfer speeds.
USB 2.0
Also referred to as Hi-Speed USB, the USB 2.0 interface is an external bus that supports data rates up to 480Mbps. It is fully compatible with the earlier USB 1.1 specification.
1394a (Firewire 400) and 1394b (Firewire 800)
"Firewire" is a dedicated interface with speeds of 400Mbps and 800Mbps respectively.
USB 3.0
This new USB level adds a new transfer mode called Superspeed (SS), capable of transferring data up to 5Gbps which is ten times as fast as USB 2.0.
Thunderbolt
Thunderbolt offers data transfer rates up fo 10Gbps, which is twice the speed of USB 3.0.
Ethernet Port
Mainly used for Network Attached Storage Drives, Ethernet cables are required to attach a drive to a router.
Memory Type
There are two types of external storage devices that gamers use: external hard drives and external SSDs. Surely you have noticed we mentioned both of them in several positions in this article.
The difference between these two is very big. Here is what you need to know.
External HDD is the most affordable for the vast majority of gamers. Inside such a drive you will find a regular, platter-based spinning disk like the one that was very common 10 years ago.
In addition to a low price, they provide the largest amount of available data. Need a big external storage device for the cheap? Classical gaming external HDD is your choice. The obvious downside is that they are painfully slow and quite noisy. Not the best choice to move a large amount of data like game files.
As for external SSDs, just like with internal SSD, these offer much better read/write speed. In addition to that, no vibration and no noise. More expensive than external HDDs but still relatively affordable, unless you need a crazy-fast drive.
Form Factor
There are two form factors of a gaming external hard drive to choose from: 2.5-inch, known as mobile or portable hard drive, and 3.5-inch, known as desktop external hard drive.
The desktop external hard drive is usually the best fit for gaming purposes. They are more reliable and faster than the portable drives. Additionally, they come in a capacious sizes that portable drives can't handle. For example, currently, the largest portable hard drive is 5tb, whereas the largest desktop external HDD is 18tb.
But if you insist on the 2.5-inch form factor drive, try getting an external SSD instead.
Conclusion
Gaming external hard drives are all the rage now, and if you want a good drive that fits your needs, you have first to determine why you need one in the first place.
Most gamers uses external hard drives to back up their games, whereas others use them to install games on them. If you are the latter, we strongly advice you to get an external SSD. Otherwise, a desktop external hard drive is a great option for gaming.