How to Boost PS4 Performance & Make It Faster?
It's inevitable that all game consoles will experience slower speeds at some point. As games and apps becomes more demanding, the way in which your PS4 reacts to these changes can have a big impact on its performance. The PS4 system software version you have and whether you have chosen to update it to newer one can also make a big difference. Luckily, though, there are several ways to improve PS4 performance and make it faster.
While you can upgrade your PS4 internal hard drive to make it noticeably faster, there are some improvements you can make that are more cost-effective and straightforward to do. These minor adjustments may not seem like they will speed up your PS4 performance, but combined they can make it possible to keep your PS4 functional for a number of years.
Here are some ways you can improve PS4 speed and its overall performance.
2.

Upgrade the Internal Hard Drive
Upgrading the stock hard drive of PS4 to a better drive has a major impact on its overall performance. In fact, any serious player would surely want to go through this route, as the advantages are very appealing.
Worth it to say that PS4 stock hard drive is actually a slow, cheap and outdated drive that must not exist anymore. It's the main reason for the PS4 slowness you may experience with the new, heavy resource-demanding games and apps.
One of the important benefits of upgrading PS4 internal HDD is reliability. Modern hard drives are more reliable and powerful than the old ones. That means you'll encounter less errors/failures with the new drive compared with the stock HDD of PS4.
Additionally, everything will load and run faster. The PS4 operating system will need lesser time to completely load. Also, launching games/apps will become noticeably faster, especially if you've chosen to upgrade to an SSD. You can read more about PS4 SSD Upgrade and how it benefits the performance of PS4.
For more details, please visit the PS4 Internal Hard Drive Upgrade guide.
2.

Free Up Space
Experts keep saying that the hard drive must have around 10% of free space in order to maintain its performance. Otherwise, the performance will degrade and, according, PS4 will become slow. If the PS4 you own has an SSD, the free space must be around 15% of the total storage capacity.
So, how to free up storage space on PS4?
The answer is simple. Please follow these steps below to learn how to do that properly.
Delete apps or games on PS4
Removing games that you're not actively using can yield big results. Game saves will be retained so a later re-install should put you back exactly where you left off.
Highlight the game or app in question and press the Options button on your controller
Select 'Delete' and confirm that you do wish to delete it
That's it. Free space ahoy!
Clean Up Screenshots and Recorded Videos
Screenshots you take and videos you record are stored on your PS4's internal storage. You may be able to free up some space by managing them. To view your screenshots and videos, head to Settings > System Storage Management > Capture Gallery.
To delete all screenshots and videos associated with a specific game, select a game icon here, press the "Options" button on the controller, and select "Delete". There's also a "Copy to USB Storage" option here that will copy the screenshots and videos to a USB storage device before deleting them.
If you like, you can also select a game and manage the screenshots and videos individually.
Deleting Saved Game Data
Game saves, player profiles, and other game data is automatically saved in the PlayStation 4 System Storage by default. If you suspect that data is corrupt, you can delete it from your hard drive.
Please note: Deleting saved game data is permanent and cannot be undone. Therefore, it is highly recommended that you back up your saved game data to online storage or a USB storage device before deleting it.
Follow these steps to access the System Storage and delete game data:
Open the Settings menu at the top of the dashboard.
Select Storage, then select System Storage.
Select Saved Data.
Choose a game to access the game's saved data.
Press the Options button and select Delete.
Choose the saved data files to delete, then select Delete.
Note that if you have PS4 save data you want to delete that's currently residing on a USB stick, plug said USB stick into your PS4 and go to Application Saved Data Management in the main Settings menu. Select Saved Data on USB Storage Device and follow the above steps.
Rebuild PS4 Database
If you tend to keep your PS4's hard drive mostly full with applications, save games, video clips, photos, and the like, those files can become disorganized and fragmented over time, leading to issues like the following:
Slow load times and menu navigation
The inability for the PS4 to consistently read game discs
Stuttering and framerate drops during in-game cutscenes (especially during graphically intensive scenes)
Trouble with accessing downloadable add-on content
Fortunately, rebuilding your PS4's database can help address the above issues, and even if you're not currently suffering from said issues, rebuilding the database is still a good idea if it has been a while since your last rebuild (or if you'd never rebuilt it at all and you've had your PS4 console for a while).
How to Rebuild PS4 Database
Rebuilding PS4 database is very easy and doesn't require long time to fulfill. Just follow the steps laid out below.
First of all, make sure the power is off and the console is not merely in rest mode.
Then, hold the power button until you hear two quick beeps. That means the PS4 is now in safe mode.
Now connect your controller to the USB-A slot, you will not be able to use it wirelessly while in safe mode.
Once the menu appears, scroll down and select option five, "Rebuild Database."
Depending on how full your console is, this process will likely take a fair bit of time. It is effectively the equivalent of running disk defragmentation on your PC. There is (almost) no need to worry about any files being lost either. The only time the rebuild process will do that is if a file is corrupted and in that instance, you should want to get rid of it anyway. So if Anthem does try to do damage to your PS4 do not panic, and follow the steps above.
Factory Reset PS4
If you own a gadget for a long time, you should factory-reset it every once in a while. Useless files accumulate, caches fill up with junk data and programs you never use start eating up valuable space.
Video game consoles are no exception, particularly since games are larger than ever and hard drive space is at a premium. To learn how to factory reset your PS4, whether to repair it or simply to save some space, read on.
The Steps
Before we begin, you should know that a factory reset completely wipes the console's hard drive and can even remove its system software. It's a last resort when a software glitch stops your PlayStation 4 dead in its tracks, particularly when booting up or when you want to make sure the console no longer has your data on it.
You should back up any data you want to keep, such as images and video, to an external device or to the cloud. In order to back up data using the cloud, you'll have to have a PlayStation Plus account.
There are two ways to reset your PS4 — From the console's dashboard or in Safe Mode if the console is having boot-up issues. We'll be going over both ways, the first being through your PlayStation 4 dashboard.
1st Method
Go to the main Settings menu, then click on Initialization.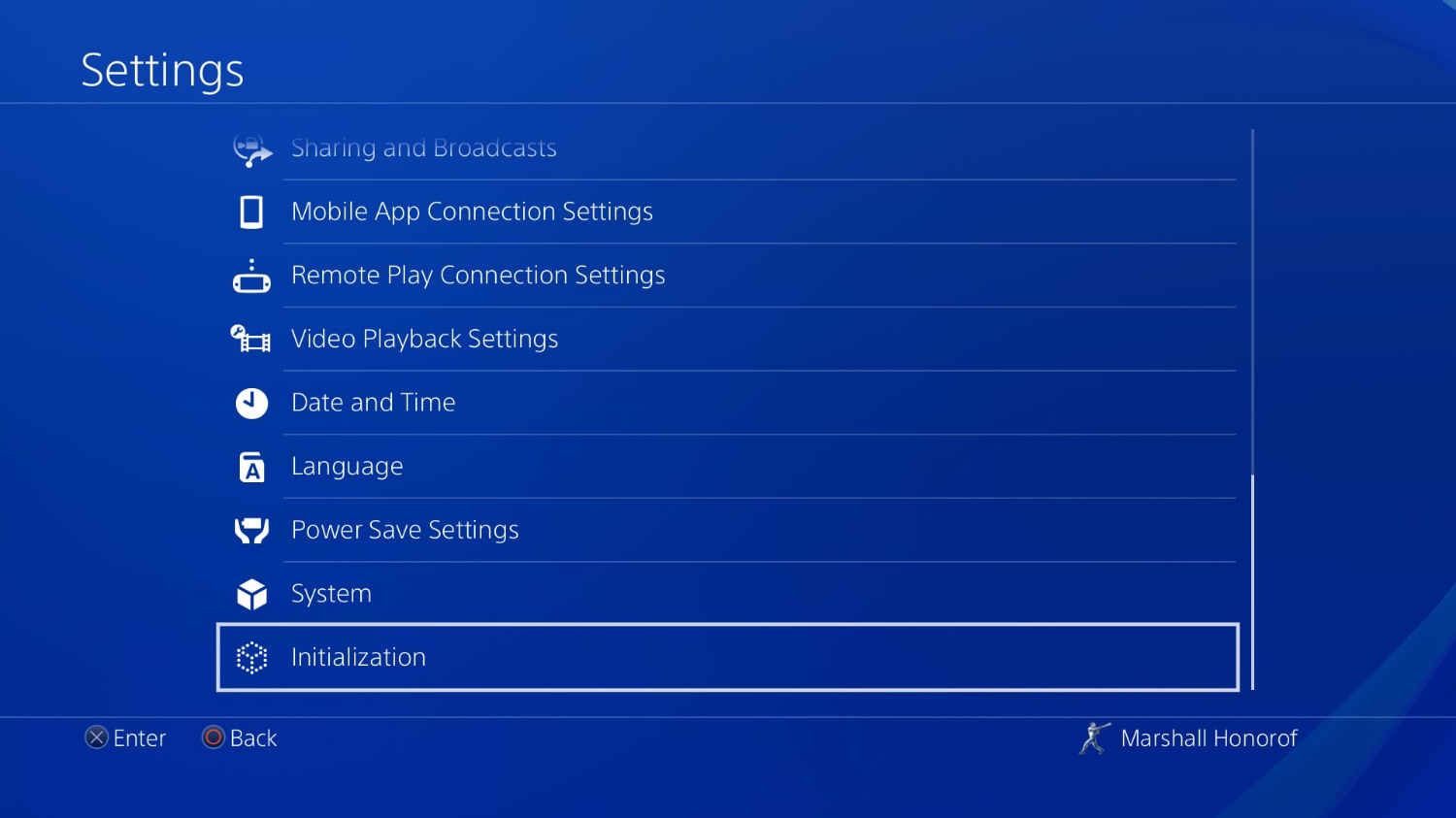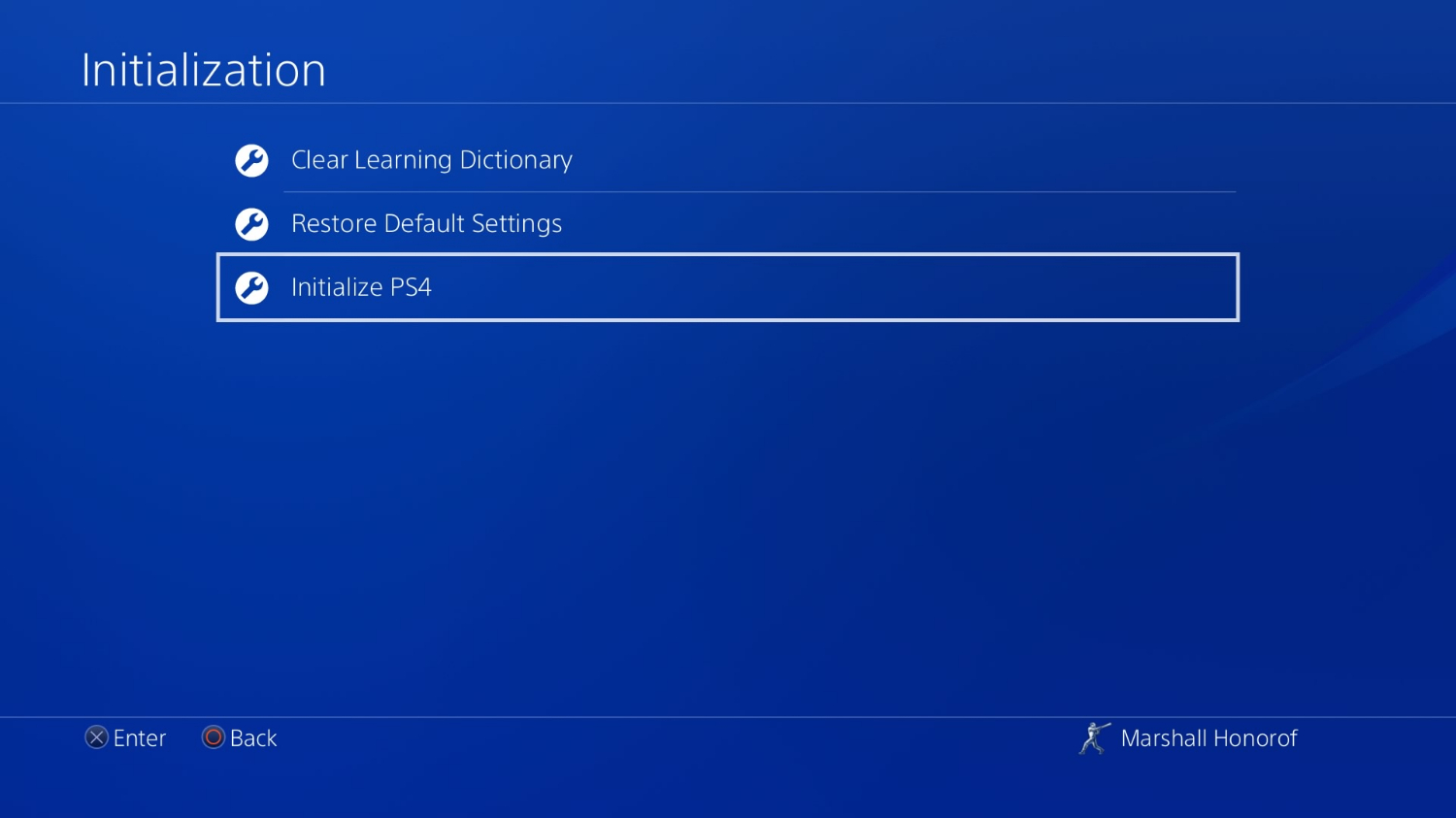 Click on Initialize, and you'll arrive at one final menu that offers you a Quick or Full reset. "Quick" doesn't really reset your PS4 —it just signs you out of everything and deletes all user and save data. "Full" is what will wipe the system, from the guts back on up. In my opinion, Quick isn't really a worthwhile option, especially if you're having software problems. And while Full claims to take a few hours, mostly you'll be up and running again within 30 minutes.
Either way, pick your reset style, and confirm your choice. Then, get ready to re-download all your favorite titles and apps, and restore your save data. (Again: Settings, Application Saved Data, then follow the prompts.
The method described above is the simplest way to restore your PS4 to factory settings, but it's not necessarily the best, especially if you're having software problems. If your PS4 is not cooperating, don't bother with the regular menus; reset your system from Safe Mode instead.
2nd Method
Turn off your PS4 completely, if it's already on.
Then, hold down the PS4's power button. (Don't use the controller; use the actual, physical button on the console.) Keep holding it down after it beeps the first time, and it will beep a second time about five seconds later.
Then, let go. The system will now prompt you to attach a controller with a USB cord, and boot up in Safe Mode.
Now, scroll down to option 7, and click on it. The system will prompt you to enter a USB stick with system software, which you should have at the ready.
Insert the USB stick, follow the prompts and give the system some time. The system will reinstall software from scratch, and leave you with the next-best-thing to a brand-new PS4, fresh from the box.
Sign in, restore your save files, and you'll be up and running in no time.
Keep PS4 Cool
When dust accumulates inside your PS4 and preventing it from venting the generated heat, it will become overheating. Once this happens, the performance of the hardware parts will slow down in order to maintain their health. One of the most obvious signs of PS4 overheating is hearing the PS4 fan giving a loud noise. If this is the case, please check this article for more details on this issue.
In a nutshell, keeping your PS4 cool and avoiding overheating is one of the great resolutions to make PS4 faster.
Conclusion
Actually, the only way to make PS4 faster than normal is to upgrade the internal HDD to an SSD. Otherwise, all other methods are to maintain the original performance of PS4 and avoid degradation only.