PS4 Is Slow and Lagging? Fix It And Make It Faster [2023]
When you first purchased your PS4, it delivered smooth, lightning-fast performance. However, as time passed, you might have noticed your PS4 slowing down and lagging. This can be incredibly frustrating, but the good news is that there are numerous effective solutions available.
In this comprehensive guide, we'll explore common PS4 slowness issues and provide you with the best solutions for 2023 to restore your PS4's speed to its former glory or even better.
Symptoms that a Slow PS4 Exhibits
There are common signs that a slow PS4 exhibits by which you can tell that there's a real problem that must be resolved. These symptoms include:
The PS4 takes longer-than-usual time to start up and load the home screen.
Increased time to turn off, or it gets stuck on the turning off screen.
Users experience sudden whole system freezing.
More delayed app/game launching.
Apps/games may freeze whether at launch or after a while of using them.
Slow response time to the controller's commands.
Slow internet connection speed is another concern that users experience.
You may notice slower upload or download speeds, slower web browsing, and other slowness symptoms.
Why Is PS4 Slow and Lagging
There is no single cause of PS4 slowness and lag, rather there are several. For example, one user may have their PS4 slow due to a power issue and the other user may have it slow due to a clogged cache.
In a nutshell, the reasons vary, and you have first to find out what causes your PS4 to become slow before trying to fix it.
18 Causes of PS4 Slowness & lag
Here's a comprehensive list of the most common causes of PS4 slowness and lag. Make sure your PS4 isn't undergoing any of them in order to resolve the issue.
The PS4 hasn't been turned off for too long.
Data corruption in the PS4 system software due to improper installation or update
Improper installation of a game/app or its update.
Incompatiility Issue between a particular game/app and the currently-installed PS4 system software.
Running a poorly designed game/app that impacts system's performance.
The PS4 internal storage device is either full or nearly full.
Malfunctioning/degrading PS4 system storage or extended storage.
Big accumulated cache file size.
Slow or unstable internet connection.
The inside of the PS4 is dirty and full of dust.
Degrading thermal paste.
Insufficient Ventilation.
Cluttered/corrupted PS4 Database
Corrupted CMOS data.
The PS4 BD-ROM is malfunctioning or has troubles reading your disc.
There is a piece of metal inside your PS4 that may cause a sort of electrical shorts.
Degrading hardware such as GPU, PSU or CPU.
The PS4 doesn't receive enough or quality power.
So, after you have learned almost all possible reasons for PS4 slowness, what are the solutions to this situation and how to make your PS4 run fast like before?
Here are the most effective methods as of Year 2022 in order to fix a slow and lagging PS4.
Fix PS4 Slowness & Lag and Make it Faster
So, here you'll learn a few tips to fix your PS4 slowness & lag and make it faster, either like before or even better.
Most of the suggested fixes below can be implemented by newbies and don't require any deep technical background. However, if you have tried everything you can yet your PS4 is still slow, you'll need the assistance of a savvy or a specialist.
For example, it's easy to rebuild the PS4 database for all types of users, but not every user can clear the CMOS data, it needs an expert.
<! ################################################################# –>
Solution #1:

Power Cycle Your PS4 & Router
Although a power cycle may seem merely a simple restart of the PS4 system, the fact isn't like that.
A power cycle is a way to clear the capacitors or "caps" to ensure that all energy/electricity is discharged from the PS4 system. This will help the internal PS4 hardware components to have time to "rest" and "refresh".
A good example to power cycle your PS4, in this case, would be if you were experiencing problems such as hardware/devices malfunctioning/degrading or not being recognized by your PS4 system.
Moreover, since power cycling is another way to restart the system, it helps clear the system cache which might be the reason for PS4 slowness and lag.
Also, since you're at this stage, let's also power cycle the internet router.
So, to do that, follow these simple steps:
Turn off your PS4 and your internet router.
Unplug the power cable to the PS4 and router from the back
Hold the power button of your PS4 while it is unplugged for 30 seconds and then release it
Wait 3-5 minutes then plug the power cable back into the PS4 and router.
Power on the PS4 and router.
Check if this has resolved the PS4 slowness issue or not.
Now the PS4 hardware components and the internet router took enough share of "rest" and their performance is restored.
The PS4 system cache will be cleared once you turn on your PS4 so the system software will have also a fresh start which may help in your case if your slow PS4's actual problem is the big and accumulated system cache.
<! ################################################################# –>
Solution #2:

Make sure there's no power outage
Power Outages are a loss of power caused most often by a problem with your power supply or infrastructure (damaged power line, etc).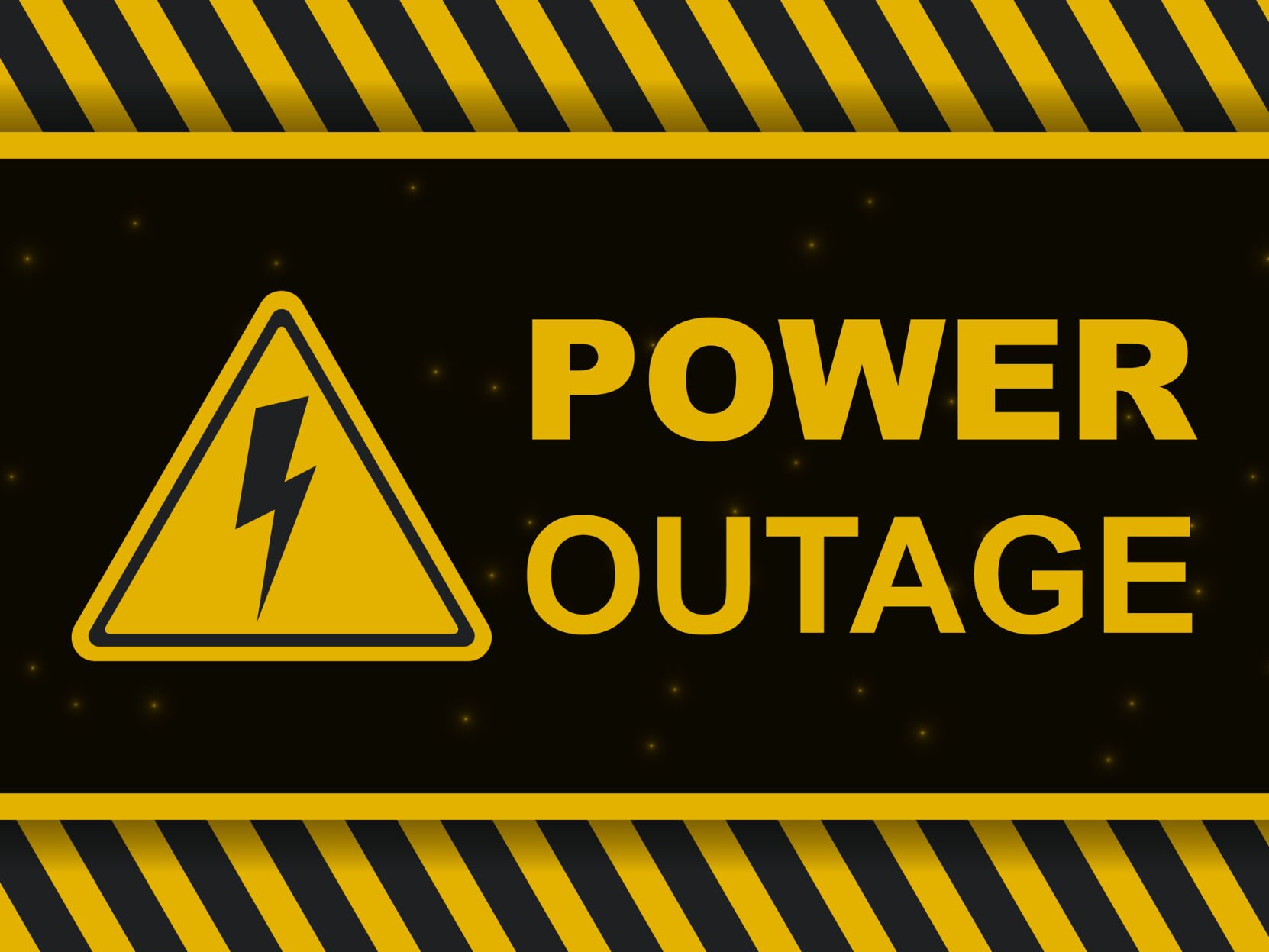 With PS5 and modern game consoles, the problems associated with power loss are typically only associated with data loss. PS4 consoles, however, were not as stable, and sudden power losses can also result in data corruption and other performance issues, like slowness and lag.
In most cases, outages will not cause any hardware damage unless accompanied by power surges.
For more information on this topic, we recommend reading these two articles:
<! ################################################################# –>
Solution #3:

Check the State Of Your PS4 Controller
Your PS4 controller might be the reason for the lag you experience on your PS4. For example, if the controller's battery is degrading/dying, the functionality of the controller will decline consequently because its command signals will be weak. As a result, the PS4 system won't respond quickly to the controller's command causing the whole PS4 system to be slow and lagging.
Therefore, you have to make sure your controller is healthy and working flawlessly. You may want to learn how to reset PS4 controller if you suspect there's a sort of malfunction in it.
Also, we strongly recommend to wire-connect your PS4 controller via USB during the troubleshooting process, as your Bluetooth might not be well functional.
<! ################################################################# –>
Solution #4:

Clear the game cache
If it's one specific game that causes the PS4 to slow down when running it, try to clear the game cache.
For example, if your PS4 slows down when playing Minecraft or FIFA 22 but it works well when playing COD Warzone or NBA 2K22, the game cache is most probably your problem.
The game cache stores temporary data related to the game, like pictures and icons, and lets your PS4 system load that data quickly. It can help make a game start faster than it would normally.
But if the game cache gets too full, it can have the opposite effect: Eventually, your PS4 console will start slowing down when running that particular game.
So, after you have already power-cycled your PS4, go to the next step by clearing the game cache.
To do that, just run that game, and once you see the loading screen press the L1 + R1 buttons on your controller.
<! ################################################################# –>
Solution #5:

Make sure there's enough free space
Do you know when the PS4 internal storage device gets nearly full, it will slow down, no matter whether it's an SSD or HDD?
Yes, if your PS4 system storage is 85% full, you have to expect system slowness and lag (read more on what happens when your PS4 hard drive is full).
So, what's the best thing you can do about it? Well, simply to free up space on your PS4 system storage or simply expand it.
As for freeing up space on your PS4 system storage, you'll need to delete apps/games and media files with which you can dispense.
How to Free Up space on PS4 internal HDD
Here are simple steps that lead you to make more free space on your PS4 hard drive:
Step 1:

Navigate to

Settings > System Storage Management

and then select the category you want to delete files from. There are four categories:

Applications
Capture Gallery
Application Saved Data
Themes

Step 2:

Decide what content to delete and select it.

Step 3:

Press Options then Delete.

Step 4:

Restart your PS4 and check if its speed got better or not.
---
But what if you don't feel that deleting your files is the right idea?
Well, consider either upgrading the PS4 internal storage to a larger one or using an external storage device for PS4, which is a quick and easy solution.
An external hard drive allows you to transfer data from the PS4 internal storage externally in order to free up space on the PS4 system storage. That way, if this is what causes your PS4 to slow down and lag, this will definitely resolve the issue.
<! ################################################################# –>
Solution #6:

Reseat the PS4 Internal storage device
Did you ever have to remove the PS4 internal hard drive before, whether for the purpose of the upgrade, maintenance or cleaning? Or did your PS4 accidentally fall down on the floor before it suddenly got slow?
If that's your case, one of the cables connected to the PS4 internal storage device probably got loose.
When the PS4 internal storage device is not properly seated in the drive bay, it won't receive enough power to operate, thus it will run slow, and consequently, the PS4 system will be slow and laggy as well.
Additionally, if it's the data cable that's loose, there will be a real problem transferring and processing data from/to the hard drive, causing the whole PS4 system to slow down and lag.
Do the following in order to carry out this operation:
Press the power button of your PS4 for around 7 seconds until you hear the second beep. Like this, your PS4 is turned off and it's safe to work on its hardware.
Unplug the PS4 power cable from the power outlet and disconnect all other peripherals connected to your console, such as a headset and an external hard drive.
Remove the PS4 internal hard drive by sliding the HDD bay cover out and away from the left side of the console.
Insert the hard drive back into its bay and make sure it's properly seated and there isn't any sort of loose, then tightly screw it to the board.
Once you successfully complete this operation, reconnect your PS4 to the power source (but don't connect any peripheral to it except the controller). Now, turn on the PS4 and check whether it's still running slow or not. If not, connect the peripherals and see if that impacts your console's performance or not.
<! ################################################################# –>
Solution #7:

Remove PS4 USB Accessories
If you have implemented solution #3 and found that your console runs smoothly and fast without any peripheral connected to it, but once you connect any to your PS4 it becomes slow, then there might be an issue in your external device or the USB port itself.
The external USB device might not be fully compatible and supported by the currently-installed PS4 system software, it might be defective, or the USB cable might not be intact. Moreover, the PS4 USB port might be defective and cause some electrical shorts that impact the PS4 system performance and make it slow.
Once you find out that there's a problem with your peripherals, only a technician can help you fix it.
<! ################################################################# –>
Solution #8:

Optimize Your Internet Connection
Some users have a weird experience with their console that when they play on their PS4 offline, it works seamlessly fine, but when they connect it to the internet and want to play games online, it slows down.
If you're one of these users experiencing this problem, you will want to learn how to fix the "PS4 lag online" issue, and here are a few steps that help you optimize your internet connection for a faster and seamless online PS4 gaming experience.
Power Cylce your router
You are supposed to do this step in the very beginning. It's a good reminder anyway.
Use Cable Connection (LAN) Instead of WiFi
Wireless connection, in general, is prone to several conditions that make it unstable compared to a wired connection. For example, if the space between your PS4 and the WiFi router is relatively long, the connection will get weaker and slower.
Moreover, the surrounding devices and metals might cause instability in the WiFi signals. Therefore, the best solution here is to use a wired connection (i.e. Ethernet) via LAN cable, this will immensely help you avoid PS4 lag during gameplay online.
Strengthen the WiFi Signals
If you're unable to use a LAN connection for any reason and you can only connect to the internet wirelessly, then try to optimize the WiFi signals, as they might be weak.
Also, check where your router is placed. Are there many electronic devices and metal objects around it? If yes, try to change that environment.
If you can, get your console close to the WiFi router. If that's not possible, consider buying a WiFi signal booster.
Disconnect unneeded devices
One of the connected devices to the WiFi network might cause the whole connection to slow down due to its huge consumption of data. For example, if one device is streaming video or downloading large files, the whole connection will become slow. It's wise to stop this action when playing online on your PS4 in order to have a better gaming experience.
Use a Faster DNS
Your internet connection might be fine, but the problem is with your DSN. Changing the DNS has proven to optimize the speed of internet connection in many cases. So, let's try it in your case also.
On your PC connected to the same router you use with your PS4, download Google's Namebench and run it. Please note that you shouldn't have any kind of online activity during running this software as that might impact the final result. Google's Namebench will help you find the best DNS for your connection based on your location.
Once you get the suggested DNS's, write them down on a paper and go to your PS4. Go to

Network

>

Set up Internet Connection

and depending on how you connect your PS4 to the internet, select either Wi-Fi or Use a LAN Cable
Now, select

Custom — Automatic — Do Not Specify — Manual

.
Insert the suggested DNS digits into the corresponding fields then select Automatic and Do Not Use.
Worth it to note that you better repeat this process from time to time because the quality of DNS connection varies over time.
<! ################################################################# –>
Solution #9:

Update PS4 System Software
There might be a bug/glitch in the currently-installed version of the PS4 system software that causes the PS4 to run slow and lag. So, updating the PS4 system software (firmware) is a wise step in order to eliminate PS4 slowness and make it faster.
If you don't know how to update the PS4 system software, please view this guide that will illustrate how to do it either automatically or manually.
<! ################################################################# –>
Solution #10:

Rebuild the PS4 Database
When was the last time you rebuilt your PS4's database? It's probably been too long if you don't know what that is or can't recall the last time you did it. Fortunately, the procedure is straightforward and secure. Although it will take longer if you've never done it before (or at all), there's no danger in practicing console maintenance right now.
How does rebuilding the PS4 database improve performance?
Rebuilding the PS4 database reorganizes the PS4 hard drive to make it easier and quicker for the system to access your files. It works very similar to the defrag operation in Windows OS.
A properly organized PS4 database may load data in shorter times, decreasing the possibility of having your game freeze or experiencing frame rate drops.
Following these instructions will improve the performance of your system and ensure that you can play all of your PS4 games for as long as possible. Corrupted data will be removed, and your files will be organized.
How to Rebuild the PS4 database
Rebuilding the PS4 database is one of the fundamental troubleshooting you have to implement when your PS4 is slow and laggy. It's a very simple process although it might take time depending on the level of corruption/damage existing in the database.
Turn off your PS4 by pressing the power button for around 7 seconds until you hear the second beep.
Press the power button and hold it down until you hear two quick beeps. This indicates that your PS4 has entered into the

Safe Mode

.
Connect your PS4 controller to the console via USB.
In the

Safe Mode

menu, choose option #5 (rebuild database).
Press the X button to begin the process.
You should perform database rebuilding on a regular basis, ideally once every three months. It is a relatively easy process. The process should, in theory, take less time the more frequently you conduct it.
<! ################################################################# –>
Solution #11:

Keep your PS4 clean, cool and well ventilated
If you have never cracked your PS4 case open before, and it's been sitting around for a year or more, it might be time to give it a try.
Over time, dust and all sorts of other fun stuff will find their way into your case and start blanketing everything. This can prevent air from circulating around the case properly, can jam up fans, and pack tight areas in. When this happens, the PS4 can't properly cool itself down (at least not at its peak potential of doing so). This raises the heat inside the case and puts additional stress on the hardware. This stress can reduce the lifespan of the hardware and of course, slow things down due to the heat.
PlayStation 4 likes to run cool, so the more airflow and cooler temperature you can achieve within the case, the better it will run. So cleaning out your tower and wiping it clean of all of its dust, can bring things back to life. Although you aren't really "boosting" the speed of your PS4 beyond its normal state of operation, you are reversing the slowdown that has occurred over time due to the dust that was building up (essentially, boosting it back into normal operation).
In a nutshell, you have to avoid PS4 overheating in order to stop your PS4 from being slow and lagging.
<! ################################################################# –>
Solution #12:

Format the Internal HDD & Initialize the PS4
Are you aware that most of the PS4 system errors and performance issues stem from the malfunctioning internal hard drive?
Yes, it's a fact, especially if you haven't upgraded it to a newer one since you bought your console.
You can read more on PS4 stock hard drive specs and find out why we always recommend upgrading the PS4 internal hard drive to a more powerful storage device, whether it's another classical HDD or an SSD.
Ok, this is not the right place to elaborate on this topic. But if you have tried all the previous methods to fix your slow PS4 and nothing has worked for you, it's your right to be skeptical about the internal HDD of your PS4.
The PS4 internal hard drive might be needing maintenance or it undergoes some bad sectors that hinder its performance. So, what you have to do in this case is to connect the PS4 internal HDD to a PC and perform a full format.
Be noted that the format process will delete all existing data on your PS4 HDD. Therefore, if you have any important data on it, you have first to take a backup before proceeding.
Once you're done, you have to install a fresh copy of the PS4 system software from scratch.
<! ################################################################# –>
Solution #13:

Upgrade the PS4 Internal HDD to an SSD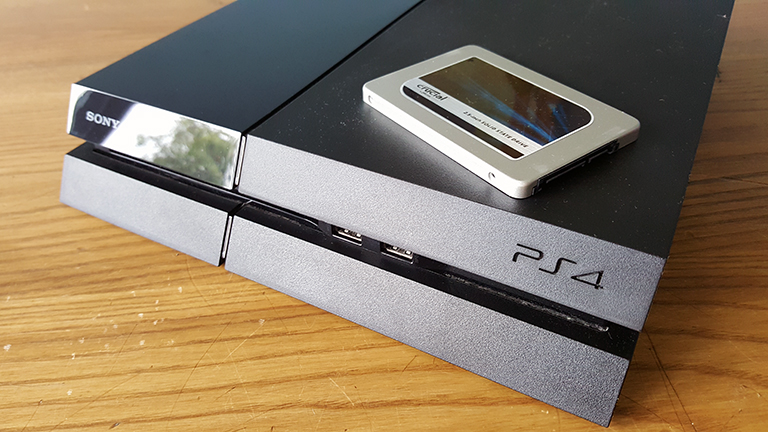 There are three reasons you need to know in order to seriously consider upgrading the stock hard drive of PS4 to an SSD, which are:
SSDs use much less power than HDDs, and if you have been using your PS4 for more than 3 years, the PS4 internal hard drive may degrade and require additional power to run properly and fast. As a result, the PS4 will become slow and lagging. So, if you want your PS4 to serve you for the next few years and make it much faster, even more than it was once you bought it, we strongly recommend upgrading the HDD to an SSD.
SSDs are more reliable than HDDs, thus errors related to performance will be much less when using an SSD compared to HDD.
Data is processed much more quickly on an SSD than HDD. That means if there's an app/game causing your PS4 to slow down due to its resource-demanding functions, an SSD can well handle this and maintain high speed for your PS4.
So, it's really a good idea to upgrade the PS4 stock hard drive to an SSD if you want an efficient solution to PS4 slowness.
<! ################################################################# –>
Solution #14:

Fix Your Defective External Hard Drive
If you have experienced PS4 slowness only when playing games on the extended storage, chances are it's the culprit. PS4 lags when a failure peripheral is connected to it. It somehow makes it "sick" and not functioning well.
So, now, if you have already rebuilt the PS4 database, and tried to install the game/app that might promote this situation to no avail, it's time to FORMAT that external hard drive. You have to perform a FULL format for it, not quick. A full format will eliminate any bad sector or system file errors on the specified disk.
Note that you have to connect it to a PC in order to perform the format operation.
Before formatting your PS4 external hard drive, you must make sure that you have backed all your important files up, or they will be completely erased after the format operation. However, if you forgot to do so, you can try data recovery software like iBoysoft Data Recovery for Windows to help you get lost data back from your formatted or corrupted drives. To proceed, just follow the steps mentioned below:
Make a connection between your PC and PS4 external hard drive.
Download and install iBoysoft Data Recovery for Windows on your Windows PC and then make it launch.
Select the drive from which you are going to perform data recovery and click the Next button.
Preview the files you have found, tick them and click the Recover button to get them back.
<! ################################################################# –>
Solution #15:

Fixing PS4 CMOS Data
This method often needs savvy to implement. But if you are a beginner, you must be careful in following the instructions.
We have already outlined how to reset the PS4 CMOS memory chip in this article.
Conclusion
There are several reasons that make PS4 slow and lagging. Some are easy to fix and others, in rare cases, need an expert. Whatever the situation is, it's always good to try to fix that yourself and get PS4 running as smoothly and fast as before.
But if PS4 lag still persists after trying everything in this article, contact a technician. It might be a serious hardware failure in the VGA, RAM, or even the CPU.
---
Fixing PS4 Slow & Lagging FAQ
Why Is PS4 So Slow?
There are several reasons that make PS4 become slow and lagging, such as corrupted system files, malfunctioning USB device connected, or a defective hard drive.
Can Dust Make PS4 Slow?
The answer is definitely YES. Dust hinders the proper CPU cooling which makes it consequently hotter, and this results in lower performance of PS4.
How to Fix Slow PS4?
Fixing the slow PS4 is not a difficult task. You have to follow the instructions in this guide in order to fully resolve this issue.
Why is my PS4 lagging with good internet?
Your PS4 may lag when playing online although you have a good internet connection because there might be a problem with the PS4 itself processing data received from the internet or there's a problem with the PSN.
The PS4 menu becomes slow when the internal hard drive is full or is corrupted or when the PS4 is overheating.
Does PS4 get slower over time?
The answer is simply YES. If we don't take dust and overheating into consideration, electronic devices degrade over time and won't be as fast as you first bought the PS4. You can prolong th elifespan of you rPS4 by replacing the internal HDD with an SSD