PS4 Storage Upgrade Guide [Deeply Informative]

The limited storage space of PS4 is not something impressive to most users. Whether your PS4 has 500gb or even 1tb of storage capacity, it's still too limited. Every enthusiast or power user knows exactly what I mean. Games such as Call of Duty: Infinite Warfare ask for around 130GB of space on their own, and when you combine that with all the other DLCs and add-ons, it's pretty easy to run out of space.
Not only games are coming in huge file size, but also movies. It only takes a few months until you realize that you need more storage for PS4 to accommodate your new files. For this reason you have to either upgrade PS4 storage or just expand it. (Yes, there's a difference between the two terms about which you'll learn soon.)
Aside from the PS4 storage limitation, PS4 uses a low-quality hard drive for storage purposes. That means if you get a better storage device for your PS4, you'll enjoy a remarkable performance improvement as well. No wonder then why enthusiasts prefer to replace their PS4 hard drive with a more powerful drive. That will surely enhance their gaming experience on PS4.
Here, in this comprehensive guide, you'll learn the right way to upgrade PS4 storage. You'll see what options are available and what is most recommended for both performance and extra storage space.
What's PS4 Storage Upgrade
PS4 storage upgrade is the process of replacing the stock storage device that comes with PS4 with a new drive. That's either to gain larger storage capacity or better performance, or maybe both. In other words, it means to change PS4 primary hard drive in favor of another HDD that has better specifications. This is the most popular option among enthusiasts because it offers a noticeable increment in the overall performance of PS4. But let's lay down the most important advantages of this method.
This method is different to PS4 storage expansion method. Simply because it shouldn't necessarily result in expanding the storage space of PS4. You may upgrade the internal drive with a new one just to enjoy a better performance. Some users would even upgrade to a smaller size SSD to get a good bargain for the super speed an SSD offers.
As for PS4 storage expansion, the primary focus is on getting more storage space regardless any improvement in performance.
PS4 Storage Device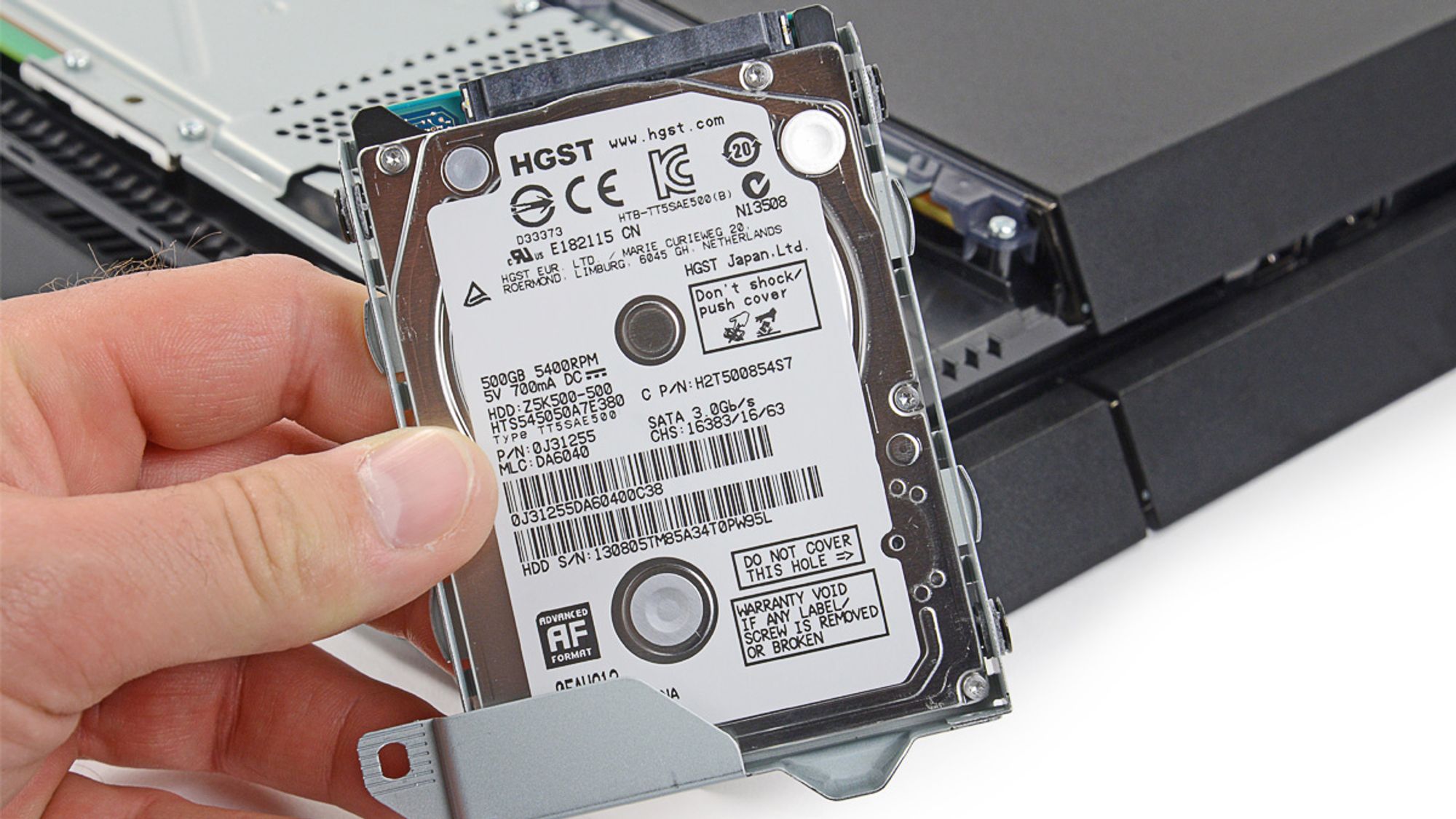 In order to realize why you need to upgrade PS4 storage, you have to know first what storage device PS4 is using. Here is a quick overview of PS4 storage device that illustrates its major specifications.
So let's start.
PS4 uses a mechanical hard disk drive (HDD) as its primary storage device. Its capacity is either 500gb (Standard PS4) or 1TB (PS4 Ultimate Player Edition). This hard drive sins at 5400RPM and has 8mb memory cache. It's configured with SATA II interface and designed in 2.5-inch form factor. As for the thickness, it's 9.5mm. It's an old drive that was released in 2011 and no longer supported by the manufacturers years ago.
If you need to go into more details about PS4 hard drive specifications, please view this article.
Why Upgrade PS4 Storage
There are many appealing benefits that call to upgrading PS4 storage. One of these big benefits is getting rid of the stock hard drive and gain better performance. You can read below the advantages and disadvantages of this method to learn more.
Worth it to say that I have already compiled a comprehensive guide on PS4 hard drive upgrade. It's very rich of information that you may want to acquire. As for what I put here, it's just the summary.
Advantages
I couldn't count many advantages, but it suffices me that they are pretty appealing.
Disposing of the low-performance, obsolete stock hard drive. The PS4 stock hard drive is the main performance bottleneck in your game console. Add to that it can unexpectedly fail at anytime if you play a lot for a long time. That is even more possible when you play VR games, as they pose heavy burden on the hard drive. Probably that's why Sony has made upgrading the PS4 internal HDD very easy, unlike other consoles like xBox.
PS4 operating system will boot up faster, and games and apps will load in a noticeable shorter time.
The new storage device is kept inside the PS4 box. That means it is kept in a safe place and doesn't require additional external room on your PS4 table/desk. That way the new storage device is more protected from external factors that may affect its performance. Something like electrical shorts caused by either a strong surrounding EMF or by the damage of the USB cable. It's also protected from a sudden jolt or falling.
You can enjoy the power of SSHD only if you go for PS4 internal storage upgrade. That's because SSHDs don't work as external hard drives. If they are used externally, they will perform like regular hard drives only.
In general, hard drives perform better internally than externally. That means if you go for an external HDD solution you'll lose some performance score. Additionally, if PS4 internal HDD hasn't been upgraded yet, this will more hinder the performance of external HDD.
If you go for Seagate Firecuda Gaming SSHD as an internal hard drive upgrade for PS4, you'll enjoy 5 years of warranty. I have not seen this long warranty in any external storage solutions. If this indicates something, it's that internal hard drives are more reliable than externals.
This seems really appealing. But I don't forget to tell you about the disadvantages also. Move to the next section please.
Disadvantages
As for the disadvantages, there're a few that you have to consider.
The whole processes of PS4 internal hard drive upgrade takes up to 2 hours. That includes backing up your data, re-installing PS4 system software from scratch, and finally restore your data on the new drive. This might not be so impressive to non-savvies, although it is a very easy process and the instructions to fulfilling it correctly are crystal clear.
You need additional tools to carry out this process, such as a screwdriver, USB flash drive and an external HDD enclosure.
You'll be left with the old PS4 hard drive after the completion of the process. This might be troublesome to some users as they don't need any additional storage device. Eventually, you have to either dispose of it or use it as an external hard drive.
You can't backup your trophies. You have to sync them to PlayStation Network in order to save them. That means you need a valid subscription and an internet connection to access it. This may not be not possible to some users.
The drive you choose for upgrade must meet particular specifications or else it won't fit. If you own PS4 Pro or PS4 Slim, the maximum internal storage capacity you can get is 2tb. As for the standard PS4, you can get up to 8tb internal storage capacity with the help of an equipment called Data Bank. Read more on the maximum storage limit for PS4.
To a savvy, these disadvantages are nothing. But in all cases we have to recognize them anyway.
PS4 Storage Upgrade Options
If you've finally decided to upgrade your PS4 storage device, you need to know the available options you have. There're actually three options you can pick from.
Traditional Mechanical Hard Disk Drive (HDD). It's just the same type of storage device PS4 is using. Although you'll get some performance improvement with modern drives, but it's not too much. The good thing here is you'll get a more reliable drive and larger storage capacity. You can check the bunch of PS4 compatible hard drives and pick one of them.
Solid State Hybrid Drive (SSHD). In the general term, this is classified as mechanical hard drive but with only one difference. Traditional hard drives use only one tier caching system, whereas an SSHD uses two tiers. The first tier is the cache buffer, which traditional HDDs have as well. The second tier is a NAND flash memory (SSD). That way SSHDs can perform much faster than traditional hard drives. The only disadvantage here is that SSHD won't perform faster unless you launch the game/apps 5 times (Read more on PS4 SSHD.)
Solid State Drive (SSD). It's the ultimately best PS4 storage upgrade in terms of performance and reliability. It's only biggest disadvantage is the high price it comes with. When you can get a 2tb SSHD for around $90, the same capacity SSD costs you around $300. Some users don't mind the price, but most do. If you wish to read more about that, please visit our PS4 SSD Upgrade Guide.
How to Upgrade
In order to upgrade PS4 storage, you need first to have a few things ready.
The new storage device that you've picked for this purpose [

Mandatory

].
A Philips-head screwdriver [

Mandatory

]. I recommend something like HIGHFINE T8/T10 Screwdriver
USB storage device [

Mandatory

]. Whether it's an external hard drive or a USB flash memory. You need that in order to save PS4 system software file on it. Then you'll need it again in the re-installing process.
External hard drive enclosure [

Optional

]. This helps you to backup your files first before the upgrade process takes place. If you already have an external hard drive with a free storage space equal to the storage capacity of PS4 stock HDD, you're fine here and won't need the enclosure.
Computer [

Mandatory

]. This is used for two purposes. First is to download the PS4 System Storage software which is essential. Second is to transfer backed up data from the new storage device to the old one. (You'll learn about this more later) This is [

Optional

].
Once everything is ready with you, watch this video and follow the step-by-step upgrade instructions.
Now you'll get an empowered PS4 with optimized performance and larger storage capacity.
Conclusion
We've gone through a few aspects of PS4 storage upgrade that would surely help users decide on this matter. If you ask me about my opinion I'd surely go for upgrading PS4 storage because performance is my top priority. As for the extra storage space that I may need, I'd add an external hard drive for this purpose.
Ok, you may not be like me and your needs may differ. Some users prefer to keep all their games/apps handy and fully optimized. I am not like this. I only keep my frequently-used games/apps on a fast storage device. As for the rest that I don't often access or will access in future, I keep them on an external storage device.
Eventually, if you're still not sure which option is best for your needs, read our PS4 Storage Expansion Guide. You'll get more insights on the issue on a broader scale.
Have a nice day!