PS4 Internal Hard Drive (HDD) Upgrade Guide

PlayStation ain't what it used to be. In most ways, it's so much better. While the games of the past were fun, the visuals on modern games are breathtaking and the deep, immersive gameplay is spectacular and practically cinematic. The one caveat with PS4, though, is the fact that these days, we save games on the hard disc drive. And much like your computer's hard drive, the space on your PS4 hard drive can quickly whittle away until you have nothing left.
Even though a full PS4 internal hard drive may seem like the end of civilization as you know it when there's a new game you really want to add to your collection, there are solutions you can use to get around this issue, the most common of which is a hard drive upgrade/replacement.
As enthusiasts, we have to like that Sony shies away from proprietary storage technologies in its gaming consoles. Instead, the company sticks with standard hard drives, making upgrades quick and easy. Back in the day, its PS2 accommodated 3.5-inch PATA devices, which sound downright ancient now. The PS3 was compatible with 2.5-inch SATA-based storage. Today, the PlayStation 4 includes an easy-to-replace 2.5″ disk as well, keeping the tradition going.
This is a very informative guide that contains valuable pieces of information that covers almost all major aspects of PS4 internal HDD upgrade. We aspire to making this guide as complete as possible. So, if you have a related issue not addressed here, please notify us, either by commenting below, or contacting us with your issue.
Best PS4 HDD Replacement Options
Before going through this guide and elaborating on its different aspects, let's start from somewhere else. I think it's better to lay out the best PS4 hard drive upgrades currently available on the market. These drives offer larger storage space, solid performance and high reliability, all that for a reasonable price.
The internal hard drives listed below are all compatible with PS4 HDD upgrade standards. Therefore each of them will seamlessly fit into PS4 drive cage without any issue. So, totally relax about this matter.
Hard drive's reliability is one of the biggest concerns when it comes to pick a new drive for PS4. Especially if you already read the tons of reports about the reliability issues related to PS4 HDD. As after a year or so of regular long use, the PS4 hard drive might start to seriously decline. This is expected with this old, cheap and obsolete hard drive utilized by PS4. It was authorized to reduce the market price to a competitive level (Read more).
The good news is that the recommended hard drives below are the newest drives in the market as of today. That means the latest storage technologies have been implied that improve performance and reliability. Additionally, they are backed by a long warranty (3-5 years) which indicates their high reliability. This will protect you from any potential mechanical error/failure in the future for an extensive time.
PS4

2

tb Hard Drive Upgrade
Upgrading PS4 hard drive to 2tb has been, for years now, the most popular option. Not only the vast 2tb storage capacity contributes to its popularity, but also high performance plays a major role here. It's vivid with Seagate Firecuda 2tb SSHD—the best 2.5-inch hard drive for PS4.
There are only 3 available 2tb hard drives compatible with PS4 storage upgrade standards. Two from Seagate and one from Western Digital (WD). This circle of options can be expanded if you consider using 2tb SSD. But here we will only list 2tb mechanical hard drives.
Seagate FireCuda Gaming SSHD 2TB
Look nowhere else if you're serious about enhancing your gaming experience with PS4. With Seagate Firecuda 2tb Gaming SSHD [

ST2000LX001

], you'll get a 2tb of HDD storage space, 8gb of SSD storage on the 2nd tier caching, and 128mb cache buffer as 1st tier caching, making this drive the best non-SSD 2.5-inch hard drive ever in history. (Read an extensive review here)
Alternatively, you can get a complete upgrade kit like "Fantom Drives PS4 Hard Drive Upgrade Kit". It includes, in addition to the above drive, everything you need for an easy, hassle-free upgrade process.
More Options
Additionally, if you don't like to opt for an SSHD, you can go for a traditional hard drive. Just like the one laid out below.
It's exactly the same drive as Seagate Firecuda SSHD in all aspects with only one significant exception. In a nutshell, it doesn't have a 2nd-tier SSD caching plus the warranty is only 2 years.
If, for any reason, you don't like Seagate, you can try Western Digital (WD) products. They have a great 2.5-inch hard drive with 2tb capacity.
WD Blue is a great and viable alternative to Seagate drives. If you just don't want to use an SSHD and want instead to go for a classical hard drive, choosing between Barracuda and Blue is quite difficult as they share almost the same exact major specifications.
You may want to read with deeper details on upgrading PS4 HDD to this specific storage capacity. If so, please view our article: PS4 2tb Hard Drive Upgrade Guide – The Best Options.
PS4

4

tb Hard Drive Upgrade
The 4tb storage size comes second in popularity after 2tb. Most users would love to go for it if they have large storage requirements. Something like they have a shared console with a few family members or close friends. Or, maybe they need that vast space to store movies internally, especially after Sony has allowed it eventually.
It might not be a good news to some users to know that there's no direct PS4 HDD upgrade to 4tb, unlike the case with 2tb, because there's no 4tb hard drive that fits into the drive cage of PS4.
But still, there's a workaround for that. There's an accessory/add-on called "Data Bank" that allows you to incorporate a 3.5-inch desktop hard drive into PS4 without any issue at all.
For more information and elaborated details on upgrading PS4 4tb hard drive, please read: PS4 4tb Storage Capacity Guide – The Best Options.
PS4

6

tb Hard Drive Upgrade
No PS4 fanboy would want to go for 6tb hard drive unless they have very exceptional needs and high storage requirements. Like you need it for storing heavyweight movie files, or, for some reasons, you want to install huge heaps of applications and games, then 6tb of storage space can meet your needs.
Just like the case with all capacities larger than 2tb, upgrading the internal hard drive of PS4 to 6tb requires that Data Bank add-on alongside a 3.5-inch desktop hard drive, which might be nuisance to some users who look for an easy and fast method.
There are also other PS4 HDD upgrade methods you might want to learn to see which one suits your needs the most. Please visit this article and learn about the different PS4 HDD upgrade methods and the pros and cons of each.
Adding 6tb of Extended Storage
Note that if storage is your main concern, and the performance improvement is marginal, try to connect a 6tb external hard drive to your PS4 instead of the internal hard drive replacement. This is the easiest and fastest way to expand PS4 system storage limit. But it might not come without troubles to some users. That's because a 6tb external hard drive only comes as stationary drive (i.e. 3.5-inch desktop hard drive empowered with a separate electrical cable), and it might trouble you with its large size and electrical requirement.
It's eventually your choice. We always prefer replacing PS4 hard drive with 2tb SSHD to gain the powerful advantages of replacing the stock hard drive with SSHD, and the shortage of storage can be covered by adding a 4tb portable hard drive that doesn't need any electric cable to function.
PS4

8

tb Hard Drive Upgrade
I couldn't believe that someone wanted to upgrade their PS4 hard drive to 8tb storage capacity until I found people requesting it. Although it's not easy for me to understand why this tremendous storage capacity is needed in PS4 environment, but the fact remains that everyone has their own needs of which they are aware more than others.
So, if you're looking for storage upgrade alongside performance boost, you can just upgrade directly to an 8tb internal hard drive using the Data Bank accessory and one of the 8tb 3.5″ desktop drives. As 8tb hard drives of today are designed to high standards, and offer very solid performance and higher speed than lesser size.
Or just pick one of the 5 methods laid out in this article for the best compromise between performance and space.
Adding 8tb of Extended Storage
Just like what has been stated above on the 6tb storage, there's no portable hard drive with 8tb capacity. Rather, that limit of external storage capacity come only with stationary hard drives that need an addition electric cable.
If you hate electric power cables, and don't like the big size of stationary external hard drive, you have the option to upgrade PS4 hard drive with 4tb drive and add a 4tb portable external hard drive to your console.
Why Upgrade PS4 Hard Drive
From the factory, you get a 500 GB (465 GB formatted) drive that allocates about 57 GB for the operating system and other software. Now that digital downloads and local installations are necessary, though, we anticipate the remaining 408 GB will start disappearing quickly once more content becomes available. Does that make you want to drop in something bigger, even if you're still stuck with a mechanical disk? Well, I think that you being here reading this article up to this point clearly answers this question.
More Storage Requirements
In 2017, after 4 years of the initial launch of PS4, 500GB or even 1TB of hard drive storage isn't what it used to be. Games such as Call of Duty: Infinite Warfare ask for around 130GB of space on their own, and when you combine that with all the other DLCs and add-ons, it's pretty easy to run out of space. In fact, if you've had a PS4 for around three or four years now, you're probably coming to the limits of your HDD space. So why not replace your PlayStation 4's hard disk drive?
When it comes to hard drives, no matter how large the capacity of your original model it'll never be enough in the end. 1TB seemed like more than enough back in the day, where did all the space go?
Sure, deleting old games to free up space is easy enough to do, but somehow making that decision seems harder and harder, as one will always be telling themselves that they'll eventually find time to finish that one game.
Performance Degradation
Moreover, there will come a time when the drive could not provide the needed performance from it. Despite not being used physically, it will wear down and eventually slows down in processes. What if you also get to know that PS4 stock hard drive, whether in launch version (500gb) or updated version (1tb) is an obsolete backward drive that doesn't meet the modern storage standards of today, to the extent that, regardless its limited storage capacity, it offers low performance and less endurance compared to modern hard drives. For this reason, the person utilizing it at the moment would have difficulties playing and even pulling up the proper graphics. This explains the escalating user complaints of PS4 HDD failures/errors after a year or two of heavy use. Replacing or choosing to upgrade a PS4 hard drive would be a good option for anyone.
Better Stability/Reliability
Modern hard drives in general implement the latest storage technologies that make them much better in performance and more stable/reliable than older hard drives. So, by getting a new modern hard drive for your PS4, you'll rest your mind from the issues caused by the obsolete stock hard drive that many PS4 users started to undergo after a year or so of regular use.
It's worth to note here that a drive like Seagate Firecuda SSHD give you a solid 5-year limited warranty on the drive, which is a clear indication of its high reliability.
Pros & Cons
You may have already learnt some of the major advantages of replacing PS4 hard drive with a new 2tb hard drive. But let's be tidy here and boil down everything in two lists that illustrate the advantages and disadvantages of this matter.
Note that we base the verdicts here on using Seagate Firecuda 2tb SSHD as your PS4 HDD replacement.
The Advantages
There are several solid advantages of swapping PS4 stock hard drive, that are:
Getting rid of the obsolete and backward hard drive that PS4 is using. The stock hard drive of PS4 is manufactured in 2011 and implementing old storage technologies and doesn't meet the modern storage standards of a hard drive. So, intuitively, it is a good idea to get rid of it for a better one.
You'll get up to 2tb of storage space that can serve your storage needs for a long time. That means you can now install extra games and applications and store huge movies without having a big concern of running out of space.
SSHDs offer much better performance and reliability than old hard drives. Your games and applications will load noticeably faster, and your new drive will last for too long before you start to observe any kind of performance degradation or even functional error.
You'll enjoy a 5-year limited warranty with Seagate Firecda SSHD, which means that any casual serious failure of the drive that impacts its functionality is covered by this warranty for 5 years.
Unlike external hard drive add-on, there's no need to add a new peripheral to your PS4 in order to expand its storage capacity. Thus, more room is saved on the shelf, the traditional appearance of PS4 is kept intact.
Unlike the extended storage solution, swapping the internal hard drive of PS4 doesn't prevent you from using the Backup & Restore feature that's offered by PS4 System (Read more about that in this article).
These are the major advantages we can think of regarding replacing the internal hard drive of PS4 with a new drive.
The Disadvantages
As for the disadvantages of replacing the stock hard drive of PS4, we can count just a few:
The time spent in the upgrade process is somewhat long compared to the extended storage solution. You have to backup the old hard drive's content, re-install PS4 system software on the new drive, and finally restore the backed-up content. This would take up to one hour and half, and it might not please some users who look for a quick solution to expand PS4 storage limit. But when it comes to adding an external hard drive as an extended storage, it just takes up to 5 minutes to get it ready.
There's no larger size than 2tb for a direct HDD replacement, as the 2.5-inch drives that fit into PS4 drive cage are limited to 2tb only, unless it's an SSD, you can get up to 4tb but for a hefty price. Otherwise, you have to use an additional equipment (i.e. Data Bank) in order to carry out an internal hard drive replacement.
That's it. Balancing the advantages and disadvantages it's easy to deduce that an internal hard drive upgrade for PS4 is suitable and useful for the overwhelming majority of users.
PS4 Hard Drive Specs
It's always good to know the specifications of the hard drive you're going to replace in order to realize the benefits of the new hard drive through a comparison.
It's worth to note that PS4 comes in two versions: Launch version with 500gb HDD, and updated version with 1tb HDD, and we will list the basic specifications of both.
Brand & Model
HGST Travelstar Z5K500 (500gb model)
HGST Travelstar 5K1000 (1tb model)
Capacity (Size)
500gb (old version)
1tb (updated version)
Spindle Speed
5400 RPM (both models)
Interface
SATA II (3.0 Gbps) (both models)
Form Factor
2.5-inch (both models)
Thickness
9.5mm (both models)
Memory Cache
8mb (both models)
Year of Manufacture
2011 (both models)
From the specs table above, it is easy to notice that the drive utilized by PS4 is a low-profile drive that does not meet the minimum standards of a good hard drive of today.
PS4 Hard Drive Speed
As stated in the specs table able, the spindle speed of PS4 hard drive is 5400RPM. This is the standard speed of 2.5-inch hard drives of today, but it's NOT the only factor that determines the speed of processing and transferring data within the hard drive itself, which impacts the overall PS4 system performance. The cache buffer plays a major role in determining the overall speed of any hard drive, and the larger the cache buffer is, the faster the hard drive performs. (Note that PS4 stock hard drive comes with only 8mb cache buffer in both versions, while Seagate Firecuda 2tb SSHD comes with 128mb cache buffer as a 1st tier caching, and 8gb NAND memory as a 2nd-tier caching).
PS4 Hard drive Size
The size of PS4 hard drive is either 500gb or 1tb, depending on the version you own. But it's important to note that you won't get the FULL size as advertised. There's a huge cut-off dedicated for HDD system files and PS4 system software and its essential applications.
Therefore, the actual usable size of PS4 HDD (500gb) is: 408GB, as you can see on the image below:
As for the PS4 1tb version, you'll get about 861.4GB of free usable space as you can see in the image below:
And when you upgrade your PS4 hard drive with a 2tb drive, you'll get around 1.77GB of usable space:
PS4 Hard Drive Dimensions
Before upgrading the PS4 stock hard drive, you have to know its dimensions in order to get a compatible drive that fits into PS4 drive cage.
In fact, the dimensions of the drive are:
500gb drive: 3.94 x 2.76 x 0.28 inch
1tb drive: 3.94 x 2.76 x 0.37 inch
PS4 drive cage accepts drives not thicker than 9.5mm (i.e. 0.37″). So make sure the drive you chose conform to that.
PS4 Hard Drive Format
PS4 internal hard drive is formatted with FAT32 file system. Therefore, bear in mind that PS4 system won't operate on any internal drive that's not formatted with that file system. But the question here is: Do you really need to format the new hard drive before putting it in the place of the stock hard drive? The answer is NO, even if your new drive is initially formatted with a different file system (e.g. NTFS), the PS4 system will automatically format the new hard drive with FAT32 once you fully replaced the old hard drive and connected the new one to PS4. So there's no worries here, and you don't have to format the new replacement hard drive before connecting it to PS4.
PS4 Hard Drive Compatibility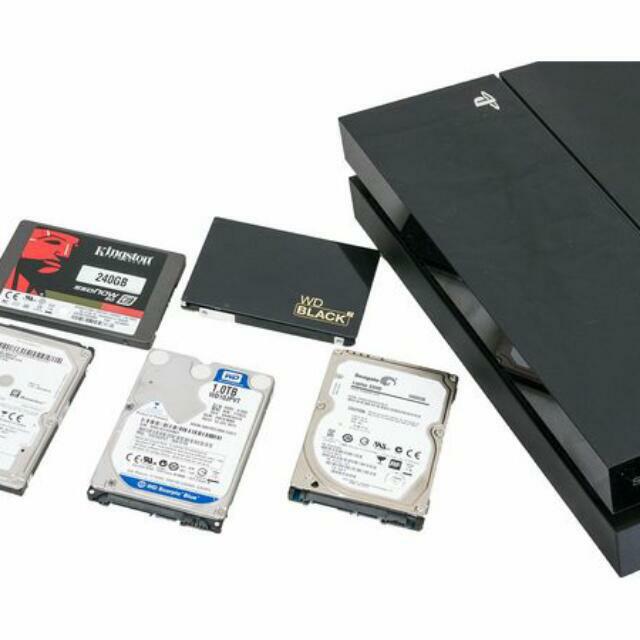 The drive you choose for PS4 storage upgrade must be compatible with this purpose. For this sake, it must conform to the following standards specified by Sony:
2.5-inch form factor in order to fit into the drive cage, otherwise you'll need a Data Bank add-on so as to connect a 3.5-inch drives to PS4.
SATA interface. This is a mandatory standard that's indispensable.
Max 9.5mm thickness, or 0.37 inch equivalent
Formatted with FAT file system, as PS4 system cannot recognize other file systems.
These are the requirements of PS4 from any hard drive so as to be a relevant storage upgrade. If you find a drive with these specifications, rest-assured then it's a PS4 compatible upgrade drive.
To make it easy for our readers, we list below the PS4 compatible hard drives depending on their availability on the market.
PS4 Compatible Hard Drives 2017

| Brand | Type | Capacity | Speed (rpm) | Cache | Thickness | Warranty |
| --- | --- | --- | --- | --- | --- | --- |
| Seagate FireCuda | SSHD | 1tb and 2tb | 5400RPM | 128mb + 8gb NAND | 7mm | 5 Years |
| Seagate Barracuda | HDD | 1tb and 2tb | 5400RPM | 128mb | 7mm | 2 Years |
| Samsung Seagate Spinpoint M9T | HDD | 2tb | 5400RPM | 32mb | 9.5mm | 2 Years |
| WD New Blue 1TB | HDD | 1tb | 5400RPM | 8mb | 9.5mm | 2 Years |
| HGST Travelstar | HDD | 1tb | 7200RPM | 32mb | 9.5mm | 2 Years |
| Toshiba Notebook | HDD | 1tb | 5400RPM | 8mb | 8.9mm | 3 Years |
| WD Black Performance Mobile | HDD | 1tb | 7200RPM | 32mb | 9.5mm | 5 Years |
As can be seen in the table above, there are several PS4 compatible hard drives that can be a great upgrade for your game console. We strongly recommend that you mostly focus on the cache memory, as it is a major factor that determines the overall performance of the drive, and the larger it is, the strongest the drive is.
Finding the Best Hard Drive for PS4
In order to find the best hard drive for PS4, there are a few things to bear in mind before taking the last step and making your decision, which are:
The hard drive you choose must meet your expectations and fulfill the needs you want from upgrading PS4 HDD. Larger storage capacity and solid performance is what all users needs for their PS4. Just make sure the hard drive you pick can satisfy you in both aspects.
When gauging the quality of a hard drive you must take into consideration its brand and the history of reliability. The drive selected here as the best HDD for PS4 is a highly-reputable drive. It offers high performance and long reliability to the extent that its manufacturer offers 5-year limited warranty. It's a too long warranty for a consumer-level hard drive. This factor is important to determine which hard drive is best for PS4.
Read the reviews made experts and even ordinary users on the particular HDD. That helps you judge how it performs in real world and see what complaints users have against it.
The hard drive price matters a lot. If you don't care about price and you have a broad budget, go for an SSD. Undoubtedly, it's the best storage device ever, whether for PC or PS4. But because it's too expensive compared to traditional hard drives, I didn't include it in our list here.
Read these tips carefully and see whether our recommendation suits your needs or not. You can get a larger hard drive but miss the performance boost the SSHD offers. You can go for an SSD, or just add an external hard drive, but our priority is for upgrading the internal hard drive of PS4 first, then other options come next.
Using External Hard Drive
Since Sony has released PS4 System Software 4.5 in Feb 2017, users are allowed to connect an external hard drive to PS4 and set it up as a storage extension to the main system storage. That way, users don't have to upgrade the internal hard drive of PS4, rather they can just expand the system storage with an external HDD addition.
This technique has its own advantages and disadvantages. And honestly, after gauging the different situations, we came to a conclusion that, in terms of storage expansion and performance boost, the best thing you can do is to replace the internal hard drive of PS4 with a faster and larger drive featured by Seagate Firecuda 2tb SSHD, and add the shortage of storage can be covered with an external hard drive, the size you want.
Following that way you can gain high performance for your PS4, alongside the capacity you're looking for, which will noticeably enhance your gaming experience with PS4.
How to Upgrade PS4 Hard Drive
As with any hard drive swap, adding an empty disk into a platform means reinstalling your operating system. Before you begin that process, though, you may want to back up your saved games or make sure they're synced to PSN Plus. That's because once you install the new drive, you'll need to start from scratch.
Delete any non-essential games, as that will make the process go faster and nearly all of them can be downloaded from the PSN store again. Once that's done, it's time to back up your data.
Your favorite titles naturally need to be reinstalled as well, and you can do that from discs or PSN. Sony doesn't limit the number of times you can grab a game from its network, fortunately.
Make sure you have a USB-based flash drive, to which you'll copy the operating system install file. Sony provides the complete PS4 system software package for download; simply grab it and make sure it's in the directory PS4/Update/. Also, take note of the operating system version you're running, since Sony won't let you revert to a previous build.
Now, to go through through the upgrade process, please watch the video below that explains everything you need to successfully and flawlessly carry out this task:
https://youtu.be/cbw-hUnBCek
Conclusion
There are many major benefits of upgrading the internal hard drive of PS4 with a new modern drive. Especially if that drive is Seagate Firecuda SSHD that offers outstanding performance for a reasonable and affordable price.
If your main concern is just to expand the storage capacity of PS4, try adding an external hard drive. Using it as an extended storage will suffice you. Otherwise, if you are looking for further benefits and want to enjoy a better performance for your gaming experience, it's strongly recommend that you do the internal hard drive replacement process.