Seagate Firecuda 2tb SSHD for PS4 Review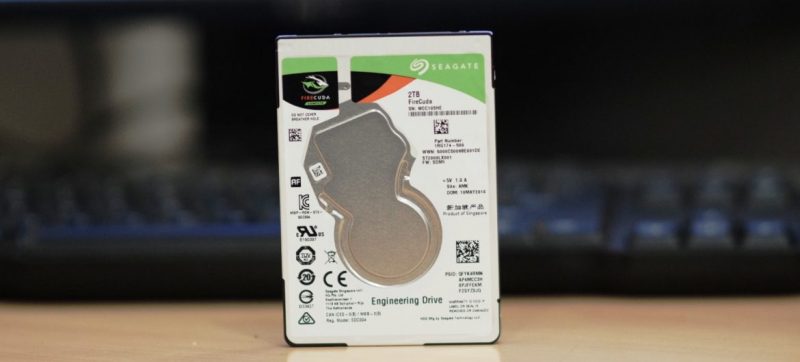 When you look for an internal hard drive upgrade for your PS4 console, you'll definitely notice that there's no suitable 2tb hard drive that fits into PS4 drive bay except that manufactured by Seagate. That's because all other HDD manufacturers, like Western Digital and Toshiba, have stopped developing 2.5-inch mechanical hard drives years ago, and turned their focus totally to developing solid state drives (SSD), or 3.5-inch desktop hard drives for the use in data centers and large companies, because they believe that's more profitable and worthy to put their efforts in. As a result, Seagate has become alone in the field of developing 2.5-inch mechanical hard drives.
This Drive…
Seagate Firecuda ST2000LX001 is undoubtedly the best 2tb hard drive upgrade for all models of PS4, whether it's PS4 Standard, PS4 PRO or PS4 Slim. It offers unparalleled performance improvement for PS4 system that can exceed 50% in some cases.
With its multi-tier caching system based on 128mb cache buffer on the 1st tier, and 8gb NAND SSD memory as a 2nd-tier caching, nothing can beat this drive in the performance field except a solid state drive that offers just little more advantages for PS4 users.
Additionally, considering the price and capacity of Seagate Firecuda, this drive is the best upgrade for PS4 in all aspects.
The Seagate FireCuda continues the legacy of the previous SSHDs that have launched prior to this model. It carries over the same naming scheme as the older laptop SSHD from Seagate but has been made part of the FireCuda high-performance product stack. Seagate Firecuda Gaming SSHD is a classic example of cutting-edge tech opening up new options, potentially to be pushed further with time. It is the company's flagship hard drive in the 2.5-inch form factor that promises superiority over all other 2.5″ HDD models and brands in almost all aspects. With it, you'll get the advantages of the latest mechanical storage technologies, as well as an 8gb portion of SSD storage incorporated within it as a 2nd-tier cache memory to dramatically improve the speed of the drive.
The Concept Behind an SSHD
Sometimes you want the fast boot times that solid state drives have to offer and other times you want the large capacity for a low price that hard disk drives have to offer. But what if you want both and you want it in a single drive? Then you need a drive like the Seagate FireCuda 2TB Solid State Hybrid Drive (SSHD) that I'm reviewing today.
Basically, a hybrid hard drive is a storage solution that blends together a conventional spinning hard drive and a solid state drive. However, we cannot control the solid state portion as it is automatically managed by the drive itself for caching mechanisms. While the NAND or SSD portion of the drive isn't directly accessible to the user, Seagate does the hard work using the Adaptive Memory technology that uses Multi-Tier Caching (MTC) algorithms to analyse how the system is being used and place commonly used files on the Flash part of the FireCuda SSHD, thus providing higher performance and even lower power consumption. In other words, the cache will have stored data from the hard drive, especially for frequently accessed files, and resulting in SSD-like performance after prolonged usage (usually after the 5th use). And since your data is still on the spinning disk, recovery becomes an added advantage too!
One of the places you'll really notice the difference in comparison with a normal HDD is at the PS4 boot-up times. An SSHD can't beat an SSD, but it can come close and it is far ahead of mechanical drives. Games and applications will load up to 50% faster than a 2.5″ drive. That is a great performance increase for very little extra money.
Closer Look
The Seagate FireCuda 2.5″ SSHD follows the 2.5″ drive form factor with a 7mm thickness. This makes it ideal for notebooks, HTPCs and consoles that uses the 2.5″ drive slot. The drive does not come with a spacer for 9.5mm slots.
With 2TB capacity, there's plenty of space to install most of your game library, if not all, and not need to worry about deleting a game in order to install another – the problem that people with small SSDs have. If a game takes up 25GB, then you're able to store 40 games on this drive at one time. The 7mm height of the FireCuda 2.5″ drive also makes it highly compatible. The size will fit pretty much any system.
The drive features Green Hybrid that reduces the device's power consumption. That in return extends the users battery time on those systems. It only consumes 1.7W during reading and 1.8W during write operations. In idle mode, the power consumption drops to 0.5W.
Durability is an important factor when it comes to storage. The Seagate FireCuda 2TB SSD is backed by an industry leading 5-year warranty, and it is rated for 600,000 load/unload cycles.
The one downside in comparison to SSDs is that normal file transfers aren't any faster than they are on a mechanical drive. But still, though, Seagate Firecuda in its "mechanical mode" is faster than the stock hard drive of PS4 or PS4 PRO, because it implements the latest storage performance technologies in processing data alongside a vast 1st-tier cache buffer size that's set to 128mb.
Features Highlights
Fastest 2.5-Inch PC compute and gaming Hard Drive on the market, all within a thin 7mm z-height
Largest buffer cache size up to 128mb that makes the transfer from and to the drive much faster.
Enormous 500GB, 1TB and 2TB options. The 2TB capacity can store up to 80x 25GB games
Flash-accelerated technology delivers up to 5x faster load times for nonstop performance, play and productivity compared to standard HDDs
Green Hybrid feature reduces device power consumption, helping users extend their drive's life and keep their costs down with a power-efficient drive.
Adaptive Memory technology identifies frequently accessed data, thereby providing the data faster, consuming less power and extending drive life.
Multi-Tier Caching Technology (MTC) enhances performance by using NAND flash, DRAM and media caching technologies, enabling users to load applications and files even faster.
5-Year Warranty
The dispute on cache buffer size
Due to the fact that Seagate didn't mention the cache buffer size of Firecuda ST2000LX001 (which is this drive in review) in its official specification datasheet, the re-sellers, such as Amazon provided incorrect information in this regard, as can be seen in the screenshot below:
Depending on Amazon's claim on this drive cache buffer size, almost all tech reviewers online believed this claim without making an effort in simple investigation.
The decisive answer can be easily found in the drive's user manual in page #7 that clearly indicates that Firecauda ST2000LX001 serves 128mb buffer cache, just exactly the same as the company's classical hard drive Barracuda ST2000LM015. See the screenshot below of the drive's user manual:
You can also find in the user manual the real spindle speed of the drive, which is 5400 RPM.
Simple Comparison with Barracuda ST2000LM015
If you compare the specifications of Seagate Firecuda ST2000LX001 and Seagate Barracuda ST2000LM015 you'll find that they are identical in the physical specifications, except that Firecuda has the superiority over Barracuda with the 2nd-tier 8gb SSD cache and the 5-year limited warranty.
As far as performance is concerned, Firecuda offers almost the same performance in the mechanical mode (when it uses its mechanical platter), but when it comes to caching, the 8gb SSD portion give it a super advantage over Barracuda.
And since Barracuda was the best 2tb hard drive upgrade for PS4 more than a year ago, the release of Firecuda has changed the game to its favor, and now we confidently deem Seagate Firecuda ST2000LX001 the best 2tb hard drive upgrade for PS4 and PS4 PRO consoles.
Testing
It's worth to remind that an SSHD learns the user's practices and accordingly optimizes the applications the user frequently launch. Therefore, you have to expect that with an SSHD, initial access for data offers little or no reduction to loading times compared to regular mechanical drives, but with constant use (usually after the 5th time), data throughput speeds up massively, potentially even matching SSD speeds. Seagate uses this 8GB NAND intelligently, as expected of a hybrid, with a multi-tier caching system storing the most frequently-used packets of data for quick access later on.
Testing Seagate Firecuda ST2000LX001 with 4 AAA-grade games on PS4, in comparison with a regular 2tb hard drive from Samsung, has produced the following numbers:
| Game / Drive | PS4 500GB Stock Drive | Samsung 2TB HDD | Seagate Firecuda 2TB (1st Load) | Seagate Firecuda 2TB (5th Load) |
| --- | --- | --- | --- | --- |
| Battlefield 1: Through Mud and Blood | 109.6 sec. | 114.8 sec. | 112.8 sec. | 50.0 sec. |
| Battlefield 1: The Runner | 70.2 sec. | 79.1 sec. | 67.8 sec. | 33.5 sec. |
| Skyrim: New Game | 22.1 sec. | 21.4 sec. | 22.5 sec. | 18.6 sec. |
| Skyrim: Helgen Save Game | 27.9 sec. | 31.8 sec. | 23.6 sec. | 22.8 sec. |
Battlefield 1 has been used as a case study for the Firecuda's properties, kicking off with a launch PlayStation 4 model. It's a game with some notoriously long load times on PS4's stock drive, where the first campaign mission can take almost two minutes to get going. At 112.8 seconds it's actually a backwards step – but the twist? The more the loading procedure is repeated (always restarting the application from scratch), the faster the Firecuda becomes.
Five tests, five increasingly improved results. That initial load time of 112.8 seconds reduces to 79.5 seconds on the second attempt, dropping to 76.3 seconds on the third try. By the time the data is accessed for the fifth time, the number is down to just 50 seconds. This is the hybrid drive's NAND in action, logically caching the data it sees in frequent use. And even after starting a game of Skyrim in-between tests to mix things up, Battlefield 1 was still loading that level after 50 seconds. Meanwhile, the Samsung ST2000LM003 2TB mechanical drive is locked to around 114 seconds regardless of how many times we reload the level in the same fashion.
The pattern repeats when testing Battlefield 1 Cape Helles map, where the Firecuda initially posts a 67.8 second load – beating the stock PS4 drive and the standard Samsung 2TB upgrade. But once again, rebooting the game several times, the following five tests load it in progressively faster. In order, that gets you 59.7 seconds, then 45.2, 34.3, and finally it settles at 33.3 seconds from there on out. In other words, with a fourth or fifth attempt loading Battlefield One's large levels, the Firecuda beds enough information in to almost match the SSD.
Clearly, the Firecuda's technology works well on the standard PS4, though it will rely upon the drive 'learning' the new games you install, with progressively speedier loading the more you play. The best case scenario loads may degrade too, as new data jostles for position within the cache. For players hot-swapping between more capacious, 30GB+ games this will in theory lead to more varied results, but the benefits are clear for those restarting and retrying in a single game. It's also worth noting that games with shorter load times – as the Skyrim results show – tend to reap fewer rewards. In that case a 27 second load on stock gets a less remarkable gain, down to 22 on the hybrid drive.
Conclusion
An SSHD isn't an overall faster drive such as an SSD is in comparison to a HDD. It will be faster at everything, but at a cost and a capacity sacrifice. That's where the SSHD-class drives come into play. Standard operations such as copying of files and folders won't be any faster than a HDD of the same size and spindle speed.
The strength of the SSHD drives is when it comes to repetitive loading, especially during the PS4 System boot up. The drive will learn from your and the PS4 operating systems habits and it will cache the most frequent used files onto the NAND part of the drive. This will significantly boost your PS4 system's boot up times all the way to SSD levels and it will also help with apps and games that you load often.
Reading more from the PS4 testing data, we can see that the Seagate FireCuda SSHD does close the gap against the SSD. The main advantage here that the FireCuda has is the price and with Seagate retailing the 2TB SSHD 2.5″ at less than $100 versus—A price for which you can get a 240gb SSD, that's some significant value right there especially if you consider the capacity difference of 240GB vs 2TB which is a lot.
Overall, as an option for upgrading either PS4 or PS4 Pro, the Firecuda makes a lot of sense. Hybrid technology ties into the way we play games to achieve an effective speed boost over time. Doubling or quadrupling space gives a decent amount of breathing room in the age of the 50GB game install, but with patience, but the shortened load screens are a big bonus. Once cached to the NAND partition, the results put this hybrid into a similar league to SSDs, where equivalent-sized 2TB solid state drives cost a small fortune.
The first time using the Firecuda, it's fair to say you will be underwhelmed at the speeds. Initially, these times are essentially no better than PS4's stock offering in many cases, but keep using it to load your favorite games and you should see palpable speed increases the more you play.
All in all, the Seagate FireCuda 2.5″ HDD delivers yet another excellent balance of price, capacity and performance and makes needing to go on a multi-drive route a non-issue. The Seagate FireCuda 2.5″ SSHD is the most convenient upgrade you can have right for PS4 and PS4 PRO now if you want the best value for your storage needs.