PS4 8tb External Hard Drive Guide

One of the most popular external hard drive capacities that PS4 fanboys look forward to buying is 8tb. That's because a PS4 8tb external hard drive provides the vast storage space that satisfies the needs of many enthusiast.
This guide will walk you through the world of PS4 8tb external hard drive and provide you with useful tips on how to use your new 8tb external HDD properly on PS4. You can also find quick resolutions of the most common issues that may occur to you while using an external HDD on PS4.
Choosing the Right 8tb External HDD for PS4
Worth it to say that 8tb is the maximum storage limit PS4 can externally support, and its intended for enthusiasts who have exceptional storage needs or users who share their PS4 console with other family members.
Note that there's no portable 8tb available in the market, therefore we only list below Desktop external hard drives. They work properly with PS4 and are fully compatible, but you need to connect it to electric power socket in order to get it working.
Additionally, DO NOT go for a hub external hard drive as it won't work with PS4. That's because PS4 system requires that you build a direct connection between the external hard drive and PS4, but hub external hard drives don't meet this condition. So, be careful and don't fall into the same mistake of other PS4 users.
Best PS4 8tb External Hard Drive
Here's a short list of our recommended 8tb external hard drives for PS4. Below it is a layout of the same list with a quick review for each drive:
So, here we go..
1.

WD Black 8TB D10 Game Drive
At the speed of 7200RPM and capacity of 8tb, WD Black 8TB D10 is our best choice for the largest external hard drive for PS4.
If you need a game drive for your PS4, this Western Digital Hard Drive is a great option. It provides 8TB of space, ample speed for good performance, and the ports for charging are a nice added touch. The only downside to this hard drive is the price at almost $200. Other than that, this would be a great choice in regards to extra space for your gaming or backup needs.
The wd_black D10 game Drive will take your PS4 console to the next level and help you keep the competitive edge you need to win. Maximize the storage capacity of PS4 to 8tb to build up your game library up to 200 games, or Relive your best in-action moments by saving your favorite game play recordings.
Rated at 7200 RPM with Active cooling technology, wd_black D10 game Drive has speeds up to 250MB/s to kick your game into high-performance mode so you can play without limits and drive your game The way you choose.
Basic Features
8TB so you can save and build your console or PC gaming collection up to 200 games. Number of games based on a 36GB average per game. The number of games will vary based on File size, formatting, other programs, and factors.
Extra storage to capture and collect your best in-screen game captures.
Speed up to 250 MB/s rated at 7200 Rpm with active cooling Technology to help you stay in the game. | based on read speed and internal testing. As used for transfer rate, megabyte per second (MB/s) = one million bytes per second. Performance will vary depending on your hardware and software components and configurations.
Features two 7.5W USB Type-A charging ports to charge your gaming gear and accessories.
Purpose-built for gamers based on wd_black quality and reliability.
---
2.

Avolusion HDDGear 8TB USB 3.0 External PS4 Gaming Hard Drive
Avolusion HDDGear HDDGU3 8TB (8-Terabyte) External Gaming Hard Drive is the value hard drive upgrade kit provides the best and easy solution to expand your PS4 game console storage capacity instantly.
Plug and Play USB 3.0 interface providing a perfect portable storage solution for you to store & backup your game data, music, picture, video and more.
Additionally, Avolusion HDDGear External Gaming Hard Drive designed to work with your PS4 game console perfectly (Fully compatible with PlayStation 4 Original, PS4 Slim, PS4 Slim Pro). It also comes with silent fan-less design to keep your External Gaming Hard Drive operate quietly.
Moreover, Avolusion HDDGear HDDGU3 External Gaming Hard Drive Upgrade Kit features high-quality construction, advanced external interface technology, durable chassis and state-of-the-art industrial design, assured to provide you with years of reliable performance.
Basic Features
Built-in 8TB Capacity Hard Drive, 7200RPM, 64MB Cache
Compatible with PlayStation 4, PS4 Slim, PS4 Slim Pro
PS4 File System Pre-Formatted, Expand PS4 hard drive storage instantly!
Add extra storage to your PS4 game console without opening up the case
2 Years Warranty from Reseller
---
3.

WD 8TB Elements Desktop Hard Drive
WD 8TB Elements Desktop Hard Drive (WDBWLG0080HBK-NESN) is the second best largest external hard drive we recommend for PS4. This 8tb external hard drive is one of the most reliable external HDD's out there. We have picked it as one of the best choices for externally maximizing the PS4 system storage.
WD 8TB Elements Desktop Hard Drive is a fantastic external solution for maximizing the storage capacity of PS4. It can indeed be used for video game consoles as well if you have an incredibly large collection of games to install.
8TB is a lot of capacity to play with, which should cover a majority of users looking for the space. The price being under $200 also gives it a edge against the competition which is real nice, especially since it doesn't feel like they cut any corners to pull it off.
Basic Features
The biggest hard drive for PS4 you can go for.
Fast data transfers
Fully compatible with the PS4 system.
Can handle more than 100 PS4 AAA titles.
2 year manufacturer's limited warranty
Can be used also for backup purposes on PS4.
---
4.

Seagate Desktop 8TB External Hard Drive HDD
If, for any reason, you don't like the WD products, you better consider Seagate Desktop 8tb External HDD (STGY8000400). It's the one of the best largest hard drive for PS4 that you have to consider. It offers solid reliability and high performance, but with probably slightly less performance than WD 8tb Elemenets.
Seagate Desktop 8tb External Hard Drive (STGY8000400) is a very popular drive used worldwide. You won't do a mistake if you want the largest external HDD for PS4 then you go for this one. You'll enjoy a high level of performance and a solid reliability that will make your gaming experience smoother and easier.
Basic Features
Fully compatible with PS4 system.
8tb storage capacity that can handle more than 100 PS4 AAA titles
1 year limited warranty

---

5.

Seagate 8TB Expansion Amazon Special Edition

If large storage space and fast performance are what you need, the Seagate Expansion is an excellent way to add more storage to your PS4. And thanks to the straightforward design, the drive is especially good for a non-computer host, such as a game console or media player.

This Seagate desktop external hard drive provides extra storage for your ever-growing collection of games. Setup is straightforward; simply plug in the included power supply and USB cable and you are ready to go.

The drive is automatically recognized by your PS4 system, so there is nothing to configure.

Basic Features

Fully compatible with the PS4 system
Very good 8tb option as a largest hard drive for PS4
1-year limited Warranty

---

More to say

Using the 8tb external hard drive as an extended storage drive, you can download and install games and applications directly to the extended storage portion, and just play them without the need to move them to the local storage device. Just imagine how that makes life much easier as you don't have to replace the internal HDD of PS4 to get more storage, just add an external HDD and the storage capacity of PS4 will be expanded and ready for use in a few minutes only.

The 8tb limit is the maximum external storage capacity PS4 can support. Therefore, don't look anywhere else for larger than 8tb external HDD for external storage expansion, although you can get up to 16gb of storage if you upgrade the internal hard drive to 8tb too with the help of an accessory called Data Bank.

Using 8tb External HDD on PS4

There are two different ways you can use your 8tb external HDD on PS4—Either for backup purpose or as an extended storage. Each purpose has its own requirements that you have to take care for before setting up your 8tb external HDD for it.

Backup Storage

Generally, there's no special requirement for using your 8tb drive as a backup storage except that it must support USB connection, no matter what generation it is, and it must be formatted with either FAT32 or exFAT file system.

Moreover, you need to make sure you have PS4 System Software 2.5 or above in order to make use of your external hard drive as a backup storage, because earlier system software versions do NOT support adding an external hard drive at all. You can rest your mind and download the latest PS4 system software update and enjoy the additional features and fixes included.

For more information on this issue, please visit this article.

Extended Storage

The support for extended storage solution arrived first in the early days of Feb 2017 with PS4 System Software 4.5, as stated in the introduction of this article. Users are now allowed to install games and applications directly to the connected 8tb external hard drives, and even store their favorite movies on it. This feature has widely impressed almost every PS4 user, because life without it was a bit difficult with only one option to expand the storage capacity of PS4: Upgrade the internal hard drive and the hassles novices may undergo due to their lack of technical experience.

Now, in order to get your 8tb external HDD work properly on PS4, you must ensure the following:
The drive supports USB 3.0 connection. In general, all large external hard drive are configured with USB 3.0 interface or above, so this should not be a matter of worry at this point.
It's a single layer drive. Dual-layer external hard drives (that use two hard drives into one enclosure) are not fully supported, and PS4 will only recognize the first layer and ignore the others, which results in losing half of storage space.
Connecting directly to PS4 via USB port. If your external hard drive connected via a built-in internal hub or an external hub, PS4 won't accept it. So make sure you don't go for HUB external hard drives.
You can read more about using extended storage solution with PS4 in this article.
You have to note that if you have any partitions on your 8tb external HDD or any data stored, all will be destroyed and erased by PS4 Format Utility during the process of setting up the new extended storage, whereas this is not required in the backup storage solution.
Upgrading PS4 Internal HDD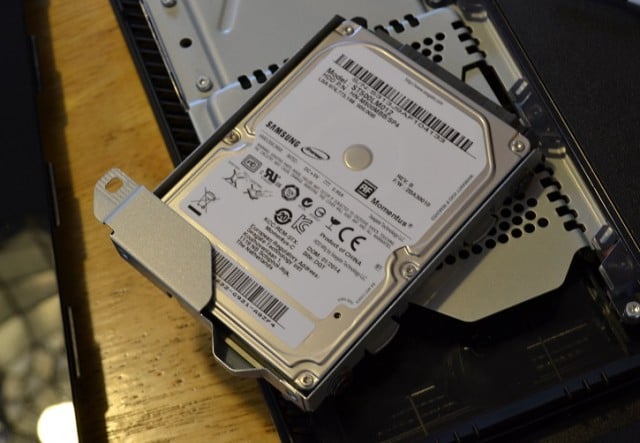 Do you know that you can get 8tb of storage capacity on PS4 by replacing and upgrading the stock internal hard drive? This method allows you to gain more performance boost and get rid of the extra space the external hard drive occupies on the table. But then you'll need an additional equipment called Data Bank (read more).
If you have the standard model of PS4 or its successor PS4 slim, you may consider first upgrading its internal HDD to Seagate 2tb gaming SSHD, which offers a much better speed and reliability than the slow and obsolete stock hard drive of PS4 (read more). After that, you can get an 8tb external HDD and connect it to your PS4. That way you gain the performance optimization along with the storage capacity you aspire.
As for PS4 Pro, you can upgrade the internal hard drive to an SSD which offers exceptional performance boost to an unbelievable level. But then you have to pay a premium for that solution that most of users cannot afford.
You can still go for Seagate Firecuda 2tb Gaming SSHD and that's what we really prefer for the overwhelming majority of PS4 fanboys, as it features a great compromise between performance, capacity and price.
And again, once you have upgraded the internal hard drive of PS4 Pro, you can then add a 8tb external hard drive and enjoy up to 10tb of storage capacity on PS4 Pro.
It's all your choice. Just think wisely before you make up your mind. We strongly recommend that you first upgrade the internal HDD of your PS4 before any other step you take.
Managing 8tb of Storage Space
I am not sure why a PS4 user would want to add 8tb of storage space to their game console. If it were a computer, I would fully understand from my point of view as a computer technician. But, at the same time, I am aware that everybody has his/her special needs that cannot be scaled to fit just everyone.
I can imagine in this modern age that 8tb of storage space can be easily filled within a year or two of use, bearing in mind the dramatic increase in game and movie file size that a single AAA-grade game can come in 80gb of size and one UHD movie can be 10gb, and the sizes keep increasing.
Moreover, large families that share one game console really need a huge storage space to accommodate the needs of all members, as each member has his/her own preference of games and movies.
It's important to know that an extended storage solution doesn't work as a backup storage, and you cannot use it for the two purposes simultaneously. Moreover, PS4 system will fully format and encrypt your 8tb external HDD in a way that you'll be unable to use it with any other system unless you waive your stored data and perform a full format on it. So if you think to use your 8tb external HDD on PS4 and other systems (PC or MAC), you have then to rethink about it.
Remember also that you can't partition your 8tb external HDD on PS4, only one partition is used, which occupies the whole storage space of the external HDD.
Bear all that in mind and deeply think about what has been said before you make your final decision.
Conclusion
A variety of PS4 users who are so enthusiastic about expanding their console's storage capacity would love to get 8tb external hard drive and enjoy the vast rooms it offers. But there are a few caveats you need to consider before paying a premium for that large capacity.
Just gauge your needs properly and see what capacity suits you best and what PS4 storage expansion method mostly or wholly meets your expectations.