What's the Best Hard Drive Upgrade for PS4 Pro?
If you consider yourself a serious gamer, boosting the performance of your PS4 Pro is a priority. This isn't really possible without upgrading the internal hard drive of PS4 Pro. It's because the PS4 Pro hard drive is the main performance bottleneck, and choosing the best hard drive for PS4 Pro will noticeably make it run much faster. For this main reason, and based on my solid expertise in storage devices, I have composed this article. Going through this article certainly helps you find the best hard drive for PS4 Pro that suits your needs very well. You'll learn everything you need to make the right decision in this regard.
First off, let me lay out what I deem the best internal hard drive upgrades for PS4 Pro. That makes it easier if you don't have enough time to read this whole guide.
Why To Replace/Upgrade PS4 Pro HDD?
This is a significant question to ask, and every PS4 Pro user has to learn about this matter in detail. So, why do you need to upgrade the PS4 Pro hard drive in the first place? Well, here are several reasons for that:
The stock PS4 Pro hard drive is too small in storage size to be in a professional game console. Yes, that's why many PS4 Pro users complain of running out of space within months of buying their machine. So, upgrading the internal HDD of PS4 Pro offers you remarkably larger storage capacity.
The PS4 Pro stock hard drive is old (produced in 2011), obsolete, and doesn't meet with the modern storage standards. When you get a new, modern hard drive, you'll notice how faster it is as compared with the replaced HDD. The PS4 Pro operating system will boot up faster, games and apps will take much shorter time to load, and the online gaming experience will become tangibly better.
Going for the best PS4 hard drive replacement isn't only about speed and storage, but also RELIABILITY. Yes, the stock HDD of PS4 Pro is based on older technologies that after a while of use start generating errors. Therefore, choosing a new modern hard drive, especially an SSD, will immensely make your console safe from these errors.
With the new PS4 Pro hard drive replacement you'll get between 3 to 5 year limited warranty. That simply means when this drive fails and goes out of action, you'll have the right of compensation/replacement.
These are the major reasons for why to search for the best hard drive replacement for PS4 Pro. That's why I have researched this topic and picked 4 drives that fit very well for this purpose.
Best Hard Drives for PS4 Pro
From the perspective of an IT expert, I have carefully selected the following drives based on several factors and listed them below as the best hard drive upgrades for PS4 Pro.
Each drive comes with a short description and an explanation for why I recommend it for PS4 Pro. That way you can decide yourself whether it is the drive you're looking for or not.
Quick List
This is a list with clickable links that will take you directly to the corresponding item. So, just click the name of the drive listed below and you'll land on its preview section.
Seagate FireCuda Gaming SSHD
Throughout our website we always recommend Seagate Firecuda ST2000LX001 for all PS4 models. It's the best hard drive upgrade for PS4 Pro in terms of performance, capacity and price, all together.
This drive is actually a Solid State Hybrid Drive (aka SSHD). It means that it combines the technology of the traditional mechanical hard drive (HDD) and that of SSD in one architecture. That results in the production of a high performance drive with a capacious storage space for an affordable price.
This drive offers almost 80% of the performance scores of SSD. Taking the price for that high level of performance into consideration, this is a great deal.
Why Get This Drive?
Seagate FireCuda Gaming SSHD comes with great features that make it worth every penny you pay for. This drive has the following appealing features:
Slim design (7mm tall) and relevant form factor (2.5-inch) that properly fits into PS4 Pro hard drive cage.
Equipped with two tiers of caching—The first tier is 128mb buffer cache, and the second is 8gb NAND flash memory (SSD). That multi-tier caching system gives this drive a huge power that enables it to compete with SSDs in terms of speed.
Offers up to 2tb of storage capacity for a price less than $100, which is very affordable to most users.
Offers up to 80% of the performance of an SSD. That's quite amazing for that low price.
Very reliable drive that implements the latest storage technologies. That means the failure rate of this drive is too low, unlike the stock hard drive of PS4 Pro.
Backed with 5-year limited warranty. You can rarely, or never, find a mechanical hard drive with that too long warranty. This number is only found in SSD industry.
To read a detailed review on this drive and what performance boost it offers to PS4 console, please visit this article.
Worth it to say that I strongly recommend the 2tb model of this drive. That way you can get all the benefits for your PS4 Pro. You'll get high performance and more storage in one place.
Mushkin TRIACTOR-3D 1TB SSD
If your budget afford it and you want the maximum possible performance boost for your PS4 Pro, this drive is surely the one you look for. This is an SSD, which means a super-fast storage device. The good thing about this SSD is that it offers too high performance with 1tb of storage capacity for an adequate price (less than $200).
In fact, the biggest reason why you want to go for an SSD for your PS4 Pro is the instant quick responsiveness that no other storage device can offer. While an SSHD offers an SSD-like performance, this is only possible after you run a particular game 5 times. Whereas an SSD will optimize this game immediately in the first run.
There's an article already published on our website that discusses using SSDs in PS4 Pro and how worth it is. I strong recommend reading it (click here) before you make up your mind.
Why Get This Drive?
After doing my own researches and analyzing the information I acquired about this drive, it got the second position here. Yes, it's faster and more reliable than Seagate FireCuda SSHD, but this comparison is only valid for computer systems. Read the PS4 Pro SSD Guide to fully understand what I mean.
Now, what justifies going for this drive if you have the sufficient budget for it? Well, the answer is simple: the additional performance scores and better reliability.
This drive comes with the following nice features:
Designed by a prominent SSD manufacturer and made in USA.
Fits properly into PS4 Pro drive cage without any problem.
One of the lowest-price SSDs on the market. It offers up to 1tb of storage capacity for less than $200.
It offers the maximum possible speed PS4 Pro processor can handle.
3 Year limited warranty. Here where Seagate FireCuda is superior.
What if you need more storage space than 1tb? Should you go for a 2tb SSD? Well, I don't advise you that.
Instead, you can get that SSD in the list with 1tb, and just get an external hard drive that covers the storage shortage. Read this article to find out different methods to upgrading the storage capacity of PS4 and how to use an external hard drive for this purpose.
Seagate BarraCuda HDD
This drive has exactly the same features of Seagate FireCuda Gaming SSHD except that it's not equipped with a 2nd-tier caching system. This drive is known as the fastest 2.5-inch traditional hard drive in the market of today, and it features an appealing solution for upgrading your PS4 Pro hard drive.
With this drive you'll get the speed and reliability that surpass that of PS4 Pro stock hard drive. Its failure rate is low and it was designed with the latest storage technologies.
You'll miss the advantage of the SSD-caching system that SSHDs offer. Compared to the PS4 Pro stock hard drive, the performance boost you'll gain from this drive is not that much.
This drive can only save you between $7-$10, the price difference between it and FireCuda SSHD. I don't really know how this little saving justifies waving the significant performance boost FireCuda SSHD offers. But, eventually, everyone knows better what they want.
Worth it to say that the product description on Amazon of this drive has misleading information about its features. It's important that you read this article foremost.
Why Get This Drive?
This drive is a very good PS4 Pro internal HDD upgrade if the top two drives in this list don't meet your requirements. It has some nice features that persuade buying it, which are:
Seamlessly compatible for PS4 Pro internal hard drive upgrade with its slim design (7mm tall) and relevant form factor (2.5-inch).
Faster and more reliable than PS4 Pro stock hard drive. That means you'll experience much less errors/failures with this drive compared to the original PS4 Pro HDD.
Implements the latest storage technologies that meet the modern storage standards.
Offers up to 2tb of storage capacity. That's the double storage space of PS4 Pro stock HDD.
Baced with 2-limited year warranty. The shortest warranty term in this list.
Regardless, this drive is still great. And for any reason you want to go for it, it will still improve the performance of your PS4 Pro. No worries and rest assured.
Fantom Drives 2TB PS4 SSHD
This upgrade contains everything a novice user needs in order to upgrade PS4 Pro hard drive correctly and restore his games and apps on the new drive.
If what holds you back from changing PS4 Pro hard drive is the fear of hassles, this upgrade kit is all what you need.
First of all, it contains everything you need to carry out a flawless and seamless internal hard drive upgrade for your PS4 Pro. This Upgrade Kit includes a Seagate Firecuda SSHD for gaming with a 16GB USB3.0 Flash Drive, G-Force portable USB3.0 aluminum Enclosure, Carry Pouch, Micro USB3.0 Cable, Installation Guide and Screwdriver
Additionally, it provides you with a quick start installation guide that walks you through the upgrade process until the end so as to make sure that everything is done right.
Finally, you'll get the mighty SSHD into your PS4 Pro and all your games/apps restored on it properly.
This option is very common among a wide variety of users as they buy everything they want for upgrading PS4 Pro HDD in one kit.
Why Get This Drive?
I think you have already known what justifies going for this option. But let me break down all that into points:
This upgrade kit contains Seagate Firecuda 2tb Gaming SSHD, which is our top pick for PS4 Pro HDD upgrade.
It contains a USB flash memory on which you'll download and save the full package of PS4 System Software Update from a computer, then install it from scratch on the new drive. For more information, visit: PS4 Pro Internal Hard Drive Upgrade Guide.
You'll get also an external hard drive enclosure that enables you to convert the original internal hard drive of PS4 Pro into an external hard drive rater than just disposing of it.
That upgrade kit also include a Philips-head screwdriver to help you open the cover of PS4 Pro hard drive and replace it.
That's it. You can buy each item separately if you wish but that will cost you additional $5 to $10.
Seagate Expansion 2TB External HDD
If you don't want to go through the hassles of upgrading the internal hard drive of PS4 Pro, and you don't care much about improving the performance of your game console, an external hard drive is probably what you want.
An external hard drive expands the system storage of PS4 Pro without having to change the internal hard drive, but surely that comes with no performance/reliability gain. It's just an extra storage space connected externally to PS4 Pro.
This external hard drive is very good for its purpose. It's one of the most popular worldwide. Therefore, don't miss it if an external hard drive solution is what you look for.
Worth it to say that you need to know how to set up and use external hard drives properly on PS4 Pro. We have published a few articles on our websites that help you immensely in this topic. Visit for example: PS4 Pro External Hard Drive Guide and How to Properly Use an External HDD on PS4.
Why Get This Drive?
This drives boasts some nice features as a portable external storage solution that deserve a serious look at it.
Manufactured by a pioneer manufacturer in the industry, Seagate.
It's a USB 3.0 external hard drive, which means it's fully compatible with PS4 Pro.
Reliable and speedy drive with 2tb of storage capacity.
Backed with 2-year limited warranty.
You can pick different sizeس for your convenience, but I think 2tb is pretty sufficient for the majority of users.
Choosing the Best Hard Drives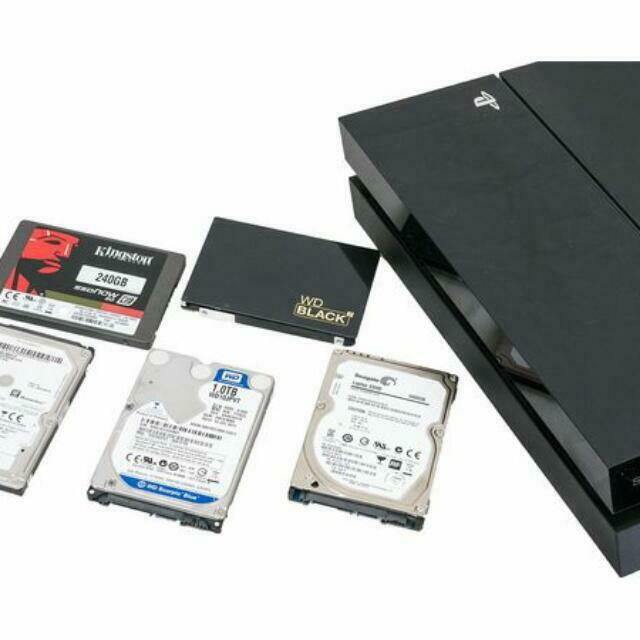 You may ask: So, what's the best hard drive for PS4 Pro for me after all? Well, you shouldn't expect a straightforward answer here that suits everyone. That's because everyone has their own needs that differ from others. But generally speaking, you can base your judgment on the following fundamental factors.
The drive's brand has a good history of solid performance and reliability. You can trust Seagate, Western Digital, Toshiba, Samsung and others.
Know how much storage capacity you need. Usually a 2tb is suitable for the majority of users and it can serve them for years.
Read the reviews made by IT professionals on the specific drive and pick the drive that has the highest rating.
The drive's warranty should not be less than 2 years. That's because warranty indicates how reliable the drive is.
Once you find a particular hard drive that conforms to these standards, it will be your best hard drive for PS4 Pro. You have to expect also that other users would choose different drives depending on different factors that suit their needs.
Conclusion
We have discussed PS4 internal hard drive upgrade in detail before and added a special copy for PS4 Pro internal hard drive on our website. Additionally, we made a separate guide for PS4 Pro 2tb hard drive upgrade. All of that to make it easier for readers to fully understand the whole topic and eliminate their hesitation and confusion about the drive they wish to obtain for their PS4 Pro.
It's not really hard to figure out what the best hard drive for PS4 Pro is, all you need is to be careful when gauging your needs in the light of the specifications and features of the drive you pick.
Or you can just trust my judgement and get the drive I recommend for you. My efforts in that list were based on technical knowledge.