PS4 Games That Won't Work On PS5 | The Complete List
It's no secret that the PlayStation 5 is backwards compatible with PlayStation 4 games, giving it even more value. We have already published two articles answering two major questions about playing PS4 games on PS5. The first is about playing PS4 disc games on PS5 and the second is about playing PS4 digital games on PS5.
But after all, why would you want to play PS4 games on PS5? Well, It's convenient to play your old games on the new system because it reduces the number of devices you need to keep connected. Also, the PS5 can even provide a mix of improvements to the PS4 games played on it that will enhance gaming experiences. You'll enjoy faster load times, better visuals, and higher frame rates when you play any PS5-compatible PS4 game.
While Sony claims that the vast majority of PS4 games will be compatible with the new system, the backwards compatibility on the PS5 isn't flawless, though. A few PS4 games are just incompatible with the PS5. Let's have a look at these games to get a better idea of what you may expect.
Officially Announced PS5-incompatible PS4 Games
Sony has already announced 10 PS4 games on the support page on the official PlayStation website that would not work on the PS5. However, that number has since been reduced to eight as of December 2020, and now they are six. There is some VR stuff on the list, but none of the titles are big. That means, in a nutshell, that your favorite PS4 games are most probably compatible with PS5, so no need to worry.
Be noted that any game listed as PS5 incompatible could be removed later, depending on the decision of the game designer. By the same token, in the future, additional games could be listed as PS5-incompatible if they are released for PS4 at a later date, but this is very unlikely to happen.
Here are the PS4 titles that Sony has officially announced as PS5-incompatible:
Afro Samurai 2: Revenge of Kuma Volume One
Just Deal With It!
Robinson: The Journey
We Sing
Hitman Go: Definitive Edition
Shadwen
"This list is subject to change and excludes demos, media, and non-game applications," Sony stated. Some of the games listed above may become playable on PS5 in the future, as previous versions of the list contained more titles.
How To Know If Your PS4 Game Is Playable On PS5
If you want to make sure that your PS4 game is fully compatible with PS5, go browse the PlayStation Store and any games that are unplayable on PS5 will have a tag beneath it telling you that this particular game is only for PS4 and won't work on PS5.
On the other hand, some PS4 games are partly (not fully) compatible with PS5, and you may experience some errors or weird behavior when playing them on PS5. You can distinguish these games with this unique message attached to them on the PlayStation Store that says:
When playing on PS5, this game may exhibit errors or unexpected behavior, and some features available on PS4 may be absent.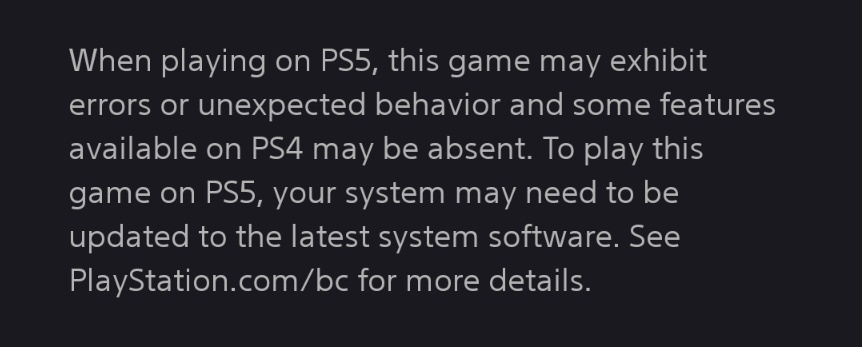 The good news here is that in most cases, this message is just a general disclaimer. The minor errors (such as PS5 Error CE-100095-5) you may get when playing these specific PS4 games on PS5 should not stop you from enjoying the game on your new console. However, it's a good idea to test a PS4 title on your PS5 to make sure it works before spending more money on it. You don't want to acquire the most recent DLC pack just to discover that the game plays poorly on the PS5 for some reason.
Be noted that you can continue to play PS4 games on the PS5 using a DualShock 4 controller, but it won't work on PS5 games.
Also, you can play PS VR games on PS5 but on some conditions. You will need all the accessories for PS VR games, including the PlayStation Camera (You'll have to use a special free adapter in order to use it with the PS5). It seems like the PS5's built-in camera will be used for something else, presumably to improve the streaming experience. Additionally, for some PS VR games, you may need at least one or two PS move controllers.
You Can Use Your PS4 External HDD On PS5
One of the greatest, recently-released support for PS4 games is that you can use your PS4 external hard drive on PS5 and play your favorite PS4 games from it (read more). That way you don't have to redownload your PS4 games on the internal system storage of PS5. However, you can't still play PS5 games from an external hard drive.
In case your external hard drive is not woring on PS5, it keeps disconnecting or you think that your PS5 doesn't support your external hard drive, you can always refer to our specified guides to resolve these issues.
Conclusion
It's good to know that almost every PS4 games will work on Ps5 except 6, not-very-known games. Also, the PS4 games that will work on PS5 with some issues will mostly get updated soon in order to be fully compatible with PS5. It's just a matter of time until this will probably happen.