PS4 Storage Device – The Essential Guide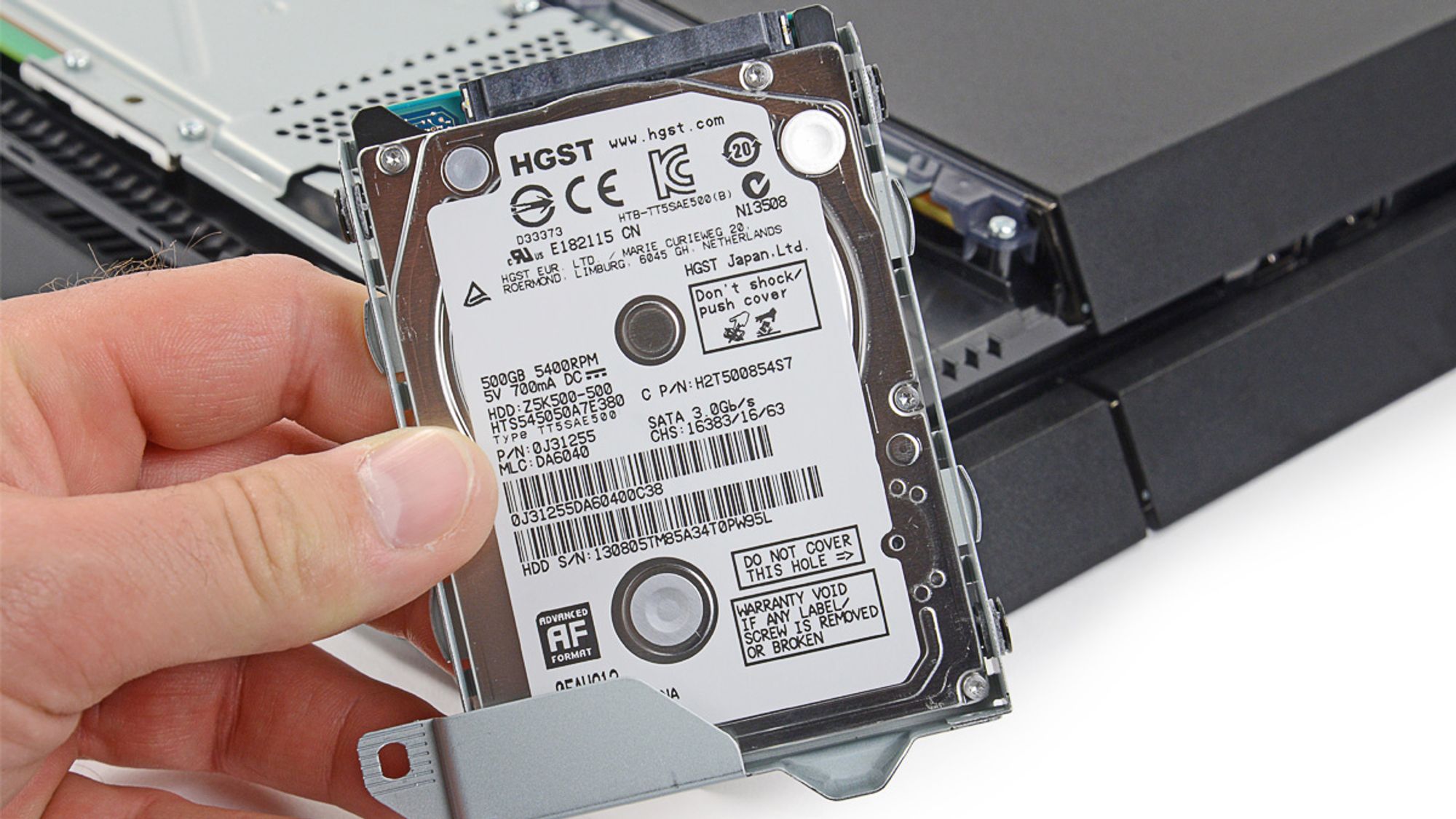 The first bunch of questions that comes to the mind of PS4 users when they have an issue with PS4 storage device is: What kind of storage device PS4 is using? What are its specifications? Is it possible to replace it with a better storage device? And so many other questions brought up in this regard.
Here, in this guide, you'll learn everything you want to know about PS4 storage device. I believe it's an important knowledge to acquire before you think about upgrading/replacing it. You'll learn also about the available options to get more storage space on PS4.
What's PS4 Storage Device?
PS4 storage device, as the name indicates, is the device on which PS4 uses for data storage purposes. It's featured by a traditional mechanical hard disk drive (HDD) that comes in two sizes—either 500gb or 1tb.
The table below combines the specifications of both hard drives (500gb and 1tb) in one place, so as to make it easier to compare.
Brand & Model
HGST Travelstar Z5K500 (500gb model)
HGST Travelstar 5K1000 (1tb model)
Capacity (Size)
500gb (Initial PS4 version)
1tb (Updated PS4 version)
Spindle Speed
5400 RPM (both drive models)
Interface
SATA II (3.0 Gbps) (both drive models)
Form Factor
2.5-inch (both drive models)
Thickness
9.5mm (both drive models)
Memory Cache
8mb (both drive models)
Warranty
2 Years Limited (both drive models)
Year of Manufacture
2011 (both drive models)
For more details on the specifications of PS4 hard drive, kindly view this article.
Upgrading PS4 Storage Device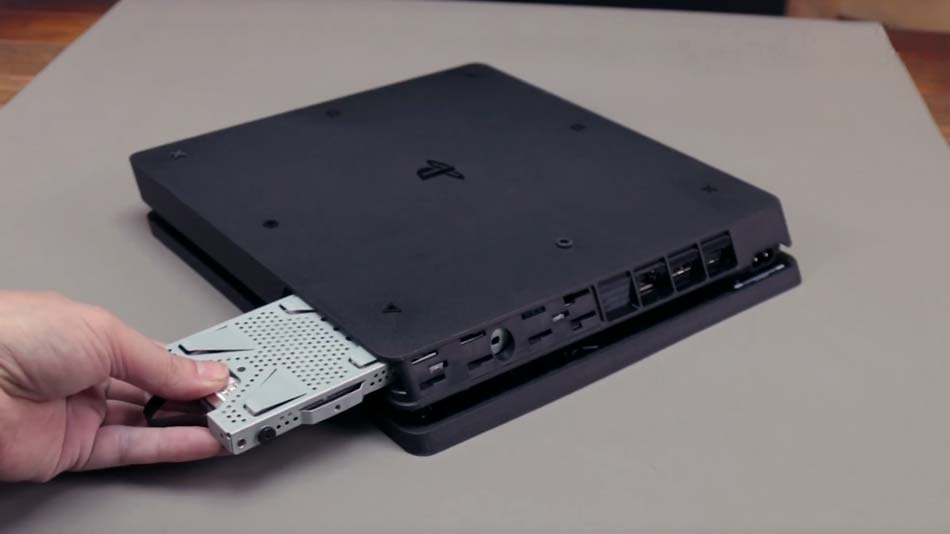 There's a variety of PS4 users are not yet aware that PS4 storage device can be easily replaced. It's because Sony is fully aware that the PS4 stock hard drive is a performance bottleneck that won't impress enthusiasts. That's why it's very easy to carry out the hard drive replacement process. This process is called PS4 Storage Upgrade. It means to upgrade the capabilities of PS4 system storage in terms of performance, storage capacity or just both.
There are some major advantages of upgrading PS4 storage device. You'll get much better performance (speed and reliability) and larger storage capacity. All of that without having to connect any external storage device to your console.
Yes, it's possible to expand the storage capacity of PS4, but this will NOT benefit the PS4 system storage performance. Plus, there are several cons of leaving the stock PS4 HDD without replacing. Have a look at this quick comparison between upgrading the PS4 internal hard drive and going for external storage device instead.
If you've decided eventually to upgrade the PS4 internal storage device, you'll need a PS4 compatible hard drive then. Just pick the one that you feel it meets your expectations/needs. Afterwards, you'll have to go through PS4 internal hard drive upgrade process. It's so easy, although it might take up to two hours. It's worth it if you're a serious player.
Types of Storage Devices
Any computer savvy certainly knows that data storage devices come into three types. You can get any of these three types for your PS4 as long as they are compatible with PS4 storage upgrade standards.
Make sure you pick the drive that best suits your needs and your budget for sure.
Available Storage Devices for PS4
Classical Hard Disk Drive (HDD). It's the same type PS4 is using. If you'll go for this option, you'll not gain much of speed improvement that other devices offer. That's despite the fact that it's more reliable and larger in storage capacity than PS4 stock hard drive. So, get the best hard drive for PS4 and move on.
Solid State Drive (SSD). If you ask me about the best storage device in history in terms of performance, I will not hesitate by saying: It's the SSD. Yes, SSDs offer unparalleled speed and solid reliability alongside extensive durability that make them, without any doubt, the best storage device in history. I would only recommend SSDs for PS4 if they were not expensive. While you can get the best 2tb hard drive for the price of $90, the same capacity of an entry-level SSD costs around $300. Read more about these blazing fast storage devices and their use on PS4 in our PS4 SSD Guide. If you've decided eventually to get an SSD for your PS4, check out our recommended SSD list for PS4. It offers the best SSDs available for PS4 that were picked according to specific standards.
Solid State Hybrid Drive (SSHD). This is our top selection for the vast majority of PS4 users. This drive features the technology that combines the storage space of HDD and the speed of SSD. All inside the same entity and for a very reasonable price that's just around $10 more than the traditional HDD option. When you first start the SSHD, it will work as a mere classical hard drive. Then it starts to learn the user experience with PS4 and holds in its SSD cache the most frequently used files. After the 5th time of playing your favorite game, you'll notice a remarkable speed improvement, as the SSHD has optimized it. You can read more about SSHD and its use on PS4 in our PS4 SSHD guide.
Conclusion
This is just a quick read on PS4 storage device and what you can do with it. Additionally, you've acquired new knowledge on storage devices available for use for upgrading PS4 internal hard drive. Although I've not elaborated on using external hard drives on PS4, the information here is supposed to be sufficient for the topic it handles. Moreover, if you need any information regarding PS4 storage, our website offers everything you want. If not, just contact us and ask your question, and one of our staff will be happy to answer you.
Eventually, we're happy to receive your opinion on this article by submitting a comment below telling us what you think.