PS4 Error Code (CE-34878-0) – Totally Fixed
If you're playing on the PlayStation 4 and have encountered an error message that reads (CE-34878-0), you've come to the right place. PS4 Error (CE-34878-0) points towards some kind of problem that causes the game or application that is currently in use to crash. It's a general error that may occur due to corrupted data or a system software conflict. It may appear from time to time.
A restart is usually enough to solve the issue. But there are some cases where you need more troubleshooting. Generally, if this error happens regularly and renders the game unplayable, it could indicate more than a normal crash, which means your console may need service.
Most of the times, the real cause of this error is a faulty storage device on which you installed the game/app. Usually it's the PS4 internal hard drive that's getting old and needs to "retire". You may not know that PS4 utilizes a cheap and outdated hard drive that no longer meets the minimal storage requirements of today. You can check the PS4 hard drive specs to fully understand why serious players go and upgrade their PS4's hard drive. It's not only the additional storage that allures them to replace the PS4 HDD, but also the solid performance. You can read more about upgrading PS4 internal hard drive and the benefits you'll gain in this article.
So, let's move on trying to fix that problem.
Official Error Fix
If you visit the official website of PlayStation, you'll find a suggested set of steps to fix that error. [source]
An error has occurred with the application.

Close the application, install the latest System Software and game updates and restart the system.
If you have upgraded the Hard Disk Drive ("HDD") in your system, please re-install the original HDD.
If the error occurs again, back up your saved data, and then go to [Settings] > [Initialization] and choose [Initialize PS4].
If the error occurs with every application, or as soon as the application starts, please contact PlayStation Support.
Many users find this suggested solution insufficient and not that useful. For that reason I have compiled this quick report to provide a fully detailed solution to that error.
Restart the PS4
When you see error code CE-34878-0, the first and easiest thing you should do is restart the PS4. Afterwards, check to see whether that has resolved the issue or not.
Follow these simple steps listed below to successfully carry out this operation.
Turn the PS4 off.
Disconnect the PS4's power supply from the power outlet.
Wait for 30-60 seconds.
Plug the power supply back in.
Turn on the PS4 and let it boot up.
Once the console boots up, launch that particular game/app that caused the error and see whether Error (CE-34878-0) appears again or not.
Update PS4 System Software
Updating PS4 system software can fix many issues related to the console's performance. For that reason, it's imperative to keep your console up to date with the latest version of system software.
To start the process, just do the following:
Go to the PlayStation home screen, select Settings.
Choose "System Software Update" to install the most recent update.
Your PS4 will check for available updates for its system software and install any that are available. Let the console do its thing.
After the installation is successfully accomplished, restart the PS4 and check that specific game/app that caused the error.
Now, if this has not fixed the error and you still seeing that annoying message, try the other solutions.
Update the Game/App
Sometimes the failure occurs from the game/app itself due to deficient/improper coded file. That's why the manufacturers keep releasing updating patches for their games/apps to fix these issues.
To do that, simply follow these steps below:
Go to the PlayStation Home screen.
Highlight the game affected by this problem.
Press the Options button on the controller.
Highlight and select Check for update to check for game updates for the affected game and install any that are available.
Once the process is complete, try to launch the gane/app and see whether the problem has gone or not yet.
Turn Off Face Recognition

If a PS Camera is connected to the system, remove it and reboot the system, then turn off Enable Face Recognition.
From the PlayStation 4 home screen, select Settings.
Select User.
Select Login Settings.
Uncheck Enable Face Recognition.
Disable Mods
Some gamers confirmed that disabling recently added mods helped them repair this error code. While this solution might not work for all users, it is worth trying it out.
Check PS4 Hard Drive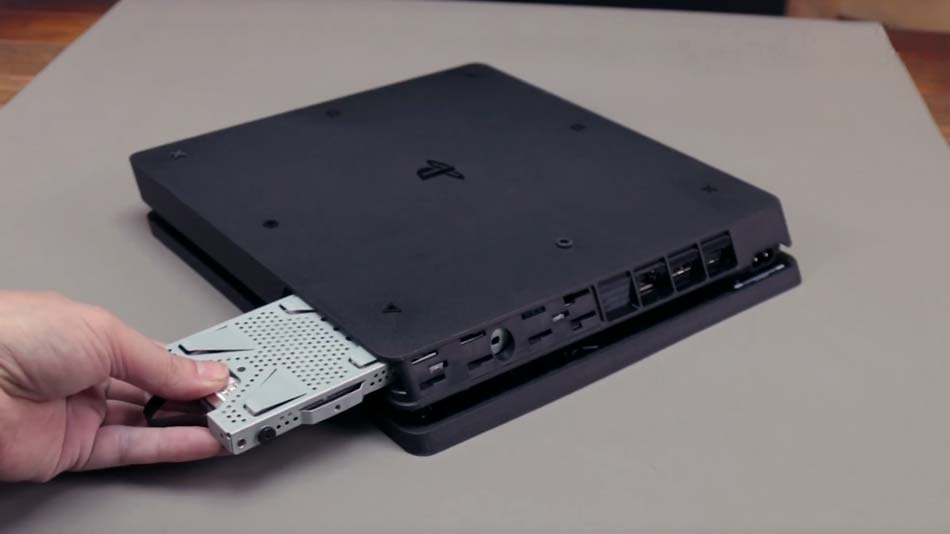 As the official fix suggests, if you have recently changed the stock hard drive of PS4 then started seeing this error, try to install the original hard drive and see whether this fix the error or not. In many cases this error occurs with the original/stock hard drive of PS4.
If you're not considering upgrading the PS4 internal hard drive with a more powerful drive any time sooner, or you have already done so but faced this error, the hard drive may malfunction and needs service.
The hard drive failure is a common incident that every savvy must have encountered. It happens due to several reasons, especially the presence of bad sectors that hinder the hard drive to operate properly. Additionally, if the PS4 HDD doesn't make any kind of noise (clicking/grinding), there's a big chance to fix it. Check out this article to learn more about PS4 hard drive failure and how to repair it.
Rebuild PS4 Database
Sometimes rebuilding the PS4 database can resolve this problem and fix that error. It's a very easy process to fulfill, but it may take a few hours though.
Process Steps
To successfully rebuild the PS4 database, please follow these steps:
Turn off the PS4 completely (i.e. not in Rest Mode).
Once off, press and hold the power button. Release it after you've heard two beeps: one when you initially press, and another about seven seconds later. This will boot the PS4 into Safe Mode.
Connect a DualShock 4 controller with a USB cable and press the PS button on the controller. If the PS4 isn't recognizing the controller, you may have attached a 'power only' USB cable – use the one that came with the controller.
Select the option Rebuild Database. It will warn you that it may take hours.
Factory Rest PS4
To reset PS4 to factory settings, you have to perform PS4 initialization. This feature can resolve so many issues related to the performance of PS4. So, every PS4 user must know how to do it the right way. Just in case.
Before we begin, you should know that a factory reset completely wipes the console's hard drive and can even remove its system software. It's a last resort when a software glitch stops your PlayStation 4 dead in its tracks, particularly when booting up or when you want to make sure the console no longer has your data on it.
You should back up any data you want to keep, such as images and video, to an external device or to the cloud. In order to back up data using the cloud, you'll have to have a PlayStation Plus account.
There are two ways to reset your PS4 — From the console's dashboard or in Safe Mode if the console is having boot-up issues. For PS4 error (CE-34878-0), you need to choose the full initialization.
The Steps
Do not turn off your PS system during initialization. Doing this might damage your system.
Go to PS4 Settings > Initialization > Initialize PS4.
Select Full.
Follow the instructions to complete.
After finishing, restore all your backup data, and reinstall the games and applications.
Try the games to see if it works now.
Contact PS4 Support
If absolutely none of the solutions listed and described above were enough to get rid of error code (CE-34878-0) in your case, the cause of the issue might not be simply something you can fix on your own. It might actually be something that's much deeper and severe than you think it is. That being the case, if trying to fix this problem on your own has turned out to be a bust, I advise that you use PlayStation Support and see what the professionals have to say about it.